City Dozen: Helen Rosner's Pioneer Valley
Every city is full of magnificent things to eat, things to buy, and things to do — you just need to find them. In our City Dozens series, local experts from around the world pick twelve can't-miss options for the culinarily-minded traveler. Check out all our City Dozens in the archive »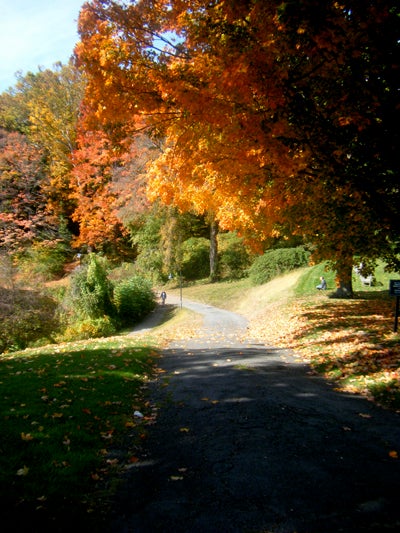 The Connecticut River cuts a sharp north-south line through western Massachusetts, dividing the Berkshires to the west from the state's flatter areas stretching east to Boston. With its tree-covered hills, dramatic bluff-edged mountains, and small towns peppered with colleges and universities, the Pioneer Valley (as it's known) is one of the Northeast's most beautiful regions, and the fertile soil along the banks of the river make it one of its most agriculturally-friendly, as well: dozens of independent farms dot the landscape, producing exquisite produce, dairy, and meat. Grounded in a New England ethic of quality and simplicity, eating local comes naturally here — and prevailing local support for sustainability and environmental awareness doesn't hurt. From Northampton at the southern end through Greenfield at the north, the towns of the Pioneer Valley have plenty to offer the hungry traveler: sophisticated takes on international cuisine, cutting-edge contemporary dining, and — of course — plenty of top-notch takes on classic Americana.
Saveur.com editor Helen Rosner lived in Northampton for four years as a student at Smith College, where she spent at least as much time eating off-campus as on, despite being on a full meal plan. She returns to the Valley often. Here are her twelve picks for the Pioneer Valley of Massachusetts.
Jump to the interactive map »
Hungry Ghost Bread
At first glance, you might not expect much from this bread bakery housed in a tiny, semi-spherical building just a few blocks off of the Smith College campus. But then you try the bread: seemingly every single thing that comes out of Beard Award-semifinalist baker Jonathan Stevens' wood-fired ovens elevates the humble carbohydrate, from a classically crusty French-style baguette to savory fennel-studded semolina loaves, many of which are made with fresh flour from their in-store grain mill. Not too long ago, Stevens started making Neapolitan-style pizzas; unsurprisingly, they too are things of beauty: charred, chewy, and topped with intensely fresh local ingredients. Go early in the day for bread (the good loaves sell out fast), and after 5 p.m. for the pizza.
Hungry Ghost Bread
62 State St.
Northampton, MA
tel: 413/582-9009
Sylvester's
One of the great joys of New England is that nearly every building older than this century has housed a historically significant resident at some point or another. This restaurant, which was once a private residence, is named for one of its previous tenants: none other than Sylvester Graham, the early nineteenth century inventor of the Graham cracker and proponent of some awfully peculiar approaches to dietary reform. Graham may have advocated vegetarianism (one of his less controversial ideas), but Sylvester's has plenty on the menu for meat-eaters and vegetarians alike: it's a lovely little breakfast-and-lunch spot. Be sure to bring home one of their coffee mugs, with its pithy local slogan: "Northampton: where the coffee is strong, and so are the women."
Sylvester's
111 Pleasant St.
Northampton, MA
tel: 413/586-5343
Herrell's Ice Cream
You just cannot be a fan of ice cream and not take time out of your life to visit Herrell's. The ice cream shop's various satellite locations may come and go throughout the east coast, but this shop just off of Main Street in Northampton is the flagship, the first, the hot fudge-and-smoosh-in-lover's Mecca. The only problem for me is deciding which of my ice cream personas I want to indulge: the sugar fiend, who wants chocolate ice cream with a million types of crushed candy mixed in, or the sophisticate, who just wants a simple, perfect cone of the airy, rose-and-lavender-flavored Hearts and Flowers. More often than not I'll say "screw it" and go for both, one in each hand.
Herrell's Ice Cream
8 Old South St.
Northampton, MA
tel: 413/586-9700
Haymarket Cafe
This narrow, two-story spot decorated with flea market mirrors is equal parts coffee shop, juice bar, vegetarian cafe, and cultural nerve center for Northampton's young, artsy crowd. If you can land a table (between the camped-out thesis writers and the camped-out novel writers, an open seat can be elusive), grab a ginger lemonade from upstairs, a bowl of the justly famous spicy Indian-style sambar soup from downstairs, and watch what seems like all of the Pioneer Valley stream through to pick up fair-trade soy lattes and chamomile teas to go.
Haymarket Cafe
185 Main St.
Northampton, MA
tel: 413/586-9969
Joe's Pizza & Spaghetti House
Yes, that is a mustachioed dude wearing a sombrero on the neon sign outside. And no, this is not a Latin restaurant: it's a bastion of unadulterated Italian-American red-sauce cuisine that's been running with hardly a single change for nearly 75 years. A crucial part of that longstanding history is the joint's interior decor, a continuation of the cognitive dissonance hinted at outside: the walls are covered with murals depicting gauchos frolicking across the Argentinian pampas. But don't look for chimichurri on the menu, just stick to the foods that the restaurant's name clues you in on: the spaghetti is generously portioned and sauced with a perfect sweet-savory tomato gravy; the pizza is thin and crackerlike, and among the best in town.
Joe's Pizza & Spaghetti House
33 Market St.
Northampton, MA
tel: 413/584-3168
Miss Florence Diner
Open since 1941, Miss Flo (as her admirers affectionately call her) is an absolute gem. Housed in a tin diner shell, with rickety laminate tables and a long counter where locals brood over bottomless coffees, this place will always be the platonic ideal of diners to me. Smooshed six to a booth with my best friends in the world two days before graduating college, we drank milkshakes (thick) and ate pancakes (huge and buttery) and meatloaf sandwiches (thin-sliced and griddled 'til crispy, with a smear of mayo on toasted white) and toasted our terrifyingly unknown futures. I came back five years later and unlike me, Miss Flo hadn't changed a speck; I expect if I return in fifty, she'll still be exactly the same.
Miss Florence Diner
99 Main St.
Florence, MA
tel: 413/584-3137
Hampshire College Farm Center
Hampshire College's teaching farm is a fascinating place: it's a fully equipped working farm where students approach agriculture through an academic lens, using the fields and barns as springboards for the study of sustainability, biology, history, art, and seemingly everything else under the (life-giving, nutrient-supplying) sun. But for me, the experimental learning stuff is just gravy: the good part is that the farm produces seriously great stuff. Shares of their egg, meat, dairy, and vegetable CSAs guarantee months of great eating; stop by the barn to pick up honey, maple syrup, or a bale of hay a la carte.
Hampshire College Farm Center
Campus entrance: 893 West St.
Amherst, MA
tel: 413/549-4600
Montague Bookmill
This used book store/restaurant/record shop has a great motto — "Books you don't need in a place you can't find" — but I couldn't disagree with it more. Every time I visit the Bookmill (and it is an actual mill, with wheel, set along a picturesquely babbling little river), I have no trouble getting there and I wind up leaving with at least a half dozen hardcovers that absolutely had to come home with me. Their cookbook selection is impressive (one recent visit brought me both a facsimile edition of Mrs. Beeton's and a wonderfully seedy-looking paperback gentlemen's drinks guide), and if you find yourself wanting real food, there's good eating on premises: the Lady Killigrew Cafe (named for a pirate, of course) serves lunchy sandwiches and soups, while from 5:30 onward the Night Kitchen offers a refined dinner almost as beautiful as the view.
Montague Bookmill
440 Greenfield Rd.
Montague, MA
tel: 413/367-9206
The People's Pint
You can find the People's Pint's excellent brews by the bottle at bars throughout Massachusetts, but like almost everything else in life, it's best at the source. But besides copious beer on draft (be sure to get your favorite in a growler to go), this Greenfield brewpub has quite possibly the best bar food around. Thai green curry shares menu space with El Salvadoran pupusas, but the real draw is the burger list: go for the Squealer, with bacon ground in with the beef. (As if all that weren't enough, the Pint uses almost entirely local ingredients and produces vanishingly little landfill waste, composting and recycling so efficiently that they've never managed to fill more than one garbage bag a night.)
The People's Pint
24 Federal St.
Greenfield, MA
tel: 413/773-0333
Amherst Chinese Food
Despite its uber-generic name and an exterior that wouldn't be out of place in a strip mall, this Chinese restaurant is something seriously special. The restaurant is owned by Tso-cheng Chang, who has a doctorate in Plant and Soil Sciences from UMass; during the summer, virtually every vegetable the kitchen serves comes from his 40-acre organic farm just up the Connecticut River in Whately — time your dinner right, and you could be eating stir-fried bitter melon that was harvested that afternoon. Along with the brilliantly executed Chinese classics on the menu, be sure to have a glass of Chang's schizandra berry juice, made from an Asian berry that tastes a little like cranberry, a little like lemon, and entirely like itself.
Amherst Chinese Food
62 Main St.
Amherst, MA
tel: 413/253-7835
Fresh Side Cafe
There are only two things that really matter on the extensive menu at this perpetually crowded Asian-fusion spot: tea, and tea rolls. The tea selection is perfectly curated, and you'll get your choice of infusion served in an elegant teapot with small sipping cups. Use it to wash down any of a dozen types of tea rolls: tiny packages of dough encasing savory fillings from kimchi to seaweed rice to curry chicken salad. The prices are student-friendly: four tea rolls won't set you back much more than five bucks, so grab some friends and order as many flavors as your heart desires.
Fresh Side Cafe
39 S. Pleasant St.
Amherst, MA
tel: 413/256-0296
Atkins Farms
In the fall, there's no better place to point yourself on a Sunday morning than toward this farm market and orchard, where you'll find bushels of just-picked apples, fresh-pressed cider both warm and cold, and the most important part: piping hot cider donuts sanded with crystalline sugar. Wander the aisles for a bit and you'll also find a bounty of local produce, jams, honeys, and dairy, along with terrific breads and cookies — everything you need for a picture-perfect Western Massachusetts picnic.
Atkins Farms
1150 West St.
Amherst, MA
tel: 413/253-9528
Where to Stay
The elegant red brick Hotel Northampton at the very center of town has been operating since the 1920s, and despite its modern amenities, still maintains a perfectly vintage feel
Hotel Northampton
36 King St.
Northampton, MA
tel: 413/584-3100
The Lord Jeffery Inn is on the northern edge of the Amherst College campus (it's named for Lord Jeffery Amherst, founder of same), and is within a block of Amherst's best restaurants.
Lord Jeffery Inn
30 Boltwood Ave.
Amherst, MA
tel: 413/256-8200
Interactive Map: Helen Rosner's Pioneer Valley Dozen
View The Saveur City Dozen: Helen Rosner's Pioneer Valley in a larger map
Helen Rosner is the editor of Saveur.com. She lived in Northampton, Massachusetts for four years while attending Smith College, and gets cranky if she doesn't make it back to the Valley for at least a long weekend every year.