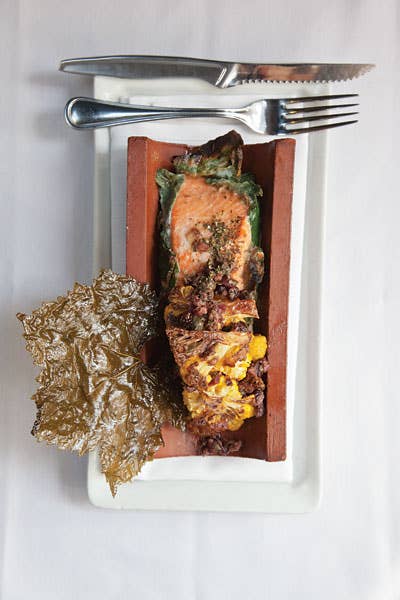 Travel
Restaurant Review: Oleana and Sofra, Cambridge, MA
Chef Ana Sortun's Levant-inspired cuisine is as surprising as ever.
When Chef Anna Sortun opened Oleana 11 years ago in Cambridge, Massachusetts, the restaurant—with its filigree lanterns, Turkish rugs, and sultry garden where musicians played the oud and hand drums—was a novelty. The food, an amalgam of Mediterranean cuisines that wandered all over North Africa, Central Asia, and the Middle East, had hardly any precedent in Cambridge, or this country. I remember being surprised on an early visit by the startlingly vivid flavors: There were colorful mezes like kibbeh nayeh, a pescatarian take on traditionally meaty kibbeh, with tender raw tuna, smoked bulgur, and Turkish peppers, as well as other dishes, like fried mussels and hot peppers with a garlicky tarator sauce, and succulent, tamarind-glazed short ribs with smoky eggplant puree. I'd never tasted anything quite like it.
A decade later, Oleana has become not only a beloved Cambridge staple but a force in the restaurant world. Last fall, after I dined at a new African-Turkish-Italian place in Portland, Oregon, the young chef told me the restaurant he most wanted his to be like was Oleana. It got me thinking about how the flavors and foods that Sortun, now 44 years old, has championed over the years—saffron and sumac, cumin and pomegranate—have become so much more common in our culinary vernacular. And it made me want to revisit Oleana, as well as Sofra, its newer sister cafe, to see if they stood the test of time.
At Oleana, I ordered a dish I've enjoyed before: Sortun's Arabic interpretation of fideos, a Spanish specialty, which she makes by toasting broken vermicelli, then simmering it in a broth infused with saffron, vanilla, fennel, coriander, chiles, and cocoa. This is my kind of comfort food, tossed with chickpeas and Swiss chard and napped in a citrusy aioli. It's as wonderful now as the first time I ate it. Chickpea terrine stuffed with apricots, golden raisins, and pistachios, topped with a tahini sauce fragrant with Aleppo chile, cinnamon, and cumin, is an elegant canvas for Sortun's arsenal of spice.
I don't think Sortun's cooking was always this bold. When Oleana first opened, the chef was somewhat slavish in her re-creation of the dishes she picked up on her travels in and around Turkey. (She also learned North African cooking under Moncef Meddeb, the Tunisian-born chef who founded L'Espalier in Boston, and about Middle Eastern cuisine under the mentorship of Sari Abul-Jubein, the Syrian-born owner of Casablanca in Harvard Square.) I remember her Turkish spice-rubbed lamb steak with fava bean moussaka, a version of a dish she learned from a Turkish home cook. It was delicious, but it didn't bear her mark. Now she lets herself experiment and allows her own palate to roam more freely. In her current iteration of moussaka, for example, made with a light yogurt-enriched mornay sauce and thick fava bean puree, the lamb has been reduced to a supporting role, ground and used as a savory accent.
From the start, Sortun married those Levantine flavors and dishes to local produce, before that was de rigueur. She went so far as to marry the farmer who grew her best stuff, Chris Kurth, who now runs Siena Farm, named for the couple's young daughter. These days, Sortun seems content to let the produce dictate the menu. I found this to be the case during recent visits to Sofra, her cafe in Cambridge, where the seasonal mezes, an array of bright salads and vegetables, are irresistible. I love the piquant beet tzatziki, sweet Moroccan carrot salad, and romano beans stewed in plaki, a sweet-tart tomato-onion sauce made with red, green, and pickled Hungarian hot wax peppers. The sandwiches, too, are showstoppers, street food brought indoors: Homemade breads like yufka, a nutty flatbread, are made on a saj (a drum-shaped griddle that was produced for Sofra in Lebanon) and fashioned into heavenly shawarma filled with slices of grilled lamb, pickled cabbage, and tahini.
Sortun opened Sofra in 2008 with her longtime pastry chef, Maura Kilpatrick, and partner Gary Griffin, who has been working with Sortun from the beginning. The room is spare but welcoming, with a few low tables as in a Moroccan coffeehouse. There are unusual drinks like salep, steamed milk flavored with cinnamon and ground orchid root, and home-style Middle Eastern dishes like shakshuka, eggs poached in tomato sauce and spiked with zhoug, a hot chile relish.
And then there are Kilpatrick's pastries, superb renditions of American classics such as superior chocolate chip cookies with huge cubes of Scharffen Berger chocolate and an incredible variety of Middle Eastern—inspired sweets, like crumbly tahini shortbread; slices of knafeh (milk pudding sandwiched between layers of shredded wheat pastry); and, of course, baklava, in a version with chocolate and hazelnuts that has spoiled me for any other.
As at Oleana, the food at Sofra is as painstakingly executed as ever, but there's still the sense of fun and surprise that has defined both restaurants since they opened. No dish illustrates this better than Oleana's over-the-top baked Alaska, a mountain of meringue on a chewy macaroon base, with coconut ice cream and passion-fruit caramel, which has been on the menu since day one. No matter how often I order the dessert, it always feels celebratory, like every time I eat at Oleana and Sofra.
_Oleana
135 Hampshire Street
Cambridge, MA
(617/661-0505)
Hours: Sunday-Thursday 5:30-10 P.M.; Friday-Saturday 5:30-11P.M.
Entrees: $24-$32. Desserts: $11-$14.
Sofra
1 Belmont Street
Cambridge, MA
(617/661-3161)
Hours: Monday-Friday 8A.M.-7P.M.; Saturday-Sunday 8 A.M.-6 P.M.
Plates: $3-$9. Pastry: $1-$4.50.
_