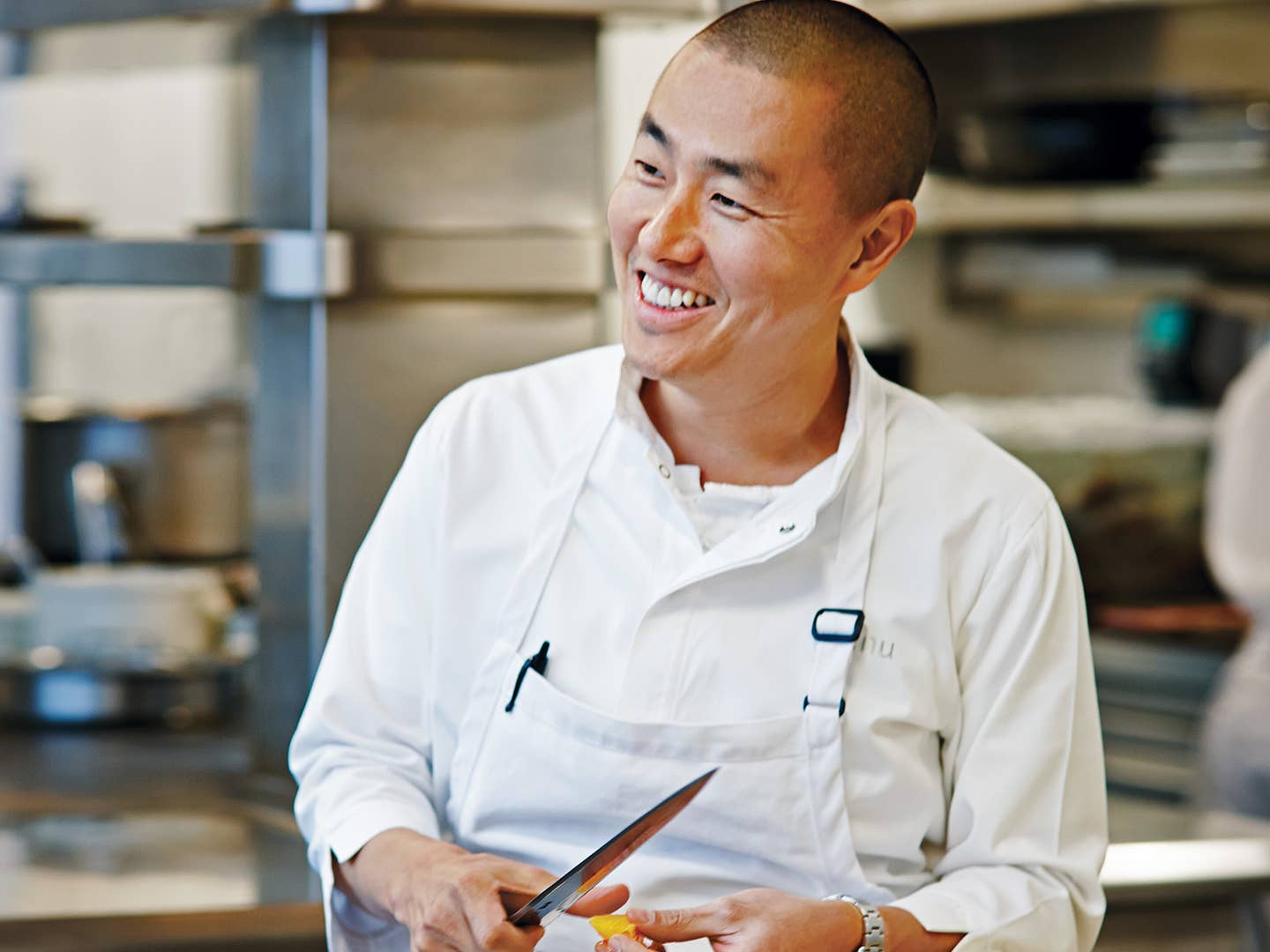 Culture
Intelligent Design: Corey Lee
Chef Corey Lee's austere, delicate dishes are a delicious product of his constant devotion to detail.
Chef Corey Lee is sitting at one of the fumed-oak dining tables in his San Francisco restaurant, Benu, transfixed by a porcelain cup the color of milk. "This took six prototypes," he says, rotating it slowly in his hands. "It's double-walled. It's a very simple design, actually, but the process of making it is really challenging." He pulls out his iPhone and summons a video from KwangJuYo, the renowned porcelain factory in Icheon, South Korea, where his restaurant's tableware is made. We watch as one of the cups spins round and round on a wheel, materializing almost seamlessly beneath the pressure of the potter's fingers.
At Benu, Lee's aesthetic is best described as lo-fi opulence: It's found in the thoughtfulness that goes into the tiny, quiet luxuries that accumulate to create a rarefied but deeply hospitable environment, from the heft of the silverware to the pre-service staff meeting, where every diner's dietary restrictions are recorded and reviewed. Even the typeface used for Benu's logo is carefully composed of six fonts, traditional and modern, layered on top of each other so that the negative space between them, Lee explains in his soft-spoken, affable way, "becomes our font."
And then there's the food itself, which, like everything else at Benu (and inside Benu, his cookbook, out this month from Phaidon), is more or less a master class in stripped-down elegance, a phrase that defines his cooking as exactly as any of the labels—modern, high-end, Asian-accented—that have been applied to his food since he opened the restaurant in the SoMa neighborhood in 2010. Consider Lee's riff on the classic French crudité spread. He started with an image in his head of the radishes, butter, and salt served at French bistros: "It's timeless, and I didn't want to totally rework it. But I also didn't want a trite play on something classical," he says. At Benu, the dish becomes a smattering of raw vegetables accompanied by a silky hillock of Bercy butter crowned with a nest of caramelized dried baby anchovies. Why anchovies? In Europe, they are often used to flavor butter; in Korean cuisine, baby anchovies are used to make stocks. Lee found unexpected harmony in that duality—in using a single, traditional ingredient to unite two vastly different cultures on a plate. As soon as you look at Benu's dish, Lee explains, "you can identify things you expect, but simultaneously you realize it's entirely different and totally new."
Born in Seoul, South Korea, Lee left for New York City with his family when he was five years old. Because his mother was a potter, he grew up around art, but preferred to spend his time in the company of books. As a kid he wasn't that interested in cooking. But that changed when he began working at the age of 17, bussing tables and running food at New York's Blue Ribbon Sushi. Later he spent two years cooking in England and France.
In 2001, Thomas Keller hired him at The French Laundry, where he later became the chef de cuisine. After striking out on his own, Lee gradually established his own voice, one informed as much by Asian ingredients as by French technique. Last year, he opened his second restaurant, the French bistro—inspired Monsieur Benjamin; a few months later, Benu netted its third Michelin star.
Shortly before dinner service begins, Lee takes me to Benu's ceramics closet. He shows me prototypes for a platter he is designing for serving nine small delicacies in the style of Korean gujeolpan and pulls down another prototype, this one a hammered brass platter. It's beautiful but, at three and a half pounds, achingly heavy.
Back in the kitchen, I watch Lee and Brandon Rodgers, Benu's chef de cuisine, construct xiao long bao soup dumplings, filled here with spheres of lobster, lobster coral, and clarified butter that liquefy when steamed. As he seals dumpling after dumpling, Lee talks about the serving dish for them: He wanted a design that would echo a bamboo basket, but needed materials that were food-safe, were nonstick, and could cope with high heat. He eventually found a designer who used a medical-grade polymer that did the trick, molding it into a disk made of concentric circles surrounding a little bowl for the dipping sauce.
When a server presents me with an order of the dumplings, they arrive in a covered black bowl. The lid is removed to reveal them, their pudgy homeliness amplified by the stark white disk and black bowl beneath them. It's comfort juxtaposed with the void, or so I start to say to myself before the molten, transcendent beauty released by my first bite scrambles my brain entirely.
Next to me, Lee is tying short lengths of string onto the stems of dried hachiya persimmons. "These are dried for sixty days," he says of the fruit, whose ruddy skin has grown a fine white coat of sugar. "This is very intriguing for me, the lack of oxidation, the layer of sugar coating that develops." I ask him how he decides the manner in which to present his ingredients on a plate. "The style of food presents itself naturally, behind the scenes," he says, tying some more string. "At the end of the day, how do you present it? It presents itself."