Hakurei Turnips with Mustard Broth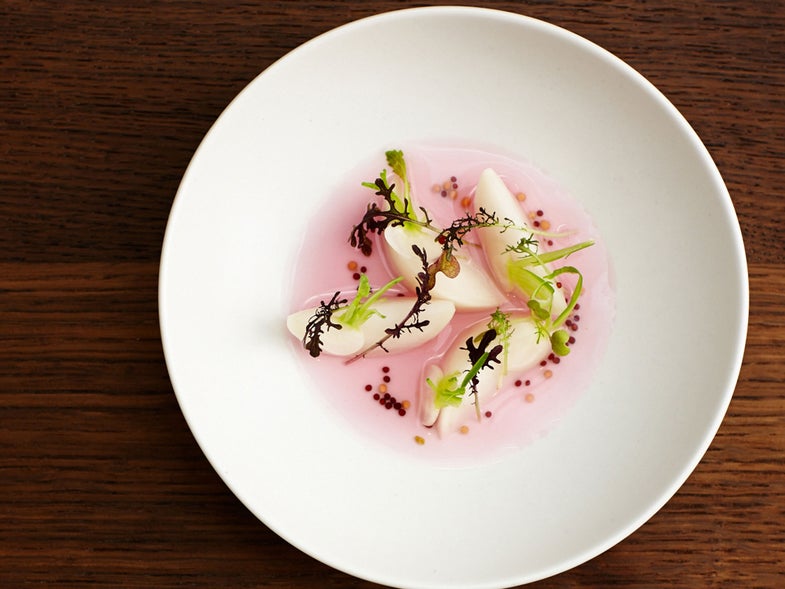 Mustard seeds transform into tender, caviarlike pearls and impart a subtle nutty perfume to this simple spring root vegetable dish from Chef Corey Lee. Featured in: Intelligent Design
Hakurei Turnips with Mustard Broth
Hakurei turnips are suspended in a nutty mustard broth in this simple spring root vegetable dish from Chef Corey Lee.
Ingredients
1 1⁄2 tsp. brown mustard seeds
1 1⁄2 tsp. yellow mustard seeds
1⁄4 cup sugar
2 tbsp. kosher salt, plus more
1 1⁄2 tbsp. fresh lemon juice
8 Hakurei or other small white turnips, trimmed
1 (1″) piece ginger, peeled and thinly sliced
1 large shiso leaf
1 large red mustard green leaf
1 cup micro mustard greens
3 tbsp. champagne vinegar
1 tbsp. olive oil
Instructions
Soak both mustard seeds and 2 cups water in a 2-qt. saucepan for 1 hour; strain. Add 2 cups fresh water and boil; cook seeds until tender, 4–5 minutes, and strain. Add sugar, salt, lemon juice, 6 turnips, the ginger, shiso, and 2 1⁄4 cups water to pan; boil. Stir in mustard leaf and turn off heat; steep, covered, for 10 minutes. Transfer turnips to a cutting board; quarter. Strain broth into a bowl; stir in reserved mustard seeds. Divide turnips between bowls; ladle broth over top. Shave remaining turnips using a microplane and toss with microgreens, vinegar, oil, and salt in a bowl; sprinkle over dish.