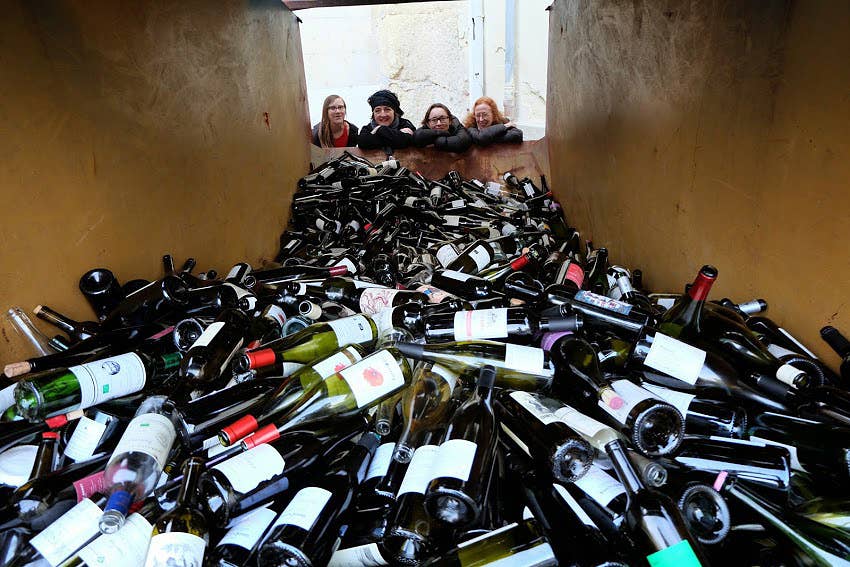 Culture
The Best Bottles at "The Burning Man of Wine"
Wine experts report back on La Dive Bouteille, an annual natural wine festival in France.
A little over a month ago, 300 winemakers set up shop in a cave in Saumur, France, to pour natural wine for importers, distributors, writers, and friends. The annual weekend-long tasting is called La Dive Bouteille, or La Dive for short. It's also called "The Burning Man of Wine."
Where traditional tastings or wine festivals can be austere and competitive, often located in conference centers worlds away from actual vines, La Dive better resembles a very friendly party, where attendees come to drink and visit. Business is done, but celebration and camaraderie come first. There aren't very many suits.
I recently spoke to three women who attended La Dive this year and know a hell of a lot more about wine than I ever will: Pascaline Lepeltier, sommelier at Rouge Tomate in New York City; Alice Feiring, wine writer and natural wine evangelist; and Bianca Miraglia, the brilliant mind and maker behind Brooklyn-based Uncouth Vermouth. What struck me about their stories was the impression it gave me of the natural wine world as a whole: one where winemakers support each other rather than elbow out the competition; one where making actual human connection is still important; and one where people care deeply about this very difficult but highly rewarding pursuit.
And now that "the first generation of natural winemakers has grown up," as Feiring puts it, natural wines are better than ever.
The thing that attracts me—a neophyte, basically—to natural wine is that the words you hear when you talk about it are different. Talk to the (I'm sure very nice) person at your run-of-the-mill wine store about their favorite wine and they'll talk of taste notes, noses, barrels, regions. Talk to a natural wine freak and you'll hear the story of a person, of a family making something totally crazy and awesome, of natural yeasts and science and perseverance and funk. Especially if you don't know all the "right" words to use when talking about wine, the latter is much more engaging.
According to Feiring, La Dive started in 1999 when 22 French vignerons got together, everyone invited a winemaker from a different region, and everyone poured. "It was very new wine—pretty much all of it was still fermenting in the bottle, just recently finished. And it was a party atmosphere: Business was done, but mostly people came to hang out." The whole thing happened in a cave.
Slowly, word spread. Seventeen years later, the event is still primarily French, but attracts winemakers from around the world—and an increasing number of American importers. And while things have become slightly more professional, the spirit of camaraderie and merrymaking remains.
Says Lepeltier, "When you make [natural] wine, you have so many issues, you have so many questions. There is a need to help each other. That idea of community is very important." At La Dive, "Everybody is very approachable, even winemakers from regions that are usually a bit more uptight. It's very down to earth."
This year was Miraglia's first at La Dive; she was pouring her (all natural, no-sugar-added) vermouth in the cave all weekend. "It was definitely the largest, nerdiest not-American tasting I've ever attended," she explained. "What I appreciated about it was that people we asking really intellingent questions." She also ended up having to hitchhike back to her hotel on her first night there, and was picked up by Fanny Breuil of Italian winery La Stoppa (their winemaker, Elena Pantaleoni, is pictured below).
The other thing that's special about La Dive: The person pouring your wine most likely made it. According to Feiring, "Most natural wine is actually made by a person and not a company; most people who come into this environment are struck by the fact that the person pulling your wine is not an agent, but the person who is making the wine." Here, both your wine and your information are coming straight from the source. In Miraglia's words, when you buy natural wine, "you're supporting someone's lifestyle." Now that we're all happy together on the sustainable food bandwagon, it's time we start thinking about our winemakers the way we think about (and romanticize) our farmers.
So next year, consider booking yourself a ticket to France to drink a bunch of natural wine in a cave. Until then, here are the bottles that Lepeltier, Feiring, and Miraglia were particularly excited about this year:
Jeff Coutelou / Mas Coutelou
"A fantastic producer who has been making delicious, complex, layered wines with no sulfur for years now. I knew the wines before and worked with them, but it was the first time I met him during that trip, just before the Dive at his estate and at the Dive itself (it was his first time). A reference for no-sulfur wines, with a perfectly worked vineyard in an area (Languedoc at the foothills of Faugeres) where industrial wines are dominant." —Pascaline Lepeltier
Francois St Lo
"Here is a young producer (his first vintage was 2012) from the southern part of Anjou. His chenin has a lot of potential, and he has made some very delicious red even in a complicated vintage. Somebody to watch." —Pascaline Lepeltier
Jean-Pierre Riestch, Alsace
"A discovery for me from that region, of very high quality, complexity and depth. Definitely on my next list at Rouge Tomate. I don't know how I did not try these wines before." —Pascaline Lepeltier
Bichi
"From Baja, this was from 60 year old mission grapes, from a non-irrigated vineyard. Loved seeing the potential of that area as most everything I've had from Baja to date was 100% spoof." —Alice Feiring
Dancing Girl tavkveri
"Women wine makers in Georgia are rare, but here's the second one, 25 year old and doing a great job, loved this wine. full of velvet, the girl has an idea and she's doing well with a grape that is not a household name." —Alice Feiring
Yoigokochi Sake Imports
"They have the best, most intriguing sakes and I can never get enough—especially the always-riveting Musubi from the Terada Honke brewery. All organic, no inoculation, it's just simply, radical and medieval made with unpolished rice. Sour, sparkling, creamy, and shocking." —Alice Feiring
Laurent Cazottes
"An inspiring and unbelievably talented winemaker and distiller, taking greater care than anyone in the known world. He forgoes yeasts and any additives in producing his Eaux du Vie, making them absolutely true to the hand-picked fruit. Cazottes only uses fruits indigenous to Southwest France, and even goes to the extent of removing all stone fruit pits to ensure the highest possible quality and the lowest possibility of creating an unhealthy spirit. His U.S. importer is Nicolas Palazzi, PM Spirits." —Bianca Miraglia
Goutte de Mauzac Rose
"Eau de Vie of the native Mauzac Blanc grape, which is also made into wine as well. Bright and nimble, truly tastes like the happy fruit of its original form. An admirable and most enjoyable treat I could not be more in love with." —Bianca Miraglia
Mose Gadouche—Pascal Potaire
"Producers of Les Capriades, Pétillant Naturel made in Methode Ancestrale. These delicious wines are made without the addition of yeasts or sugars and instead utilize the natural sugars left in the wines that had not yet converted to alcohol. No sulfur added as well. Mose and Pascal also make still wines!! Their U.S. Importer is Selection Massale. Rosé Piege à Filles This crown-capped pet nat is a blend of Gamay, Pineau d'Aunis, Grolleau Noir, Cabernet Franc and Côt...and it's incredible! Such a treat that is suitable for everyday and every meal, no exaggeration." —Bianca Miraglia