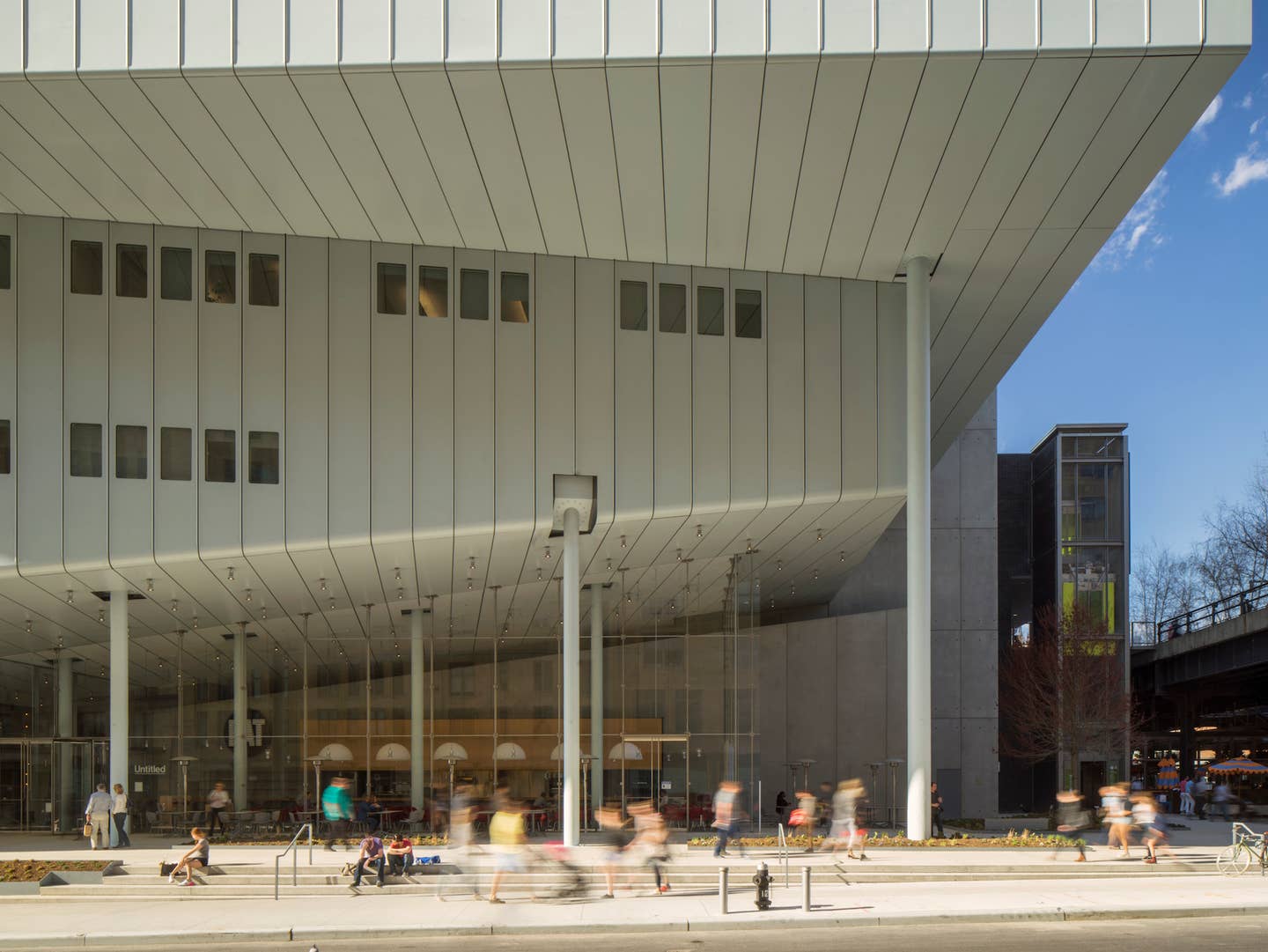 Culture
How a New York Chef Hopes to Redefine Museum Restaurants
With a new space and a new chef, Untitled at The Whitney refuses to be an afterthought
There should be some sort of support group for people who have paid too much for a sad salad at a museum café, but there is not a church basement on this earth large enough to hold all of us.
The new Whitney Museum, on the other hand—that eight-story, brand new, window-clad beacon of contemporary art expressing itself all over Manhattan's meatpacking district—might just offer the consolation we seek. Here, in the soon-to-open Untitled, chef Michael Anthony is ready to change our understanding of a museum restaurant.
Upstairs, the galleries are wide and vast; they feel more like lofts that happen to include a few carefully placed walls. The skylit top floor offers the same upward promise as Wonka's great glass elevator. This airiness makes a massive collection of contemporary art feel more accessible than it ever did in the Whitney's former uptown location, and all those windows remind us, over and over, of our context: We are in New York, that nexus of design and art and ambition that cheerfully welcomes a shining tower full of canvases and painted genitals and vacuums in glass cases.
When you approach from a certain direction, Untitled is your first glimpse of the Whitney's insides. Architect Renzo Piano has apparently called it the "prow of his ship." This place understands a good first impression.
The restaurant is a joint venture between Anthony—who has been Gramercy Tavern's executive chef for 10 years and is up for this year's James Beard Outstanding Chef award—and Danny Meyer, the restaurateur who has redefined hospitality and built some of New York's most-loved restaurants. Floor-to-ceiling windows extend people watching past fellow diners; minimalist beams shoot down from a ceiling that's so high you won't remember seeing it. Fine dining feels nigh, but there isn't a white tablecloth in sight.
Most importantly: It rejects the notion that a museum restaurant, like a hot dog stand at a baseball game or a vending machine at a hospital, exists only to adequately feed the tired and hungry people who happen to wander past. "It's our responsibility to create eating experiences that you would go out of your way for even if you weren't in the museum," says Meyer. Untitled aspires to hold its own against New York's other great restaurants. It also rejects the notion that, because it lives inside a modern museum, it must fancy itself avant garde.
"Our big goal is timelessness," Anthony explains. When he speaks, he is even-keeled and focused; he is the person you want manning the prow of your ship. His tenure at Gramercy Tavern—a New York classic, the sort of place perfect for business lunches and dinners with parents and lazy Saturday glasses of wine alike—bodes well for this. In his 10 years there, he has championed seasonal menus and elegant plating to the tune of Meyer's graceful hospitality. (Eater restaurant critic Ryan Sutton recently called it the quintessential New York restaurant.) This is a good time to note that of all the 2015 James Beard nominees for Best New Chef, Anthony is the only contender who runs fewer than three restaurants.
At Untitled, Anthony will have the opportunity to let down his hair, holding on to the principles that guide his cooking (seasonality, precision, a focus on ingredients) while coloring a little further outside the lines. On the menu here, "there will still be that approach to under-manipulated food, but a flavor profile that would not make its way onto the menu at Gramercy Tavern." Think hunks of carrots roasted in guajillo paste, or black garlic funking up monkfish.
The menu is broken up into chunks, without labels (get it?); the third dedicates itself to vegetables, our contemporary muse. I ask Anthony whether the phrase "vegetable forward" is losing its meaning—it's a popular way to describe his food and the food of so many of his peers. Turns out he isn't too concerned with nomenclature.
"Whether it gets a label or not is of no interest to me," he responds. "If people like the way that vegetables at Gramercy Tavern sneak up and steal the spotlight, great. I'm excited that people are paying attention to it. But this is not an episode of Portlandia; I'm not going to stand on the bar and say, 'Get your local food here!'"
No, Anthony's message is a little more nuanced. He repeatedly cites the Whitney's surrounding neighborhood—its creativity, the highline's overflowing urban greenery and sleek lines—as inspiration. "There are very few neighborhoods left in New York that are constructed around ideas that make life more interesting and charming," he says. "This is not a neighborhood built on efficiency and profit."
It will be interesting to see what a more bohemian Michael Anthony looks like. There will still be chef's whites and fully articulated sentences and perfect knife skills and artful plating. But instead of a classic Manhattan dining room, we have New York's street-level translation of the Stahl house. Anthony hopes that Untitled will be a place where diners can linger and talk, and where the space between food and art can gradually, organically disappear. When it opens on May 1, and in the months to come, we'll be able to see whether that all plays out. Given his and Meyer's track record, the odds are good.
The Whitney, like Gramercy Tavern, feels like peak New York; both scream the city's name, but in completely different tones. I ask Meyer whether he thinks much about defining our city's style of cooking. Turns out he doesn't. "I love whenever any restaurant can activate a part of New York in a way that it has not been activated," he explains. But: "I don't think about New York food," he answers. "I think about New York."
There will be a lot of thinking going on at the Whitney. We will think about New York, about art, about vacuums. If Anthony delivers on his promises, we will also be thinking about what we have eaten. And our salad-related memories will be happy ones.