Tour Guide: Hugh Acheson's Athens, GA
Chef Hugh Acheson shares his favorite spots for beer, music, and food in the charming college town he calls home.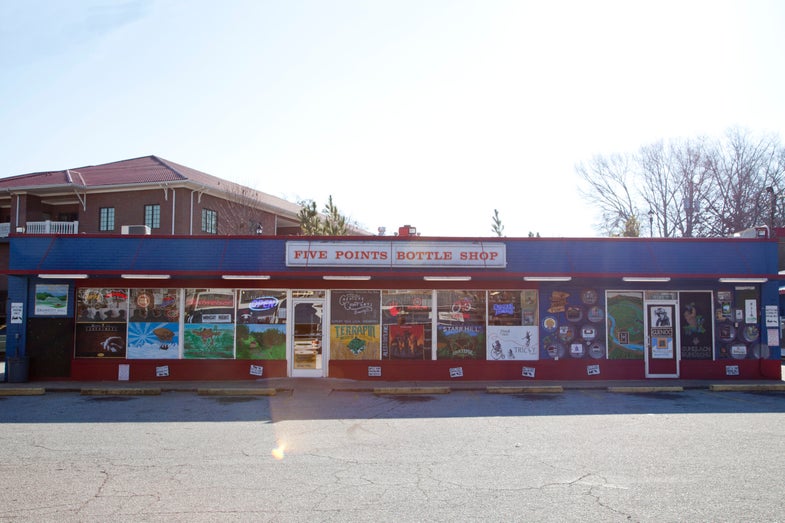 Hugh Acheson is a Canadian-born chef and author who discovered Athens, GA in his twenties when he moved there with his wife Mary, an Athens native. He would later open two restaurants in town: Five & Ten and The National. Even though he has since expanded to Atlanta and Savannah, his family calls Athens home. "Athens is really a unique Southern city in its ability to provide a home for a motley crew of people," says Acheson. "It's academic, artsy, musical, and though it's not very big, it has some great culinary talent and restaurant gems."
Here, he shares his favorite places to eat, drink, and catch a show.
5 Points Bottle Shop
This liquor store's crazy array of choices makes it a must-visit. It draws a very diverse crowd, from frat boys buying kegs and beer geeks buying lambics, to whiskey collectors buying bourbon and oenophiles filling their cellars.
5 Points Bottle Shop
1655 South Lumpkin Street
Athens, GA 30606
(706) 543-6989
40 Watt Club
Athens isn't Athens without the 40 Watt, an intimate music venue that's been around since 1978. Go see a show, have a drink at the tiki bar, and you'll realize what an amazing music scene Athens has.
40 Watt Club
285 West Washington Street
Athens, GA 30601
(706) 549-7871
Automatic Pizza
Automatic is a new pizza place opened by good friends of mine. They're serving classic New York–style pizza and sandwiches in a smartly designed corner spot—which is a much better use of space than the Pizza Hut that was there before.
Automatic Pizza
1397 Prince Ave
Athens, Georgia 30606
(706) 850-2037
Condor Chocolates
Pulling inspiration from their Ecuadorian roots and a childhood love for chocolate, brothers Nick and Peter Dale opened this little 5-points gem just recently. The sipping chocolate is killer.
Condor Chocolates
1658 S Lumpkin Street
Athens, GA 30606
(706) 850-4803
Manhattan Café
The worn luster of this bar is part of its charm. For years Joey Tatum's beautiful neighborhood haunt has been slinging simple, affordable drinks in a spot that I just love. Get a Maker's and ginger and watch the world slowly improve.
Manhattan Café
337 North Hull Street
Athens, GA 30601
(706) 369-9767
Tlaloc
Tlaloc has the best pupusas, sopes, and authentic Mexican and Salvadorean food in town. True joy emanates from the kitchen; you'll hear the ladies singing back there all through your lunch.
Tlaloc
1225 North Chase Street
Athens, GA 30601
(706) 613-9301
The Branded Butcher
If you're going to a show at the Georgia Theatre, head here first for one of the best dinners in town. They offer amazing proteins, culinary craftsmanship, and a kickass Scotch egg.
The Branded Butcher
225 North Lumpkin Street
Athens, GA 30601
(706) 850-5152