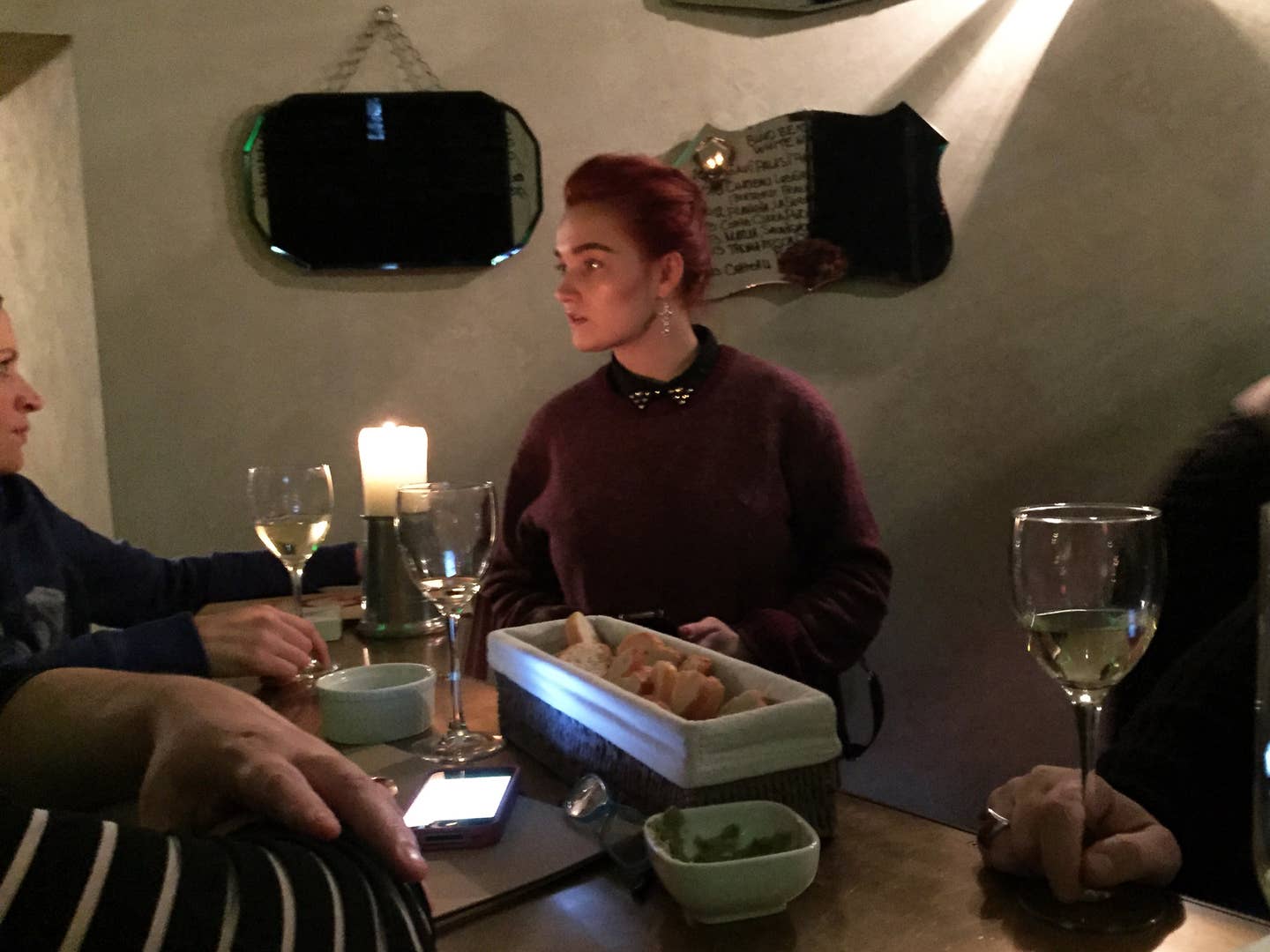 Travel
Dispatch: Where to Drink in St. Petersburg
From rock 'n' roll karaoke bars to speakeasies, there's a place for every drinker in St. Petersburg, Russia.
In early January, inspired by rock-bottom airfares and encouraged to visit by an expat friend, I flew from New York to Russia, where the holiday season had just begun. After a few icy days in Moscow, eating Georgian khachapuri and drinking vodka as Western Christmas music played in every shop and restaurant, I went north to St. Petersburg and spent three days in the company of a native, checking out the thoughtful food and drink scene and vibrant nightlife of Russia's cultural capital. Thanks to its proximity (and similarity) to Scandinavia, a young creative community on the rise, and the U.S. dollar currently so strong against the ruble, St. Petersburg makes for an appealing, lower-cost alternative to Copenhagen. Evening bar crawls found us in a number of fun and diverse places, including a tiny circular wine bar, a speakeasy that specializes in gin, a rock 'n' roll karaoke bar, a bar that doubles as a hair salon, and a Soviet-inspired canteen serving ice-cold vodka and warm Russian comfort food. There really is something for everyone in St. Petersburg.
Bar 8
Katya Bokuchava is a native of Georgia and self-taught cook who left home for the US as a teenager and developed her culinary skills at La Marca, La Bella Ferrara, and the kitchen of the Russian & Turkish Baths in New York. She recently opened Bar 8 in a compact rotunda of a storefront in St. Petersburg's business district, and also owns a stylish nearby restaurant, Mesto, which serves a lively and well-executed menu of Provençal, Georgian, Italian, and British-influenced dishes. Bar 8 offers 15 wines by the glass, and another 15 by the bottle. The list is heavy on Italian and French selections, including a Planeta Chardonnay from Sicily, Cannonau from Sardinian producer Chio, a Chateauneuf-du-Pape from La Bernardine and a Bordeaux from Chateau Carillon. Snacks include Italian cured meats and cheeses, pickled vegetables, olives, and a rich yet piquant green dip of herring, dill, scallions, and sunflower oil, served with toast and pretzels. For those who want more substantial fare without leaving the bar, Bokuchava will happily provide the menu for a local pizza delivery service. Friendly bartenders offer guests the chance to choose music from an 80s-heavy CD selection, and a sign in the window that reads, in English, "If you are racist, sexist, homophobic, or an asshole, don't come in," tells you what to need to know about the mood inside.
Bar 8
8 Lenin St.
(812) 904-7660
Open 6 p.m.–2 a.m. daily
Gin Tonic Bar
Through a courtyard and behind an unmarked door, you'll find a friendly, if self-consciously stylish, drinking scene at Gin Tonic Bar. "We love gin very much," says owner Evgeny Gorbunov, who opened the faux-speakeasy two years ago with partner Ilya Astafev; the two were inducted into London's Gin Guild in 2014. You can choose from over 200 varieties of gin from nearly every corner of the globe, including Thai and Colombian selections, mixed with care by a focused (and often English-speaking) bar staff into drinks like the Gangster Negroni (gin, Pedro Ximenez sherry, Campari, and Kisrschwasser) or a pomegranate-infused gin and tonic. On the weekends, resident DJs play funk, hip-hop, and rap for a heavily-local crowd that sways happily on the small dance floor. Hungry drinkers should note that Gin Tonic Bar doesn't offer so much as a peanut to eat, so stash a bag of chips in your pocket to keep the munchies at bay.
Gin Tonic Bar
64 Liteiny Ave.
(921) 870-7176
Open Sun–Thurs 6 p.m.–2 a.m.; Fri – Sat 6 p.m.–5 a.m.
Gorbunov suggests calling ahead to confirm the hours on the day of your visit.
Poison Karaoke Bar
Anglophone karaoke lovers, tourists of all ages, and Russian fans of American and British rock music converge in the raucous Dumskaya Street nightlife district at Poison. A small, slightly-elevated karaoke stage in the back of the narrow but cheerful space hosts singers who can choose, free of charge, from thousands of songs, from Creedence Clearwater Revival to Prince to Arcade Fire; lyrics appear on TV screens throughout the bar. Guests cram into booths and along the bar to wait their turn while drinking dark Czech beers, apple or cherry ciders, or the signature Poison cocktail, featuring white rum, passionfruit, and grapes. Snacks are limited to a complimentary (and thirst-inducing) spicy peanut mix, but hungry singers can duck out between numbers to grab a kebab from a shop around the corner. Owner Anna-Christin Albers, a German expat, owns two other Poison karaoke bars in St. Petersburg, at 13 Rubinsteina Street and 50/3 Ligovsky Prospekt, which offer a wider variety of classic and original cocktails.
Pif Paf
Pif Paf is fun, young, happy and loud. Over a well-chosen soundtrack of synth pop, disco, 80s and 90s hits, punk, funk and R&B, in brightly-colored rooms full of American diner-style accents and striking framed photographs, guests enjoy drinks like the Orangeviy, a tart mix of vodka and buckthorn berries, and a Bloody Mary in which vodka has been replaced with Khrenovuha, a house-distilled spirit flavored with horseradish and garlic. Hungry drinkers can order from a short menu of burgers, including a juicy pork-based Russian version topped with sauerkraut, lard, and salted cucumbers, and a salmon burger, served with cream cheese on a black squid ink bun. Drinkers in need of a new look can book an appointment in the on-site hair salon, which operates until about 10 p.m. most nights. The four owner-partners, longtime friends who work in the worlds of tech, film, and fashion, opened Pif Paf as a place for the city's creative class to gather, and are considering Berlin for a second outpost.
Pif Paf
31 Griboyedov Canal Embankment
(911) 265-0061
Opens at noon daily (kitchen opens at 3 p.m. in winter); closes after the last customer has departed
Khroniki
With its spare, white-tiled interior and high-spirited crowd of students, professors, journalists, filmmakers, and political activists, Khroniki (the name means "chronicles") is an appealing combination of a highbrow modern Scandinavian bar and a classic Leningrad ryumochnaya. Journalist Peter Birger opened the place in 2013 with partners Gleb Borisov, also a journalist, and Anna-Maria Khramchenkova, who manages Khroniki and can often be found behind the bar, engaging customers in Russian and English conversation. To set the mood, guest DJs play an eclectic, upbeat music mix. To drink, there is Russian (and Swedish, Danish, and Finnish) vodka, of course: in shot form; in short drinks like the Severniy, which mixes vodka with Minttu, a Finnish mint liqueur, and cranberries; and in long drinks like the signature Free Ingria, in which vodka joins cloudberry liqueur, apple juice, Angostura bitters, and more cranberries. A handful of local craft beers are also on tap, as is Crimean Port from the venerable house of Massandra. A short, seasonally-rotated menu of drinking snacks includes marinated herring, smoked mackerel, chicken liver pâtés with waffle fries, and a veal tongue sandwich whose creamy herring-based dressing makes it into a kind of handheld vitello tonnato.
Khroniki
26 Nekrasova St.
(911) 275-3161
Open Sun–Thurs 6 p.m.–2 a.m.; Fri–Sat 6 p.m.–4 a.m.
Mayak Café
Vodka, borscht, and nostalgia are on offer at Mayak, a cozy, unpretentious wood-paneled ryumochnaya (traditional Soviet-era vodka shot bar) whose low prices and living room vibe appeal to groups of babushkas, young Russian hipsters, soccer fans, and thirsty, in-the-know tourists in equal measure. The vodka, served in a glass flasks, is smooth and cheap (50 rubles per shot), as are the hearty and wholly traditional plates, which include borscht, beef tongue under aspic, and hard-boiled eggs with red caviar. Mayak opened in 1993, but the stoic waitresses in their Soviet-era uniform dresses and hats; the walls' dark patina; and the busts and portraits of Marx, Lenin, and Dzerzhinksy make it seem decades older in the best way possible.
Mayak Café
20 Mayakovskogo St.
(812) 273-4094
Open noon–11 p.m. daily