Travel Guide: Buenos Aires
There's more to Argentina's cosmopolitan capital than beef and malbec.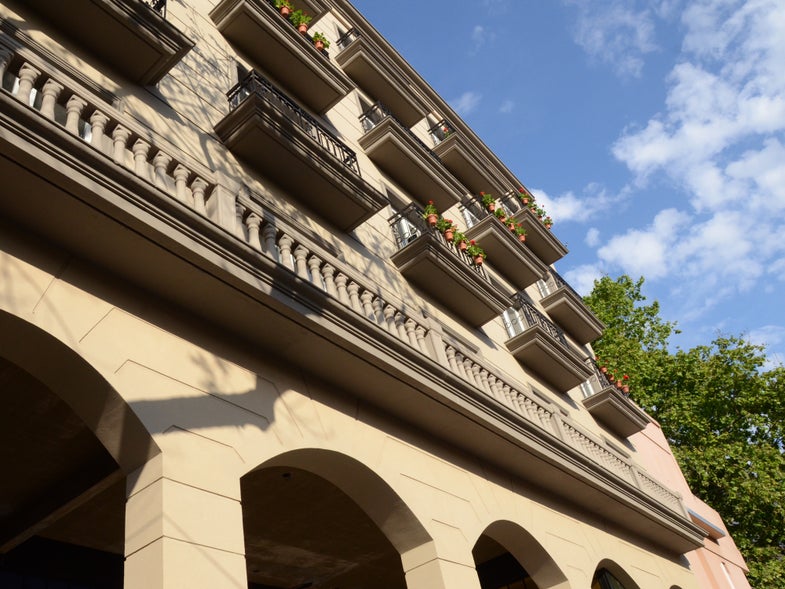 Rib eye, short ribs, tenderloin, skirt steak, choripan. Smoked at a contemporary parrilla, grilled by an asador at a traditional steakhouse, or served as one step in a tasting menu next to sommelier-selected wine: the meat you'll find in Buenos Aires is the stuff of every carnivore's dream.
But if you look beyond the mountain of protein on your plate, you'll see that Argentina's cosmopolitan capital is going through a food renaissance. Culinary creativity is flourishing, with impressive tasting menus and northern-hemisphere influences taking Argentina above and beyond its reputation for serving the world's best beef.
Spend an afternoon people-watching over a café con leche and pastafrola quince tart, sample a 12-step menu at one of the city's hottest eateries, or sip something other than malbec at a tasting. It's time to go beyond beef in Buenos Aires.
Where to Eat
La Carnicería
Given that meat is traditionally wood- or charcoal-grilled in Argentina, smoked cuts are a relatively new concept. Colombian chef Pedro Peña, however, has mastered the technique. At La Carnicería, which translates to "the butcher shop" and which he opened in November 2014, he smokes a daily special with cherry wood, and makes a wide array of charcuterie, such as blood sausage (morcilla) and tongue.
La Carnicería
Thames 2317, Palermo Soho, Buenos Aires
+54/11 2071-7199
Don Julio
This beef heavyweight is a porteño legend that fortunately lives up to all expectations. Located on a former butcher's premises, this is a go-to haunt for locals and visitors alike, who order tasty thin skirt steak or chunky rib-eye backed up by piles of French fries and grilled goat's cheese provoleta. Wine-school trained career waiters guide diners through an excellent list that showcases some of Argentina's finest vintages.
Don Julio
Guatemala 4699, Palermo Soho, Buenos Aires
+54/11 4832-6058
Perón Perón
When hearty Argentine staples hook up with a former president, the offspring can only be Perón Perón. This tribute eatery, sporting plenty of Evita and Juan Domingo memorabilia, serves up a spectacular array of traditional dishes. Order juicy ossobuco empanadas as a starter before moving onto guiso de lentejas (lentil stew) or a milanesa napolitana (breaded chicken or beef cutlet covered in ham, cheese, and a tomato sauce) as large as your head. Pausing mid-meal to sing the Peronist anthem is part of the fun, or a show of patriotic allegiance, depending on your political outlook.
Perón Perón
Carranza 2225, Palermo Hollywood, Buenos Aires
+54/11 4777-6194
El baqueano
When it's time to break up with beef, El baqueano should become your new beau. Ranked 18 in the 2014 San Pellegrino Latin America 50 Best Restaurants awards, chef Fernando Rivarola specializes in indigenous, sustainable meats: his curious cuts include yacaré (alligator), rhea, wild boar, and llama. Dive into the monthly seven-course tasting menu, whose standouts include llama carpaccio and viscacha in chile vinegar. Ask about Proyecto Cocina Sin Fronteras, Rivarola's ad hoc project where he hosts and cooks with regional culinary stars such as Alex Atala and Virgilio Martínez.
El baqueano
Chile 499, Monserrat, Buenos Aires
+54/11 4342-0802
Cocina Sunae
Closed-door restaurants, or puertas cerradas, offer tasting menus around a communal table in a chef's home. The trend has spread quickly, but after five years in the business, Cocina Sunae has made the concept its own. Its four-course tasting menu features southeast Asian dishes whose flavors are rare in Buenos Aires: Recent highlights include Thai fish cakes seasoned with lime and lemongrass, and sotanghon, a delicious Filipino pork belly, shrimp, and glass noodle dish baked in a clay pot, but the menu changes every other week. The ginger kamikazes are refreshing yet potent. Reservation only.
Cocina Sunae
Roseti 1474, Chacarita, Buenos Aires
+54/911 4870-5506
Pizzería Guerrín
Debate over Buenos Aires' premium pizza parlor is often heated, but you can save your energy and head directly to Guerrín for a slice or two of muzza. Dishing up the epitome of classic porteño pizza for more than 80 years, the muzza's key ingredients are tomato sauce, a heavy dose of oregano, green olives, and bubbling mozzarella atop a thick, doughy base. This is legit fast food: Eat it at the bar and you'll be done in five.
Pizzería Guerrín
Corrientes 1368, San Nicolás, Buenos Aires
+54/11 4371-8141
Aramburu
At the most elegant tasting menu restaurant in town, El Bulli-trained Gonzalo Aramburu works his magic on local ingredients by giving them the molecular treatment. Think salmon, celeriac purée, turnip, and citrus foam or quail cooked in black tea leaves and served in its nest; Aramburu's textures and flavors will give your palate a workout during this classy, 12-course dinner. Go for the wine pairing option, selected by one of Argentina's most dynamic sommeliers, Agustina de Alba. Can't get into the 16-seat restaurant? Its sister bistro, Bis, is a more informal affair just across the street.
Aramburu
Salta 1050, San Telmo, Buenos Aires
+54/11 4305-0439
Pulpería Ña Serapia
Dealing in traditional fare from Argentina's northwest such as tamales and humita, as well as bean-based stews, this tiny hole in the wall is a great, cheap refueling point. Tables clear quite quickly at this popular bodegón and the hand-sliced beef, boiled egg, and potato empanadas salteñas are worth the wait thanks to their flaky pastry and juicy, dribbly, filling.
Pulpería Ña Serapia
Las Heras 3357, Palermo Botánico, Buenos Aires
+54/11 4801-5307
Chochán
Chochán—slang for chancho, or pig—deals exclusively with pork, a refreshing change for the carnivores of Buenos Aires. Here, they take street food up several notches and add a dash of Latin American fusion: think heart anticuchos served atop plantain chips, or a pulled pork sánguche backed up by homemade pickles.
Chochán
Piedras 672, Monserrat, Buenos Aires
+54/11 4307-3661
Chan Chan
While Peru's cuisine is considered exotic by many spice-averse Argentines, it's still Buenos Aires' most popular foreign cuisine after Spanish and Italian. A slew of high-class Nikkei (Japanese-Peruvian fusion) restaurants such as Osaka, La Rosa Náutica, and Olaya tend to steal the spotlight, but the family-run Chan Chan will keep your bank balance in the black. Besides offering a welcome respite from Argentina's meat-heavy diet, the tangy sole ceviche hits the spot, with the perfect balance of creamy yet spicy leche de tigre.
Chan Chan
Hipólito Yrigoyen 1390, Congreso, Buenos Aires
+54/11 4382-8492
Where to Stay
Hotel Clásico
Due to open in March 2015, this 32-room (plus a penthouse!) hotel has design on its mind, featuring Argentina's characteristic touches of nostalgia and playfulness, plus a dash of industrial attitude. A concerted effort has been made to recycle door frames, oak floorboards, and stained glass across the property; guests can even choose their floor color to suit their mood. Thanks to Clásico's prime Palermo Hollywood location, dozens of eateries are a short walk away.
Hotel Clásico
Costa Rica 5480, Palermo Hollywood, Buenos Aires
Alvear Art
With all the lavish service and attention guests expect from Recoleta's grande dame Alvear Palace, a stay at its sister hotel fortunately reveals a smaller price tag. The Alvear Art's airy rooms cater to executives, and its central location is conveniently close to lots of shops and sights. Pay a visit to the top-floor swimming pool for some of the city's most fabulous vistas.
Alvear Art
Suipacha 1036, Microcentro, Buenos Aires
+54/11 4114-3477
Hub Porteño
An elegant 11-room mansion in upmarket Recoleta, Hub Porteño is total luxury. While personalized experiences—tango classes, polo lessons—devised by hands-on owner Gonzalo Robredo will keep guests occupied in the day, eclectic suites complete with super king-size beds, a Jacuzzi, and a wine cooler might indicate that staying in is the new going out. It's also home to award-winning restaurant Tarquino.
Hub Porteño
Rodríguez Peña 1967, Recoleta, Buenos Aires
+54/11 4815-6100
Where to Drink
Verne Cocktail Club
If the Twenty Thousand Leagues Under The Sea author could choose one place to drink a Negroni, it would doubtless be at this establishment. Barman Federico Cuco and team take pride in originality and new twists on old favorites at Verne Club, a haunt frequented by serious cocktail enthusiasts. Try a Smoked Sidecar, which is best accompanied by a Reform Club, a bacon-topped beast of a gourmet hotdog.
Verne Cocktail Club
Medrano 1475, Palermo, Buenos Aires
+54/11 4822-0980
The New Brighton
With its lengthy oak bar, copper coffee machine, and stained glass ceiling, The New Brighton has all the trappings of a time-warp tavern. A former tailor, it is one of a dwindling number of government-protected bares notables around Buenos Aires. Pull up a leather-topped stool and order an apértif or a shot of Fernet Branca, Argentina's adopted national spirit, a bitter made more palatable with a cola mixer.
The New Brighton
Sarmiento 645, Microcentro, Buenos Aires
+54/11 4322-1515
El boliche de Roberto
Given that the emphasis here is on tango, it might take time to order a bottle of wine and a charcuterie (picada) platter, let alone get a seat, in this tiny space. But a spell is cast once the haunting melodies begin. An authentic spot where singers and musicians take the floor and appreciative spectators line walls, this was allegedly legendary tango pianist Osvaldo Pugliese's bar of choice.
El boliche de Roberto
Bulnes 331, Almagro, Buenos Aires
+54/11 6546-3695
Shout Brasas & Drinks
Following its November 2014 launch, this new kid on a downtown block has plenty to holler about. The team behind hit bar Pony Line has branched out, with the right combination of creative bistro food and inspired cocktails. Order the open-faced anchovy sandwich slathered with coriander and chile before tackling the bacon and almond en croute roasted cauliflower. A Niña Bonita, which fuses yerba mate-infused gin, Sauvignon Blanc, cucumber, basil soda, and lime, will refresh and revive you on summer's hottest evenings.
Shout Brasas & Drinks
Mapiú 981, Retiro, Buenos Aires
+54/11 4313-2850
The Harrison Speakeasy
Speakeasies are all the rage in Buenos Aires, and this Palermo haunt leads the pack. It's straight out of the prohibition era: Every last detail, from glassware to the oak bar, replicates the 1920s. Safe in the hands of top bartender Seba García, kick back with Malbec Style, a fruity number fusing Argentina's red wine of choice with ginger, lemon juice, a berry reduction and Angostura bitters. The Harrison is a member's only club, but one way in is by dining at Nicky NY Sushi, the legitimate face of Harrison's, then asking "to see the wine cave."
The Harrison Speakeasy
Malaba 1764, Palermo Soho, Buenos Aires
+54/11 4831-0519
What to Do
Mercado de Liniers
Given that beef in all cuts and sizes is at the center of Argentine cuisine, you'll want to get to the heart of the matter. Buenos Aires' only cattle market opens every weekday except Thursday, and is attended by the country's top beef buyers haggling over the price of vacas (cows) and novillos (heifers). Squeamish visitors will be happy to know that the slaughterhouses are located off-site. Be sure to book your visit ahead of time.
Mercado de Liniers
Lisandro de la Torre 2406, Liniers, Buenos Aires
+54/11/4014-5700
Parrilla Tour
For an insider's introduction to the world of steak, take the Parrilla Tour. A knowledgeable local guide will take you around the neighborhood of your choice—Palermo Soho, San Telmo or Las Cañitas—guiding you through three authentic grills where porteños wine and dine. Sample a choripan sausage sandwich, beef empanadas, and of course a vast serving of asado de tira_ribs along the way. The fourth and final stop is for _helado, delicious Argentine-style gelato.
Buenos Aires, Argentina
+54/911/5808-9687
Mercado de San Telmo
This vast market—which takes up an entire block—opened in 1897 and has the air and graces of a European railway station, thanks to its Italian architect. Today, butchers, fruit and vegetable specialists, and curio dealers work alongside each other. It's also home to Coffee Town, one of Buenos Aires' best coffee shops.
Defensa 961, San Telmo
Buenos Aires, Argentina
+54/11/4300-9778
Tierra Negra
After you've devoured countless empanadas, it's time to learn how to make them yourself. Chef Manuel and his partner Verónica set up Tierra Negra to host cooking classes in English at their Palermo home, where they use only organic ingredients. They'll teach you to make a number of Argentica's most popular foods, like empanadas, flan, and from-scratch dulce de leche. It's fun and friendly, and the conversation and wine tend to flow readily.
Cabrera and Arevalo, Palermo Hollywood
Buenos Aires, Argentina
+54/911 6602-1801
Pain et Vin
For a top-notch, boutique wine selection spanning the length of Argentina, Pain et Vin is the go-to store for friendly pours, tips, and tastings—in English—from sommelier and co-owner Eleonora Jezzi. While she is often referred to as vin, her other half Ohad is pain, thanks to the legendary sourdough he bakes in his bespoke clay oven. This vinoteca also stocks a range of leather bottle carriers from Vintium Bags.
Gorriti 5132, Palermo Soho
Buenos Aires, Argentina
+54/11/4832-5654
Pick Up The Fork & Fuudis
Pick Up The Fork's bespoke walking tour is tailor-made by food blogger Allie Lazar, who takes serious eaters to some of the city's hot spots. Fuudis, meanwhile, changes up the pace of classic dining with an evening full of restaurant hopping. Each course is sampled at a different eatery within a particular neighborhood, such as Palermo Botánico or San Telmo.
Pick Up The Fork
Buenos Aires, Argentina
Fuudis
Buenos Aires, Argentina
La Payuca
With 34 million kilos sold in 2013, it's no wonder that yerba mate is the nation's most popular hot drink; it's a ritual shared among friends and family at any time of day. Try the bitter tea for yourself during merienda, or tea time, at La Payuca's mate bar, when tea comes with sweet treats such as a chocolate-coated, dulce de leche-filled alfajor cookie or honey-coated medialunas (crescent-shaped pastries). A classic savory option is torta frita, a fried dough biscuit. Merienda occurs every afternoon between 4 p.m. and 7 p.m.
Santa Fe 2587, Barrio Norte, Buenos Aires
+54/11 4823-9330
Bartolomea
Fermented grape juice isn't just presented in a bottle, not in Argentina. The quintessential wine vessel—a white, half-litre, penguin jug—has been a simple yet necessary table artifact since the 1940s, oxygenating and breathing life into cheap and cheerless plonk. After seventy years, however, chic homeware store Bartolomea has revamped the pingüino, which now comes in a delightful pastel rainbow palette and a variety of sizes. Also look out for provoleta dishes, tough ceramics designed for grilling this signature Argentine cheese.
Dorrego 2212, Palermo Hollywood, Buenos Aires
+54/11/4773-1536
Libros del Pasaje
Named 2011's world book capital, Buenos Aires is also the birthplace of legendary poet and author Jorge Luis Borges. Find your own inspiration at Libros del Pasaje, a well-stocked bookstore in the heart of Palermo. Its tucked-away café whips up a tasty plate of bacon and eggs and freshly squeezed orange juice. If you can't break your writer's block on this terrace, you probably never will.
Thames 1762, Palermo Soho, Buenos Aires
+54/11 4833-6637
Buenos Aires Market
The brainchild of food magazine Joy, this pop-up market keeps shoppers on their toes by switching up neighborhoods every month. A weekend-long affair that focuses on organic and sustainable produce, this is the place to pick up a bottle of Malbec from Vinecol, an extra-virgin olive oil from Mendoza, or a baguette by French bakery L'epi.
Avenida Cabildo 2441, C1428AAG, Buenos Aires
+54 800-444-8484