Travel Guide: Miami
Where to eat, drink, and stay in the ever-evolving Magic City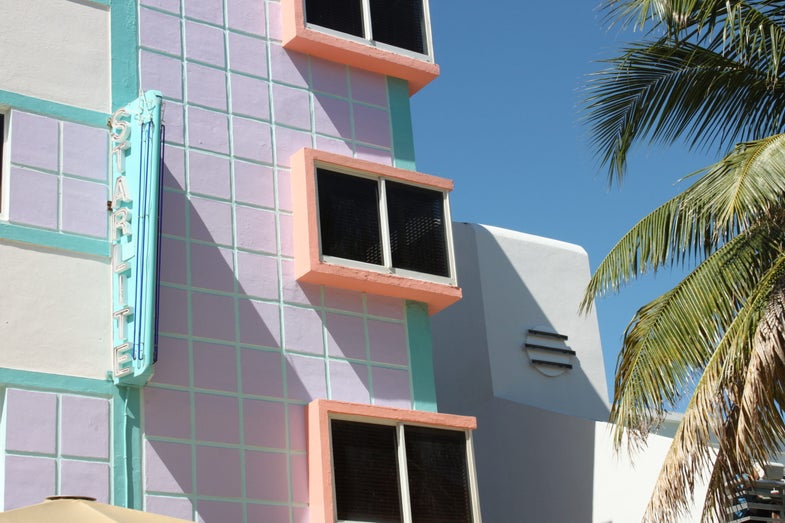 Miami's forward momentum is astonishing. The rate at which change occurs is faster than the speed of Maserati coupes racing across the MacArthur Causeway, a picturesque highway that connects Miami proper to Miami Beach over a glistening bay. It is, and always has been, a glamorous destination. Visitors come looking for an escape, willing to be seduced by the charm of their surroundings. It's as if the environment is systematically manufactured to excite all of our senses.
Miami grew exponentially during a series of booms in the 20th century—until each period's bubble burst. Now, the city has expanded once again and is truly in the best shape it's ever been. The indicator? Countless cranes crowding the skyline both near the water and inland making way for the next chic cocktail bar or chef-driven restaurant. That "out with the old, in with the new" mentality governs the lives of those who live here, and as such, Miamians are an adaptable bunch with a strong affinity for the ambitious and adventurous. Recently, though, understanding the past has become more of a priority, as more and more people call Miami a permanent home instead of a fantasy getaway.
Here are the most important places to see, eat, and stay in this ever-evolving Magic City.
WHERE TO EAT
Zak the Baker Wynwood Bakery & Café
His artisanal sourdough bread is sold all over town, but Zak the Baker's Wynwood café is where you can scoop fresh hummus and other wholesome Israeli-style fixings onto slices of olive and za'atar or sunflower and sesame bread that's served straight from the oven. Once seated, watch the Miami native's cult following fill the modern yet rustic space: A mix of Orthodox Jewish families, artists, local business owners, hipsters, and yuppies cover the regular lunch crowd. Pro tip: The beloved 100% whole-wheat honey challah makes its way from oven to counter at precisely 11 a.m. every Friday.
Zak the Baker Wynwood Bakery & Cafe
405 NW 26th St., Miami, Florida
info@zakthebaker.com
La Sandwicherie has served the most satisfying sandwiches in the heart of South Beach for nearly 30 years. Though the source of the magic is unknown, the crisp French baguettes, the zesty Dijon vinaigrette, and the super-fresh accoutrements deserve some credit. Try the prized Turkey and Camembert; it's a 10 every time. The outdoor counter is open very late—5:30 a.m. on weekdays and 6 a.m. on Fridays and Saturdays—which has saved many a clubber from impending doom. During daylight, grab a fresh juice or smoothie, and take a walk; the beach is just two blocks away.
La Sandwicherie
229 14th St., Miami Beach, Florida
+1/305-532-8934
This restaurant is the brainchild of a hip Greek-Turkish couple that set out to recreate Miami's Mediterranean food scene five years ago. The indoor-outdoor bistro is nestled in the city's hip Design District where al fresco seating—enclosed by lush trees, bougainvillea, and bespoke canopies—is shady and dry. The food is the real draw, though: It's authentic, clean, and so fresh that most of the produce is harvested in the restaurant's sprawling garden. The wine list includes some of the most interesting labels in Miami; start with a bottle of Getariako Txakolina, a fabulously refreshing rosé from Spain's Basque region. Pair this with the Greek Sampler and fresh bread or cucumber slices (by request only), marinated grilled octopus, grilled butterflied tiger prawns, and a traditional Greek gyro.
Mandolin Aegean Bistro
4312 NE 2nd Ave., Miami, Florida
+1/305-576-6066
Sawaddee Thai & Sushi Restaurant
Thai food in Miami is typically relegated to a supporting role at predominantly Japanese restaurants, but the inverse is true at Sawaddee Thai & Sushi Restaurant, a tiny eatery in North Beach near the Normandy Isle obelisk. This small, dimly lit space is always packed for dinner, and they don't take reservations. But that doesn't stop the loyal patrons who crowd into it every night. The Thai-first menu is brimming with traditional favorites: All of the tom soups are great (tom yum koong, tom kha kai, tom kha kai fish) as are the curry options, and the stir-fried mixed vegetables with steamed tofu in a light brown sauce is wonderful for vegetarians. Sawaddee is also BYOB-friendly, and you can even bring along your own glassware if you're picky. (Otherwise, be prepared to sip your delicate French red out of a soda glass.) For a finale, take a Thai iced tea to go.
Sawaddee Thai & Sushi Restaurant
6968 Bay Dr., Miami Beach, Florida
+1/305-866-8111
Chef Michael Pirolo at Macchialina embodies the maxim "Italians do it better" at his rustic-chic tavern. It's a haven for authentic house-made pastas, fine salumi and cheese boards, and porchetta, as well as an undeniably memorable tiramisù. Pirolo shares the character of his childhood in Italy through his menu, and regulars respond with allegiance. With that said, reservations are a must here. Sunday brunch offers an imaginative menu that's sure to cure any South Beach hangover.
Macchialina
820 Alton Rd., Miami Beach, Florida
+1/305-534-2124
This nautical-themed hotspot inside the Loews Hotel boasts the freshest East and West coast oysters in town. Elaborate shellfish platters and a refined selection of sushi, nigiri, and sashimi are also standouts on the seafaring menu. To get the best service, sit at the bar. Go for a selection of oysters—check out the daily specials—as well as the deviled eggs topped with American caviar, the two-bite tuna tacos, and the naruto roll: salmon, hamachi, tuna, king crab, and avocado all wrapped up in cucumber.
Lure Fishbar
1601 Collins Avenue, Miami Beach, Florida
+1/305-695-4550
This oyster bar and seafood restaurant is nestled between Miami's booming Edgewater area and the city's oldest cemetery. The latter is a historic landmark held in high esteem; it's a step up from the chef's wildly popular first restaurant located in what he calls a "hooker motel" on Biscayne Boulevard. Start with the house apéritif, a flute filled with Champagne, Banyuls vinegar, candied shallots, and pink peppercorns. The lobster roll is a fantastic choice—they subscribe to the extra-butter rather than the mayonnaise school of thought. The oysters are good, naturally, but it's the composed fish dishes that really shine. Try the Florida Redfish—a close cousin to the sea trout—seared and paired with green beans, sweet piquillo pepper, and a brandy pan sauce. And as wine lists go, Mignonette's is one of the most creative and affordable in town.
Mignonette
210 NE 18th St., Miami, Florida
+1/305-374-4635
NIU Kitchen](http://www.niukitchen.com)
NIU Kitchen recently emerged as the downtown hangout for the kind of Spanish cooking that makes Catalan guests cry with joy. (We've seen it happen.) The cuisine of Spain's sunny and scenic northern region is hard to replicate and even harder to find in Miami. At NIU, the thoughtful list of made-to-order dishes is constantly changing, but the cold tomato soup is a staple that everyone should try. It's like a gazpacho, only not as chunky or as thick, and they top it with a generous scoop of mustard ice cream and some manchego pesto.
NIU Kitchen
134 NE 2nd Ave., Miami, Florida
+1/786-542-5070
This humble family-owned Peruvian restaurant in Doral (west of the airport) is always filled with discerning diners who come for the causas (pronounced "cow-sa"). To make the signature cold dish from Peru, potatoes are boiled, peeled, and blended with Peruvian yellow pepper, which is what distinguishes them from a basic plate of mashed potatoes. The causas are then pressed into the traditional circle and layered with a variety of flavorful ingredients for the tasting trio (Trilogia de Causas: Causa Limena, Causa Camaron, Causa de Pulpo), including shredded chicken, celery and house-made mayonnaise; prawns, mayonnaise, and avocado with pepper sauce; and octopus, avocado, and organic Peruvian Botija olives, decorated with Peruvian olive sauce.
Divino Ceviche
2629 NW 79th Ave., Doral, Florida
+1/305-406-2345
Seagrape at Thompson Miami Beach
The darling of Miami's culinary scene, chef Michelle Bernstein, opened Seagrape inside Mid-Beach's new Thompson Hotel as a Floridian brasserie focused on local ingredients. The indoor-outdoor 267-seat restaurant is exquisitely decorated to recreate the midcentury glamour of the hotel's heyday, and this effort is evident as soon as the sleek green marble horseshoe-shaped bar comes into view. Have the cardamom lemongrass daiquiri before diving into Bernstein's spectacular menu. Order the uni toast layered with avocado and lardo; local ceviche; heirloom tomatoes from Swank Farms with burrata; and Elysian Fields lamb chops with crispy sweetbreads, lemon confiture, chermoula yogurt made with North African spices, and braised lamb fregola (a Sardinian pasta similar to couscous). And that lamb? It comes from the famous Pennsylvania farm where Thomas Keller is a partner.
Seagrape at Thompson Miami Beach
4041 Collins Ave., Miami Beach, Florida
+1/786-605-4043
WHERE TO STAY
The five-star Setai hotel and residences are one part Art Deco revival and one part modern luxury. The façade celebrates the classic Dempsey-Vanderbilt Hotel of the 1930s, which the Setai restored ten years ago while adding a 40-story glass tower for mesmerizing views of the Atlantic Ocean. Once you enter the lobby, thoughts of the Far East replace the neon flash of South Beach with help from polished Burmese teak flooring and furniture, Indonesian bronze accents, and dramatic features like gray bricks from China and black granite. Grab a coveted seat in the courtyard next to the serenity pond for the total zen experience. There are also multiple pools, a new French spa with Japanese-inspired treatments, and a Mediterranean restaurant complete with a private wine cellar. Don't miss happy hour from 8–11 p.m. every Thursday.
The Setai, Miami Beach
2001 Collins Ave., Miami Beach, Florida
+1/305-520-6111
Nestled in South Beach's celebrated Art Deco neighborhood, The National oceanfront resort evokes cinematic elegance, boasting 116 newly designed city and direct ocean view guestrooms in it's Historic Tower and 36 luxurious cabanas and suites, skirted alongside native tropical palm trees and the city's longest infinity-edge pool, which was at one time, the longest pool in Florida. Walk the property and enjoy native palms, bougainvillea and tropical foliage and private cabanas. Or spend an afternoon getting a massage. Fully restored in 2014, the hotel was recognized by "Historic Hotels of America" for maintaining its architectural authenticity while bringing subtle and sophisticated elements of contemporary design meant for a fun, relaxed, and beautiful stay.
The National Hotel offers exquisitely plated cuisine at Tamara Bistro, refreshing poolside cocktails at Aqua Pool & Lounge and handcrafted libations at the indoor Blues Bar.
The National Hotel
1677 Collins Ave, Miami Beach, Florida
+1/305-532-2311
In Miami's Upper East Side, a movement to renew the neighborhood's midcentury modern (aka MiMo) distinction has finally materialized after nearly a decade of preservation and restoration efforts. The Vagabond is the latest motel-turned-hotel from the '50s to open after a multimillion-dollar renovation in 2014. With 45 retro-luxe rooms equipped with modern amenities, rain showers, silky 300-thread count sheets, and complimentary WiFi, it's a no-brainer for style-conscious travelers on a budget. Most guest rooms overlook a huge pool helmed by the Vagabond's original mermaid and dolphin mosaic, a symbol of its tropical glamour. The restaurant on site is a must-try, thanks to 25-year-old chef Alex Chang's eclectic Latin-Asian-American menu.
The Vagabond Hotel
7301 Biscayne Blvd., Miami, Florida
+1/305-400-8420
Watching the sun rise and set at the Epic Hotel is, well, epic. The upscale Kimpton hotel is positioned at the mouth of the historic Miami River downtown, where the area's real estate boom modifies the skyline every day. Guests have a front row seat to the sun's rays from most of the hotel's southern-facing rooms; from the 16th floor's poolscape and restaurant terrace; or at ground-level from Lilt Lounge and world-renowned Japanese izakaya Zuma. Easy access to the congested financial districts in the area is an added perk for those mixing business with pleasure. Bonus: Exhale is one of the best spas in town. Treat yourself to a detoxifying facial after you work out in their boutique gym.
Epic Hotel
270 Biscayne Blvd Way, Miami, Florida
+1/305-424-5226
WHERE TO DRINK
The Broken Shaker and 27 Restaurant
Tucked away from the synthetic scene that consumes most of South Beach is the Freehand Miami compound, a large plot of lush tropical land where a high-end hostel in a charming Art Deco building is supplemented by a world-famous cocktail bar and new restaurant. The Broken Shaker by Gabriel Orta and Elad Zvi has made headlines since it opened as a pop-up more than two years ago in a petite space resembling the wild offspring of Paris, New Orleans, and Oaxaca. The cocktail menu changes every 10 days and contains exotic options like an aperitivo with Cocchi Americano, Amontillado sherry, fresh hibiscus, and lime juice topped with sparkling water. When you visit you'll quickly learn that all the buzz is well-deserved, thanks to fresh ingredients from an on-site garden; inventive original recipes made by down-to-earth bartenders; a back bar stocked with notable spirits, vintage liqueurs; and myriad bottles of house-made bitters, elixirs, tinctures, and syrups. The outdoor courtyard is something of a bohemian playground complete with a pool, citrus trees, ping-pong tables, and ample space for lingering into the wee hours of the night by candlelight. The adjacent restaurant, aptly named 27, is managed by the same power duo and the bar on the second floor of this old Florida house is a top-notch addition to Miami's cocktail circuit.
The Broken Shaker and 27 Restaurant
At Freehand Miami
2727 Indian Creek Dr., Miami Beach, Florida
+1/305-531-2727
It's downright shocking that the global tiki trend took so long to gain traction in Miami, a hub of tropical life—but alas, many Miamisms remain a mystery. Enter The Rum Line, a swank bar and lounge located on the terrace of the historic St. Moritz building at the Loews. It's a hidden oasis for rum lovers—there are more than 100 rums here—helmed by Robert Ferrara, whose menu unites Polynesian tiki cocktails with infamous drinks dating back to Prohibition when rum runners smuggled Caribbean booze to Miami's speakeasies. It's a bit more civilized here these days; the only pirates you'll find are the kitschy figurines sticking out of the crushed ice in your cocktail. Look for names like The Donkey Kong, Green Eyed Bandit, and Cargo Ship, along with Scorpion bowls and hand-shaken daiquiris that would make Hemingway blush.
The Rum Line
At Loews Miami Beach Hotel
1601 Collins Ave., Miami Beach, Florida
+1/305-695-0110
As night clubs go, anything Ian Schrager touches turns to gold. In this case, the hotelier and nightlife guru's Basement at the Miami Beach Edition dazzles with cutting-edge visual and sound elements as a modern-day version of Studio 54 for a new generation. Take the staircase to the left of the hotel lobby down a flight and you'll discover what Schrager calls "a sort of red light district, but legal, for the wild at heart." The bars here are the nucleus, naturally, but guests can drink all night while they bowl on multicolored lanes, ice-skate on a 2,000-square-foot rink, or groove on an illuminated dance floor. Basement is at once surreal and totally necessary. Order an adult slushy and embrace the disco fever.
Basement Miami
At Miami Beach Edition
2901 Collins Ave., Miami Beach, Florida
+1/786-641-7119
Pronounced "lan-yap," this is a piece of New Orleans pitched in the middle of Miami's urban core. Every night it doesn't rain, cool 30-somethings gather on lawn furniture in this wine boutique's backyard. Expect a small stage for live jazz and acoustic jam sessions as well as a grill for barbecue dishes with Cajun flair. If the weather doesn't cooperate, the wine shop turns into a very intimate venue for the night's featured performance. Locals love the reasonably priced wine list as well as the 8 to 10 solid by-the-glass options. All of the wines are sourced from small producers and best when paired with Lagniappe's charcuterie and cheese plates. Fancy some beer? They serve craft brews, too.
Lagniappe
3425 NE Second Ave., Miami, Florida
+1/305-578-0108
When you enter Tap Tap Restaurant's colorful house-like structure, a small bar in the foyer greets you with refreshing hints of mint and fresh lime. This lively haunt for authentic Haitian cuisine is also known for serving the best mojitos; watch as the bartender employs a mortar and pestle to muddle the mint and mix the ingredients—it's a technique we rarely see stateside. Haiti's Rhum Barbancourt, a legendary rhum agricole made from freshly pressed sugarcane juice that has fermented from locally sourced canes, is the spirit of choice here. Unlike other Caribbean rums, which are made from molasses, Barbancourt's elegant grassy notes make the mojito more dynamic. Grab your cocktail, head for the porch, and kick back on a rocking chair. It's time to enjoy this quintessential South Beach moment.
Tap Tap Restaurant
819 5th St., Miami Beach, Florida
+1/305-672-2898
WHAT TO DO
South Florida's largest farmers market is just a 25-minute drive north from Miami to Hollywood. It's a 10,000-square-foot open-air space bursting with more than 300 booths bringing farms and their bounty to the masses every Saturday and Sunday. The Yellow Green Farmers Market truly has the best selection and prices year-round for locally sourced produce, organic goods, fresh caught fish, free-range chicken, dairy and eggs, fresh roasted coffee, fresh baked goods, local craft beers, as well as nearly every cuisine on the planet available for eat-in or take-out. Also found here: artisanal products, crafts, and eco-friendly clothing.
Yellow Green Farmers Market
1940 N 30th Rd., Hollywood, Florida
+1/954-513-3990
At Bunnie Cakes, Miami's first vegan, gluten-free, and kosher bakery, you won't find any butter or eggs in the kitchen. Instead, you'll find a small heart atop every cupcake served. It's a mark of Venezuelan-born Mariana Cortez's passion for making treats that appeal to everyone without sacrificing her family's dietary principles. Her two-year-old Wynwood storefront even supplies its devotees with eco-friendly packaging and utensils.
Bunnie Cakes
2322 NE 2nd Ave., Miami, Florida
+1/786-268-9790
Cooking instructor Eleanor Hoh is passionate about woks, and wants to help you become a "wok star" (her words), too. She offers hands-on classes at stylish spaces around Miami: Students can choose from a Saturday session at an upscale kitchen showroom or an evening class a swanky penthouse loft. Hoh's takeaway for every class is simple: these are one-dish meals that anyone can make in less than 30 minutes. Her three-hour class is designed to introduce new flavors, teach Asian knife skills, and build confidence while using a wok.
To reserve, visit Eleanor's website or email eh@eleanorhoh.com.
Classes are $85 per person.
The Regent Cocktail Club at The Gale South Beach
For those looking to up their at-home bar game, The Regent Cocktail Club offers twice-monthly interactive classes. Bartenders guide pupils through fundamental techniques, methodology, popular recipes, and the featured spirit's history. The two-hour classes are limited to 20 people and prices are $85 per person online or $100 per person at the venue. Small bites from the hotel's Dolce Italian are served.
The Regent Cocktail Club
1685 James Ave., Miami Beach, Florida
+1/305-673-0199
(1st and 3rd Friday, 7-9 p.m.) (Starting March 6)
Enter Miami's underground dinner party scene by adding your name to the Cobaya mailing list. The organizers of Cobaya (Spanish for guinea pig) collaborate with acclaimed chefs (local or visiting) in the spirit of experimentation. This means the chef gets to do whatever they want during this extravagant dinner and you, the guinea pig, are there to test it out. After 50 dinners in over five years, the demand for a seat is higher than ever. Events are scheduled about once a month on average and announced two weeks in advance. Then, there's a short window to request a spot. Seats are allocated by lottery, and if you're lucky, an email confirming your seat will appear in your inbox.
Sign up here.
Contact is by email only: cobayamiami@gmail.com
The next dinner is March 16th.
Shoppers clamor for parking at an unassuming storefront on 79th Street—ironically located across from a Taco Bell and just steps from a boatyard—to find delicacies like farm-raised sturgeon caviar or foie gras from the Périgord region of France. Marky's, the oldest gourmet store in Miami, sells more than 600 different treats from around the world including smoked salmon, fine cheeses, Belgian chocolate, truffles, rare olive oils and vinegars, and wild mushrooms as well as the best cookware and partyware to go with them. Do you desperately need bone-in Jamón Ibérico, salted butter caramels, or golden chanterelles? This 30-year-old store has you covered.
Marky's Gourmet Store
687 NE 79th St., Miami, Florida
+1/305-758-2005
Homestead's fertile land makes Miami's farm-fresh movement possible. Plan a day trip to stop off at these three gems in the area: There's usually a line of thirsty people waiting for a frothy milkshake at Robert Is Here. The roadside farmstand is famous for its tropical combination of ice milk (low fat ice cream and yogurt) and fresh fruit, a selection dictated by the season: Mamey is phenomenal from March to October; the mango shake rules the summertime; and key lime is fortunately a year-round delight. Beyond the healthy milkshake, citrus options also run on a schedule, whereas homegrown vegetables and heirloom tomatoes take the spotlight in March.
Robert Is Here
19200 SW 344th St., Homestead, Florida
+1/305-246-1592
(Open first weekend of Nov. through Labor Day)
Verde Community Farm is a 22-acre USDA certified organic farm that supports the property's Verde Gardens Community housing project. All efforts assist the 145 formerly homeless families living in LEED-certified "green" homes. Verde's public marketplace, two blocks from the farm, features an affordable bakery, juice bar, and restaurant. Their market is set to reopen after renovations in March.
Verde Community Farm & Market
12690 SW 280th St., Homestead, Florida
+1/305-257-2005
Visiting Schnebly Redlands is a must, where Peter and Denisse Schnebly's team ferments mango, lychee, guava, passion fruit, and Carambola from the property's sustainable farm into Florida-inspired wines. The on-site brewery also offers tours and tastings of its stable of craft beers (think coconut ale).
Schnebly's
30205 SW 217th Ave., Homestead, Florida
+1/305-242-1224