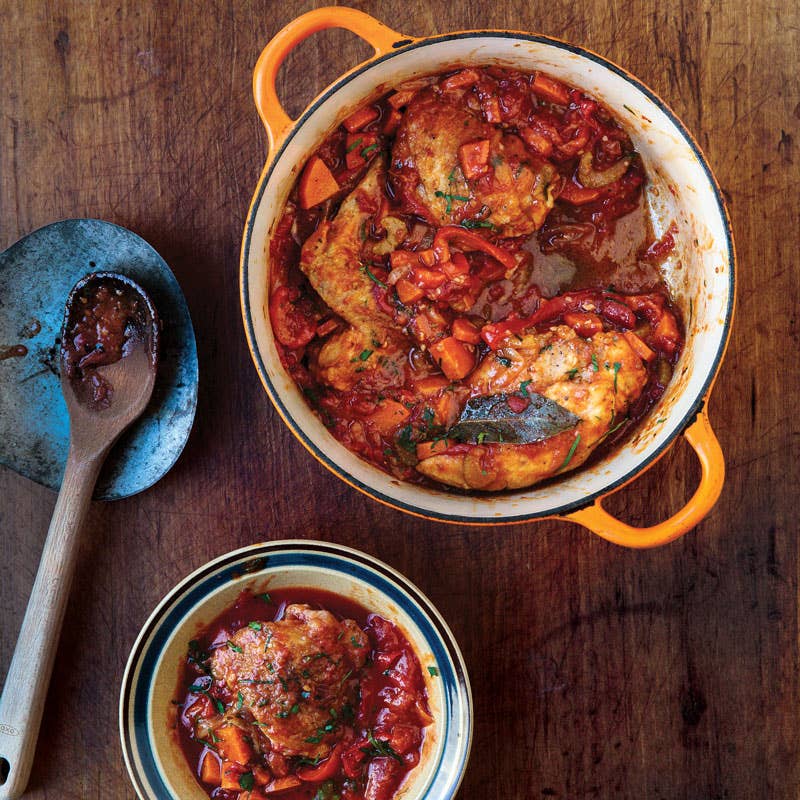 My mother, Marcella Hazan, the eminent authority on Italian cooking who passed away at the end of last year, was often described as exacting and abrupt, but to me she was just mia mamma, as sweet and comforting as her famous butter, onion, and tomato sauce. Sure, she was honest and uncompromising, but being no-nonsense didn't mean being no fun. We used to go to Vermont in the winter when I was a child, and I remember trudging on snowshoes behind her, then stopping to build, not snowmen, but big snow heads, using twigs, leaves, whatever we could find to create their comical, expressive faces.
In the kitchen, she imbued her food with that same soul. My mother and I shared a love of chicken, which my father did not, and she'd make one of her favorites, pollo alla cacciatora, just for the two of us—and make something else for him. Together at the table, we'd dig into the rustic "hunter's" braised chicken. Its deeply satisfying flavor and rich aroma from the tomato, onions, peppers, celery, carrots, bay leaf, and fall-off-the-bone-tender chicken remain indelibly tied to my memory of her. I'll be making this dish often now, though tears may well up in my eyes as I do.
Giuliano Hazan is a cookbook author and teacher.