Hunter's Wife's Chicken (Pollo alla Cacciatora)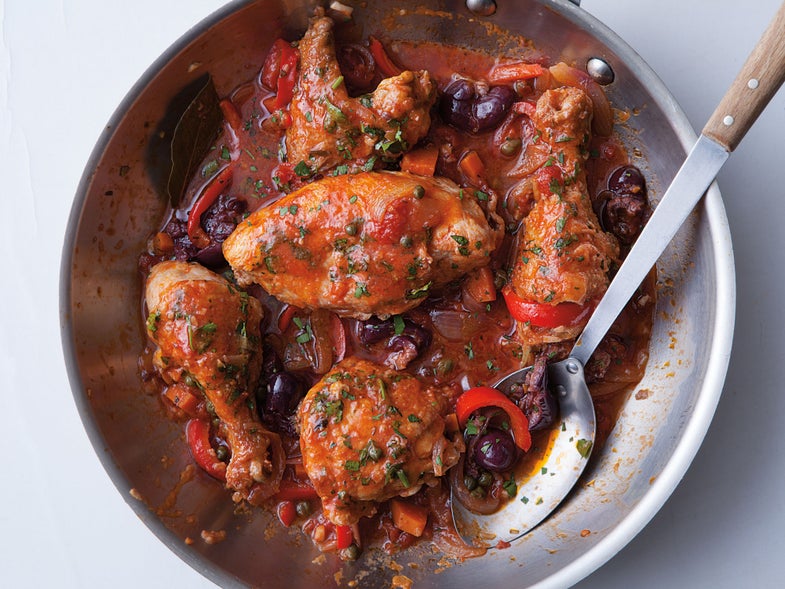 The recipe for this stew, a northern Italian braise of chicken and vegetables in a tomato sauce, is adapted from Marcella Hazan's book Essentials of Italian Cooking (Knopf, 1992). The recipe first appeared in our Jan/Feb 2014 SAVEUR 100 issue with the article Marcella Hazan.
Find this recipe in our cookbook, SAVEUR: Italian Comfort Food
Yield: serves 6-8
Ingredients
1⁄4 cup canola oil
1 (3–4-lb.) chicken, cut into 8 pieces
1⁄2 cup flour
1 tsp. minced rosemary
2 cloves garlic, minced
1 bay leaf
1 medium carrot, cut into 1/4″ pieces
1 medium red bell pepper, stemmed, seeded, and thinly sliced
1 small yellow onion, thinly sliced
2⁄3 cup dry white wine
1 (28-oz.) can whole peeled tomatoes, crushed by hand
1⁄2 cup Gaeta olives, pitted and lightly smashed
1⁄4 cup capers, drained
1 tbsp. finely chopped fresh flat-leaf parsley
Kosher salt and freshly ground black pepper, to taste
Instructions
Heat oil in an 8-qt. saucepan over medium-high heat. Season chicken with salt and pepper and dredge in flour. Working in batches, cook chicken until browned, 10–12 minutes. Transfer chicken to a plate; set aside. Add rosemary, garlic, bay leaf, carrot, bell pepper, onion, and celery to pan; cook until golden, 6–8 minutes. Add wine; cook, stirring and scraping browned bits from bottom of pan, until reduced by half, about 3 minutes.
Return chicken to pan and add tomatoes; bring to a simmer. Cook, covered, until chicken is tender, about 30 minutes. Uncover and stir in olives, capers, and parsley. Using tongs, transfer chicken to a serving platter; spoon sauce over the top.