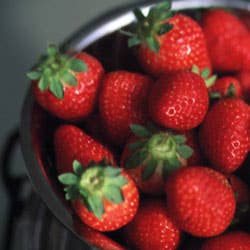 Culture
Can this Berry Be Saved?
Strawberries, once juicy and sweet, are now cottony and bland. But there might be hope.
When I was a young boy in New York, we had a small patch of strawberries on our farm. For a few weeks every summer, my mother and I spent our mornings picking strawberries to sell by the roadside. We would gently fill wooden baskets with the crimson fruit and load them into my red wagon. I'd proudly pull it down our winding driveway. One morning, I took a turn too fast. To my horror, the wagon flipped, spilling strawberries everywhere. My little berries were spoiled—bruised and speckled with gravel. I'll never forget the sinking feeling of standing there with muddy knees, the aroma of ruined strawberries rising around me.
If I'd been hauling today's supermarket strawberries, the day would have been saved—they would have bounced. But tasting them would have given me a sinking feeling anyway.
Strawberries have changed a lot in 40 years. Breeders have created a gorgeous, year-round berry that travels anywhere, but somewhere along the line, they forgot the flavor.
Strawberries once implied a sense of loss and wistfulness. The fruit was fickle and perishable, the season fleeting. The plants were wild, from mysterious dark woods. Ever since the first, almost forbidden bite, man has longed to tame the wild berry, and to extend its season, which always seemed to end even before that sweet, sharp taste had left the tongue.
An Alpine strawberry variety of Fragaria vesca 'Semperflorens', celebrated for centuries for its intense, perfect flavor, was first transplanted into a French garden in the late 13th century. Later, another species, F. moschata, was introduced in England as the Hautboy, and created a sensation.
When colonists arrived in the New World, they found fields carpeted with small, crimson strawberries. It was noted that in June, the berries grew so widely that horses' hooves seemed to be covered with blood. F. virginiana, as the tiny, tasty East Coast native was later named, became one of the parents to all American cultivated strawberries when it was crossed, in 1838, with another New World native found growing out West, F. chiloensis. It was this berry that brought size to the union, as well as a peculiar, insipid flavor.
The cross, in turn, produced the first American hybrid berry, called Hovey's Seedling, which was deemed the perfect strawberry by the Massachusetts Horticultural Society in 1838—but some strawberry lovers were already complaining about cultivated berries. Ralph Waldo Emerson wrote: "Strawberries bluntly lose their flavor in garden beds."
The search for a better berry was on. In the 1920s, over 1,300 varieties existed. Today, that number has been pruned to fewer than 100, as breeders close in on their "perfect" strawberry.
The problem is that Americans want strawberries year-round—and the cool coastal climate of California offers an 11-month-long solution. About 22,000 acres of California farmland produce approximately 80 percent of America's strawberries. In rural areas all up and down the coast, farms as large as 200 acres spread out to the horizon, with as many as 6 million identical strawberry plants, pumped full of water and chemicals, set in perfect rows over shining black plastic mulch. Their harvest: large, sturdy, perfectly uniform berries. The Selva, Chandler, and Oso Grande varieties dominate. "Selva doesn't taste bad," says Marvin Pritts, a pomologist at Cornell University in New York. "It just doesn't taste."
Part of the problem is that strawberries are picked while they're still hard, partly white, and only half ripe—which is great for shipping but death to flavor. The berry may turn red and soften off the vine, but it won't get any sweeter.
All is not lost, however. In California, breeders keep pushing the strawberry's limits. Having created a durable, attractive berry, they're now trying to put flavor back into it. Countrywide, new day-neutral varieties, which ripen without long hours of daylight, now produce flavorful fruit from June through September.
The secret, in any case, is to buy the best varieties of local berries, in season. Look for Earliglow, Sparkle, and Jewel in the Northeast and Midwest; Cardinal in the South; Totem and Redcrest in the Northwest; and Chandler out West. In winter, if you're desperate, look for Camarosa, a new introduction that breeders consider California's next great hope for flavor.