Chocolate Completo at La Puerta Falsa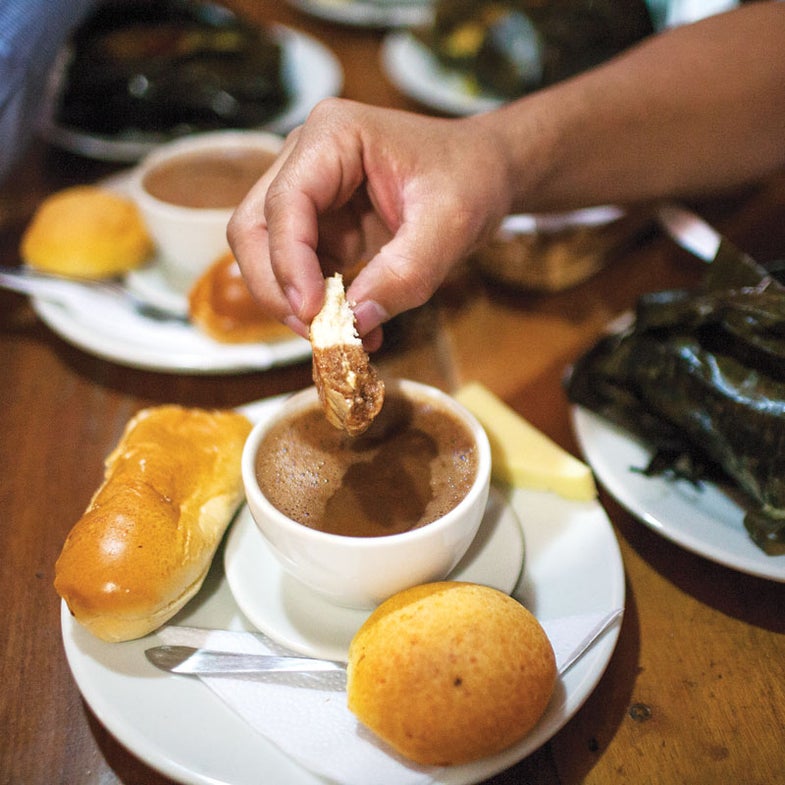 When the sun begins to set in my hometown of Bogotá, Colombia, I crave a snack that is as ingrained in our culture as a morning cup of coffee is in the U.S.—the wondrous combination of hot chocolate, cheese, and buttered bread known as chocolate completo.
It is said that revolutionaries who fought for our independence from Spain in the 19th century were among the first to enjoy the unusual but delectable repast. I remember them every time I visit La Puerta Falsa, a small family-run café in the city's historic district that dates back to 1816. At 5 p.m., its narrow mezzanine, which barely fits a handful of rickety tables, is alive with customers. The cooks vigorously stir grainy tablets of bitter cocoa and sugar into hot water with a wooden whisk called a molinillo until a layer of foam forms on top, then waiters plunk down the sweet beverage alongside a buttered pan blandito, or soft milk bread, a slice of fresh cows' milk cheese known simply as "white cheese," and an almojábana, a spongy sweet-and-sour cheese roll made with corn and yucca starch. Tradition calls for dropping small chunks of the cheese into the hot chocolate until they melt into silky strings, which I scoop out, twirl around my spoon, then slurp down. What's left at the bottom of my cup toward the end, a mix of the salty, fatty cheese and sweet chocolate, is perfect for soaking up with hunks of the fluffy bread.
La Puerta Falsa
Calle 11 No. 6-50
Bogotá, Colombia
57/1/286-5091