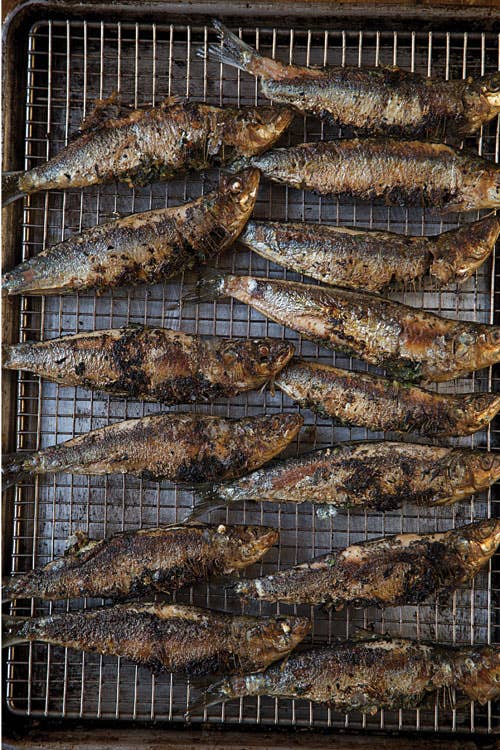 Culture
Forgotten Fish
Sardines may be one of the most underappreciated foods the world's oceans have to offer
The first time I encountered fresh sardines was in 1980. I was a young chef working in Paris. When the city shuttered, as it always does in August, I hurried south to stay with my friend Susan Feniger, who was cooking day and night at a restaurant in Mandelieu—La Napoule on the French Riviera.
With plenty of time on my hands, I shopped the local markets for unfamiliar ingredients, keeping an eye out for bargains. One day I spied a basket of fresh silvery sardines. Seeing as they were dirt cheap, I bought a dozen and tentatively carried them back to Susan's rented room. I had never worked with sardines before. I had seen them in cans, of course, stacked on supermarket shelves next to the tuna I preferred to eat, but I had never cooked with them.
I grew up in central Michigan, where fish mostly came out of the freezer, often in stick form. Still, once a year, in late May, my dad would head off in the middle of the night to go smelt dipping on the St. Clair or Pine River and return with a bounty of fresh smelts, for which my mom would haul out the portable electric deep fryer and whip up a beer batter. Mom would fillet the fish, and then, to my family's delight, fry them right in front of us at the dinner table. The small, sparkling sardines I bought in France reminded me of the smelts back home.
But there was a problem: Susan had no deep fryer. In fact, she didn't even have a kitchen.
Without a game plan, I gutted and filleted the tiny fish over a bucket. I remember how Susan's roommate, returning home from the beach, stared in horror as I rinsed the sardines in her bathroom sink. "I'm really not into fish," she said, making a quick exit. Since I'd recently read an article about salt-curing salmon, I decided to do the same with my sardines. I laid the fillets on a plate, sprinkled them with plenty of salt, some thyme, and a splash of olive oil, and then covered them with thin slices of lemon and a plastic bag weighted down by a stack of magazines. Twelve hours later, around midnight, Susan and I devoured the fish with a baguette and a bottle of wine. They were saline like the ocean yet sweet and supremely rich, their natural oils suffusing their flesh with moisture.
When I left Paris for California, I couldn't get sardines off my mind. I bought them whenever I saw them. I grilled garlic-rubbed whole sardines and finished them with salsa verde. Sometimes I braised them in olive oil with vegetables to eat alongside watercress or arugula. In time, my experimentation led me to the canned sardines I'd previously avoided. Mixed with celery, onion, lemon juice, and mayonnaise, they rivaled my standard tuna salad. I played with endless pasta sauces, tossing the fish with olive oil, onion, garlic, and two or three other ingredients—tomatoes, olives, capers, currants, celery, fennel, chives, or chiles—plus toasted bread crumbs for crunch. I even threw the canned ones in the food processor; mixed with cream cheese, lemon, and Tabasco, they made a tasty party spread. No matter how I prepared them, I loved them.
The sardines, it turns out, could have been any number of fish, all from the Clupeidae family, a group of more than 20 small, oily fish that include herring, pilchards, and sprats, all canned and sold as sardines. Sprats, from the north Atlantic Ocean, as well as the Baltic and Mediterranean seas, are the smallest and are often smoked before packing and sold as brisling sardines, while pilchards, found in the northeast Atlantic and Mediterranean, as well as the Pacific Ocean near Japan, are larger and meatier. The catchall name sardine likely derives from the Mediterranean island of Sardinia, in whose waters they abound.
In the U.S., sardines used to be big business. During World War I, they were shipped to our troops. In the 1930s, a one-pound tin cost just 5 to 10 cents, making them a healthy, affordable protein during the Depression. In those days, 4 million pounds of sardines were netted annually in Monterey, California, alone.
On my first visit to Monterey, I had grand plans to eat as many sardine dishes as I could and to visit the legendary Cannery Row, which I remembered from my seventh-grade reading of John Steinbeck's novel of the same name. But when I got there, I was baffled by the lack of sardines on local menus and haunted by the cannery buildings, which stood dilapidated and abandoned.
California's sardine industry, as I soon found out, collapsed in the mid-20th century. The decline was due in part to a cyclical decrease in ocean temperature that occurs every four to six decades, but it was exacerbated by overfishing. After a 40-year moratorium on the sardine harvest, combined with the return of warmer seas, Pacific sardines rebounded in the 1980s, but by then the canning industry was pretty much gone, and Americans had lost their taste for sardines. Though the fish from an existing smattering of West Coast microcanneries are delicious, much of the U.S. catch ends up in fish-oil capsules, commercial bait, or feed for larger farmed species such as salmon. That's not what I'd call the best use of resources; it takes about three pounds of sardines to raise just one pound of salmon.
It seems particularly unwise when you consider that our Pacific sardines are now one of the most environmentally sustainable fish you can eat. As I learned from the folks at the Monterey Bay Aquarium, sardine fishing is well regulated, and the nets used to catch them, called purse seines, have little impact on the rest of the ocean. Not only that, but small, fatty fish like sardines are extremely healthy to eat; they're low in mercury and rich in omega-3s, vitamin B12, iron, phosphorus, and potassium. And while 5-cent cans are a thing of the past, they remain inexpensive.
In other parts of the world, sardines are still popular. And in my travels, I've come across many great ways to prepare them. In Marseille, I ate them layered with creamed Swiss chard and Gruyère in a sumptuous gratin. Years ago at a Tokyo restaurant dedicated to the tiny fish, I savored delectable sardine meatballs, the umami-rich meat chopped with white miso, sake, ginger, and eggs and simmered in a comforting dashi, a fish and seaweed broth.
A lot of cooks, afraid of dealing with sardines, steer clear of them. But the fish are actually easy to prepare. I look for fresh sardines with a blue-black iridescent sheen, a silver sparkle, and bright eyes. Fishmongers will often clean them for you, but I like to do it myself, rinsing them under cold water while scraping their skin toward the head with the backside of a paring knife to remove the scales. Then I cut the belly open, scrape out the entrails, and rinse and pat them dry. I tug on the dorsal fin until it wiggles out, bringing with it some of the bones. Then they're ready to cook whole. Still, I often find myself lifting the little fillets off their spines, curing them in salt and oil, and savoring them, just as I did all those years ago in that seaside village in France.