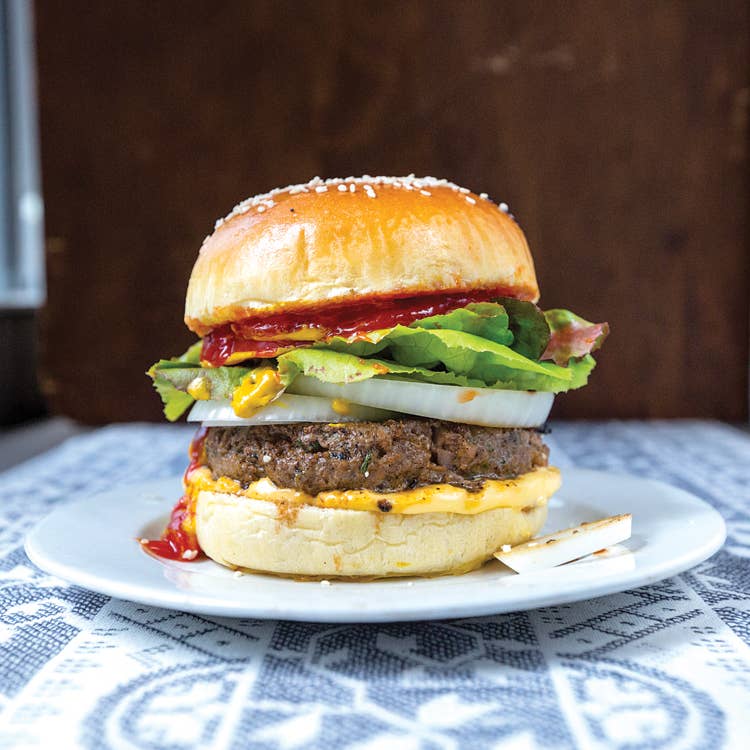 Culture
A Writer's Beef
Ernest Hemingway's preferred hamburger recipe was a master work in its own right
If my ideal hamburger were a novel, its author would be Ernest Hemingway: I prefer my burgers powerful and spare, brutal yet refined. But when I learned that Papa himself was partial to a maximalist patty—one containing minced carrot and tomato, cheddar cheese, grated apple, capers, India relish, and a brace of spices all mixed directly into the beef—I had to try it out for myself.
Hemingway's hamburger recipe resurfaced only recently, one of 2,500 pieces of ephemera digitized in 2013 by the John F. Kennedy Presidential Library and Museum in Boston. The typewritten page is a testament to the meticulousness with which Hemingway approached food. Titled "Papa's Favorite Wild West Hamburger" and covered in handwritten marginalia, it's a literary work in its own right. "Let the meat sit, quietly marinating," he writes. "Now make four fat, juicy patties with your hands."
While the document is fascinating, the burger itself is spectacular. Juicy and vibrant, the complex patty stands in stark contrast with Hemingway's unembellished prose. But like the man's writing, it's masterful.