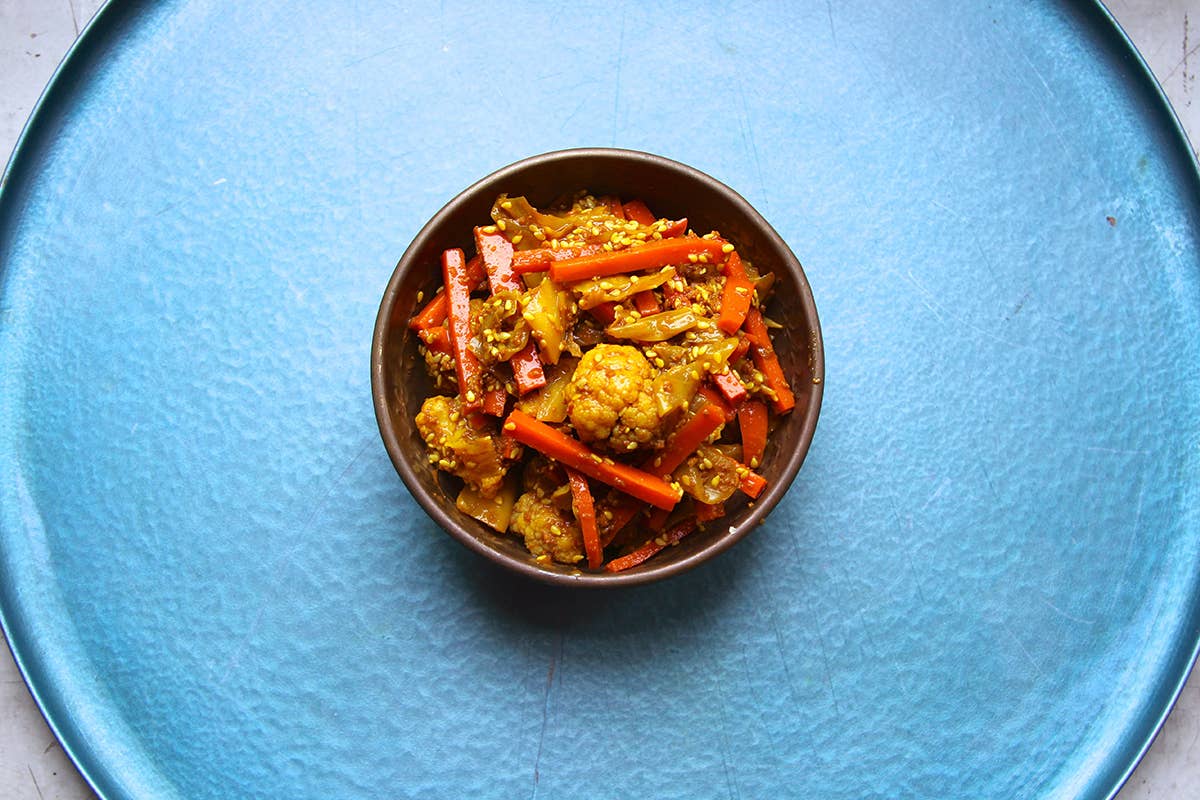 Culture
Putting Up Achar: A Malaysian-Style Cauliflower Pickle
This Southeast Asian pickle is enriched by a nutty, spicy brine
Achar, acar, achara, atsara, atchara—they're all different names for the same thing. This humble pickle, made in Southeast Asia and parts of the Middle East, is a brisk, full-bodied alternative to the common dill spear—however it's spelled. What elevates achar above the standard pickle is that it's made with a rempah, or spice paste, stirred into the brine, lending flavor and texture to its characteristic mixture of vegetables. I love achars because they are surprising, riddled with a complex tango of sweetness, sourness, and spice, and a firmly crunchy texture that makes the common vegetable side salad or American-style pickle feel dull.
When I make a rempah, my food processor whirls with a mixture of garlic, ginger, chiles or chile paste, and nuts (typically candlenuts, but macadamias and peanuts will do as well). Traditionally, the pungent, savory backbone of the flavor comes from belacan, a fermented shrimp paste that must be toasted before use, though fish sauce is a common alternative in the States, where it's easier to find. Other common additions include tamarind, lemongrass, palm sugar, or sweet soy sauce. Fresh turmeric, which has a warm, refreshing flavor, gives the paste its tell-tale color and lemony brightness. The rempah is then browned in a skillet, enhancing its flavor dramatically, before finally being combined with vinegar to create the pickle's brine.
The vegetables themselves—in my version of the recipe, I use cauliflower, cabbage, and carrots—are left quite chunky. Blanched to render them crisp-tender and brighten their color, they're then dried out to reduce their moisture—in the sun if you have the patience and weather, though I use the oven—which produces a pickle that gets crisper, and stays that way longer.
Because of the rich body thanks to the addition of nuts, this is a pickle that eats like a meal; it needs little more than a side of steamed rice to feel complete, though it's lovely served as a side dish alongside grilled meats. It also stands alone, a substantial snack to stave off afternoon hunger.