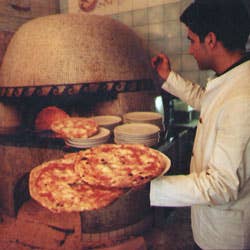 Culture
The Gospel of Pizza
The rituals of making an authentic Neapolitan pizza, as spoken by a true believer.
"The only thing American pizza has in common with pizza from Naples is the name." So we were told by Tony May, restaurateur and author of Italian Cuisine: Basic Cooking Techniques (Italian Wine and Food Institute, 1990).
Although May admitted that "there are exceptions"—he even confessed to having had "one or two" good pizzas in this country—he maintains that he found it practically impossible to find any that could compare with the pizzas he used to eat with friends when he was growing up in Naples. So he imported a pizza oven—and a pizza maker—from Naples, and installed them in his Hostaria restaurant.
Among May's rules for authentic pizza: "The dough has to be made by a person, not by a machine. You have to feel when the yeast has brought the dough to the perfect point, and it's pretty difficult to teach that to a machine."
One big problem with pizza in America, May continued, is what we put on top of it. Smoked chicken sausage and goat cheese are simply too much. "Minimalism is key. You don't want to overpower the dough." Toppings must be raw, never cooked. And don't even think of sprinkling parmigiano on top of your mozzarella.
"Never!" he saids of the very idea. "I'd like somebody to explain to me why you would ever think of doing that. It's like putting a rug on top of a rug. Why?"