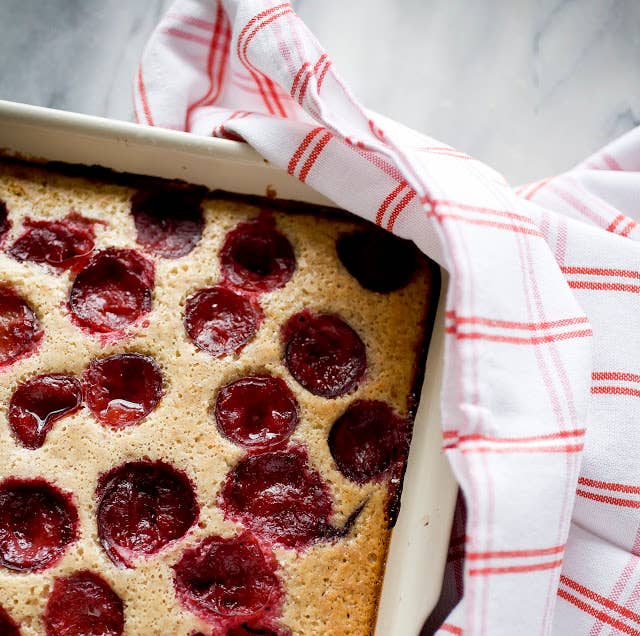 Culture
Sites We Love: A Stack of Dishes
Gorgeous photos? Check. Engaging writing? Check. Seriously inspiring recipes, tips, and culinary curiosity? Check, check, and check. The best food blogs all seem to have a lot in common—but what separates them out are the strong personalities behind them. In our Sites We Love series, we sit down with some of our favorite bloggers to find out how they do it—and why it's as much fun for them as it is for us.
Today's site we love is A Stack of Dishes, where former wedding cake designer Gail Watson shares her passionate and wholesome approach to cooking with an eye towards entertaining. Carefully planned out with the aesthetics of the final presentation in mind, her recipes make us want to host a party. Here's what Gail has to say about her site:
Posting rate: I post twice a week as best I can. When I started the blog I promised that I would be consistent. It's not always easy, but it's been a great habit to develop. I've been travelling a tremendous amount the last 6months, so the days before I leave I cook and shoot like a fiend so I can post while away—then I knock on my neighbors' doors and hand out all the food that I just made. It's a blast.
Geographic location: I'm primarily located in NYC, but I split my time with Shreveport, LA. I'm staying in NYC while I finish my Masters degree at Columbia in Nutrition and Applied Physiology. My fiancee is (very) patiently waiting for me to be done and move permanently to our house in Shreveport.
What's been your most popular post? My most popular post is Floppy Noodles with Fresh Ricotta and Basil Oil. For some reason it got picked up and bounced around, not only here, but also in Europe. It still gets regenerated, which I have to say I find amazing, but then I still find the whole blogosphere pretty amazing.
What's your favorite post? My favorite post is my first. I started the blog in preparation for my retirement. I knew that I wanted to write and fill my life with food, but wasn't really sure what that would mean. The blog was really meant to be a playground, something totally self-indulgent after working for others for so many years. I had been thinking about the blog for a while, but it was the passing of my Aunt Josephine that really got me to hit that first "publish" button. That first post was an homage to my Auntie Jo. I come from a family of foodies and great cooks, and she was the matriarch. Josephine was a beautiful women and the consummate hostess, and rarely does a day go by that I don't miss her terribly. I wrote about her rice pudding, which she always served at every holiday meal. It was a testament to how simple things can have such a tremendous impact, especially when it comes to food and gathering around tables. I've been incredibly fortunate to have many outstanding and inspirational women in my life—it just felt right to start all this with her.
What's something great that you've learned or that's happened to you since starting your blog? I really was naive when I started blogging. I knew so little about the cogs and wheels—not just the technical stuff, but also the scope and power of it all. I am really grooving on learning code, which at my ripe old age is fascinating to me. I guess I'm sort of a geek that way.But the thing that has really been astounding is how I can play and create in mykitchen, then tap away on my computer in solitude, and that post reaches out to people, and they engage with it. "Friends" I've never met will write to me and say that they share similar connections with food, or they were not "cooks" but were inspired to try one of my recipes. They share with me their excitement and that is such a gift. I never expected that would happen, and it just awes me. I think that is the alchemy that got me started blogging, and why I love cooking. Food is not just sustenance; it's creation, it's nurturing, it's sharing. It can make really wonderful things happen.
What's the usual process for developing one of your posts? The process for creating a post varies. I feel like I am always thinking about food. I sometimes get inspiration from a food I see in the market, or I see a pot or pan I feel like using. Sometimes I get a hankering for something and just want to make it. The ideas really come from all over, which can be maddening at times since there are only so many things to cook and so little time. I often shoot two recipes in a day. I like to get into the groove of cooking and shooting. I find inspiration everywhere, though. Around my apartment are stacks of cookbooks and food magazines positioned in corners and favorite sitting spots—including, naturally, SAVEUR. When I need a break from my day I'll sit down and look at food.
What are your favorite ingredients and tools? When it comes to tools, I tell everyone that the best thing they can do for themselves is invest in excellent knives and pots and pans. I think the high prices scare peoplesometimes, but I would rather get one fantastic knife for Christmas than a pile of sox and body wash. Using quality tools does make a difference, and it's worth paying for. I'm also slowly eliminating my nonstick cookware and reviving cast iron. As a nutritionist, it's a no brainer.
What are your favorite food and cooking resources? Publishers worry that print cookbooks are in jeopardy, but I certainly do my part to support that industry. I really love cookbooks. My latest favs are Sprouted Kitchen, New Zealand Chef—Nadia's Kitchen, Aran Goyoaga's new book Small Plates & Sweet Treats. They all share a healthy wholesome and passionate approach to food, which I relate to. I am also a magazine hound. I subscribe to quite a few, including Food and Wine and La Cucina Italiana, but I am subscribing more and more digitally. It takes a little getting used to, but I love that I can read Donna Hay, Delicious, and, of course, Saveur, wherever I am on my iPad. I also love to read other food bloggers. Checking into my feed is like opening presents.
What photography equipment do you use? My camera is a Canon 5D, which I love to death. I shoot mainly with a 2.5 50mm lens. I mostly shoot with naturallight, using bounce cards. I have some lights, which I use in the shorter, darker days of the year. It's a love/hate relationship, but we're working it out. I was a photographer in a past life, so the photography is very important to me. I used to live in a loft with a huge, tricked-out kitchen (Martha Stewart used to shootthere back in the day). At the moment I am living in a teeny apartment with the smallest kitchen I've ever cooked in—think boat galley. It's been an interesting workshop adjusting to the new place, but even in mypetite kitchen, without a single bell or whistle, it can work.
Where else can we find your work? I've been keeping my extra curricular activities to a minimum until I finish my degree. There are a lot of collaborations that I have put on hold until I have the time. In the works is a cookbook that I am formulating, and it looks like a couple of publishers are interested. Also within the year I plan to launch a new business called A Healthy Hunger. It will be a menu subscription site for healthy eating, with focuses on diabetics and folks with cardio vascular issues. I want to give people the confidence and the knowledge that they can eat well and better their health.
What food blogs do you follow? Three to One, A Hungry Ghost, Mrs. Wheelbarrow, EAT Boutique, La Buena Vida, Canal House, Lottie and Doof, Hungry Rabbit, Roost, Not Without Salt, What Katie Ate, and the first blog I ever followed, 101 Cookbooks. Of course there are a lot more, too. I really love to cruise around and see what people are doing. There is a whole lot of love, effort and time going into those blogs. It really blows me away sometimes.
Do you know a blog or blogger who deserves to be featured in this space? Email a nomination—including a link to the site and a few sentences on why they're worthy of love—to__siteswelove@saveur.com.