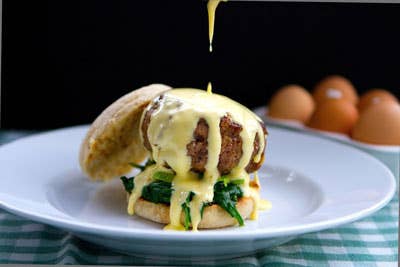 Culture
Sites We Love: Chez Us
Gorgeous photos? Check. Engaging writing? Check. Seriously inspiring recipes, tips, and culinary curiosity? Check, check, and check. The best food blogs all seem to have a lot in common — but what separates them out are the strong personalities behind them. In our Sites We Love series, we sit down with some of our favorite bloggers to find out how they do it — and why it's as much fun for them as it is for us.
This week's Sites We Love is Chez Us, where Denise Woodward and her partner Laudalino invite us into their kitchen to share their original recipes and captivating photos. Although their kitchen is tiny, they create big dishes and share their lovely personal stories along the way. Here's what Denise and Laudalino have to say about their site:
Posting rate: My goal is to post at least 4 times a week. Lately, life has taken over, and it has only been a couple times a week.
Geographic location: San Francisco, CA
Why is the site called Chez Us? Chez Us has evolved since conception. When I built the site, in 2007, it was called Chez Denise et Laudalino, after myself and my boyfriend (you can call him Lenny). It was more of an experiment, to see how to build a blog. For this "experiment" I used two of my passions - food and photography. As well, I did not tell anyone what I was doing, it was a bit of a secret. I didn't even tell Lenny. At first I only documented what we had for dinner with a photo and a bit of text. A month later, I broke the news. I had to come clean as Lenny was beginning to "wonder" what I was doing on the computer all the time, and why I was suddenly photographing our meals. About the same time, I was beginning to personalize the site by revealing tidbits about our culinary capers in a small urban kitchen; we really do live small and eat big. Readers started engaging with us, and were asking for recipes for what I was sharing online. That is really when Chez Us was born. The name came about as we have a strong love for the French culture and we wanted to "invite" people into our home for dinner. We wanted to keep the site personal and intimate, like having dinner at our home. Chez Us is heavily recipe driven now, but I always include a personal story with each recipe to help engage the reader, and to make them feel like they are there with us.
What's been your most popular post? Our most popular post this year is the one where I made a Three Milk Cake, in honor of Chez Us turning 4 years old. In addition to using evaporated and condensed milk, I mixed it up by using a creamy coconut milk and the secret ingredient was lots of fresh lime zest. It was amazing. Incredibly moist and flavorful. Reminds me, I really need to make it again, soon.
What's your favorite post? My favorite post is the one where I reveal a "juicy little secret"... winning the Saveur Sandwich Photo Contest. Lenny and I had been talking about making this sandwich for the past two years; but, we never got around to it. When I decided to enter the photography contest with Saveur, I was going to make a BLT. Lenny thought the BLT was boring and said it was time to make our special breakfast sandwich. Normally, I am the one developing the recipes, while he devours. This particular time it was a joint venture, and we had so much fun working on that recipe together.
What's something great that you've learned or that's happened to you since? It is really hard to pinpoint the greatest thing that has happened as there have been a few "wow" moments; not to mention the wonderful people we have met during the journey. I guess, if I had to pick one thing, it would be that I learned to bake. I have been cooking since I was a kid, but I was always intimidated to bake beyond an occasional cupcake or sugar cookie. When I discovered food blogs most people where baking gorgeous baked goods. I was wildly intrigued. I begged an online baking club (The Daring Bakers) to let me into their small and intimate group; at the time, there were only 40 members. It was exactly what I needed to overcome my fear. Now, I love doing it, and find it very challenging as well as a great stress release. And who doesn't love baked goods?!
What's the usual process for developing one of your posts? Chez Us is all about what we have for dinner every night, with the occasional baked good tossed in to sweeten things up. Honestly, I think about food and cooking all the time and am inspired by what is in season at the markets. Instead of shopping once a week, I will go to market a couple times a week, to pick up fresh ingredients. As well, I keep a notebook with my ideas for recipes and reference back to it often throughout the week. I will work on a recipe, that we will be eating that evening, keeping notes along the way. Playing with flavors and textures, until I get it right. About thirty minutes before eating, I set up the shot, snap away and then we have dinner, before it gets cold. If, the recipe was a hit, and we don't feel like it needs to be tweaked anymore; I go with it. If there is any doubt, I sleep on it for a couple of days and then start playing again. Or maybe it just doesn't work, then I let it go. I can usually tell right away if it is a dud or not. I try to go live with a recipe within a couple of days as to keep the experience fresh. Since I have written most of the recipe during the process of cooking, I edit my notes and photos and then share a story, to make it personal. It is a delicious labor of love.
What are your favorite ingredients and tools? My recipes are easy to make and use the freshest ingredients I can find. I want them to be simple so that anyone can enjoy them. I always have maldon salt, olive oil, fresh herbs and Ezpeletako Biperra (a Basque paprika) on hand; they are staples. As well I like to keep a couple different cheeses on hand, they are nice to nibble on while cooking or can be tossed into a dish. As well, a bottle of wine and a fresh baguette can always be found on our kitchen counter. My favorite tools are my Global knives, a microplane and my Kitchen Aid with the pasta attachment. It is really fun to make fresh pasta on a whim, and it is not has hard as one may think.
What are your favorite food and cooking resources? I have a generous cookbook collection, that I usually only use as a visual. I may be inspired by something from a cookbook, but most of the time, the meals we eat are my own. I get my ideas from what is in season or from what our taste-buds are craving. As well, I try to use our ethic backgrounds (Portuguese and Basque) as a guideline for cooking - lots of spice and fresh flavor. My favorite cooking magazines are Saveur (I am not just saying that) as well as Gourmet Traveller; the visuals in both magazines are a WOW factor!
What photography equipment do you use? I use a Canon 7D and switch between three different lenses, 50mm macro, 35mm and a 24 - 70mm. We have been experimenting with shooting some food inspired videos as well, and the 7D makes everything in video look amazing. My set-up is pretty raw, small table, a few props and cheap mat boards from the art store.
What food blogs do you follow? Oh, this is a hard question as there are many that I follow, all for different reasons. Everyone I follow is so talented, I love them for what they do and for their personal journeys with food. Just a few favorites are: Beyond the Plate, Gourmet Worrier, Sprouted Kitchen, Dana Treat, 5 Second Rule, A Sweet Spoonful, Shutterbean, La Tartine Gourmande and Cannelle et Vanilla. I feel as if this is the academy; did I forget someone? I have a wonderful list of creative kitchen geniuses; you should really check them out - they are listed on our site.
Do you know a blog or blogger who deserves to be featured in this space? Email a nomination — including a link to the site and a few sentences on why they're worthy of love — to siteswelove@saveur.com.