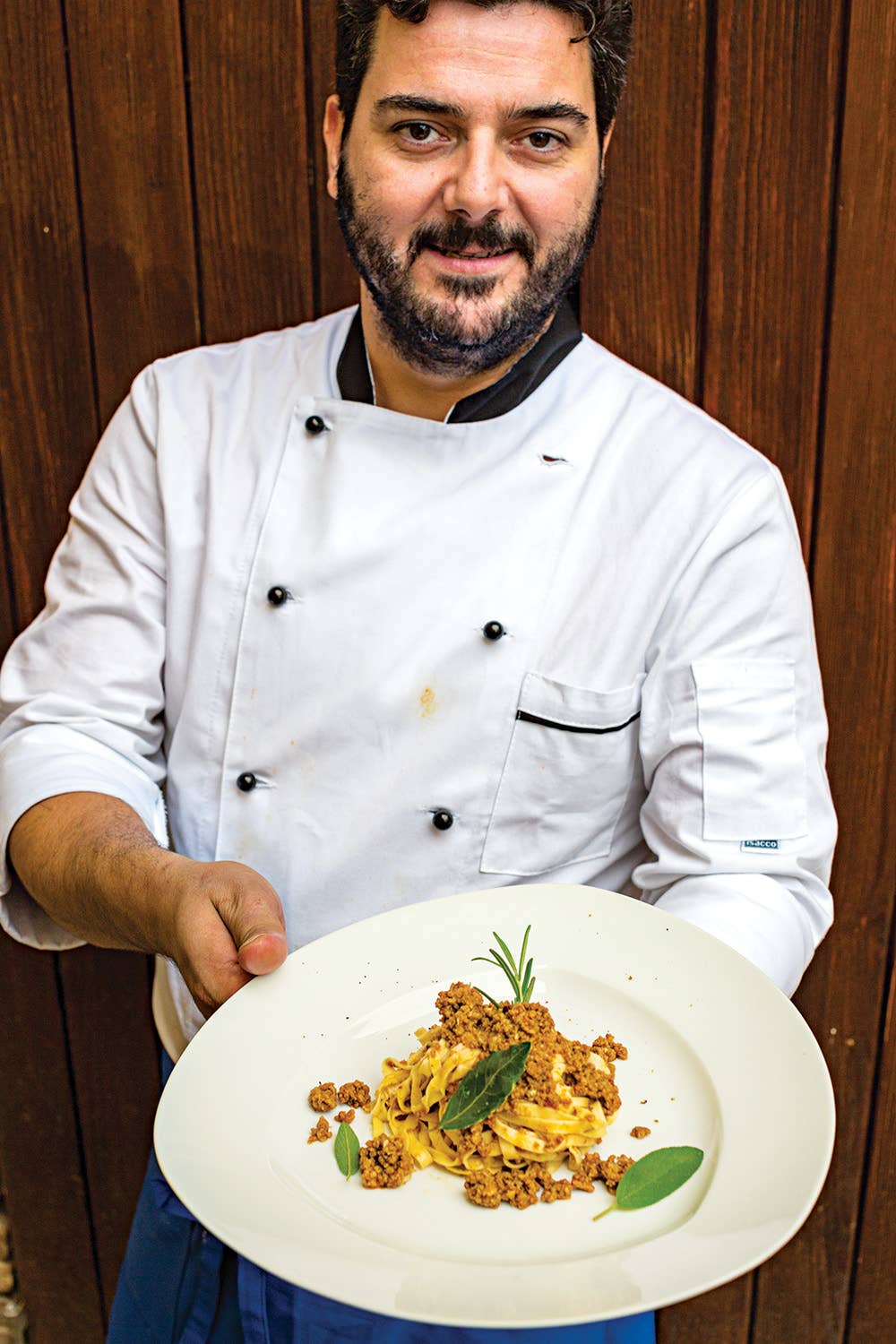 Travel
A Saucy Dish
BEVAGNA, ITALY 01:48PM
This afternoon, as always, I am preparing the ragù my father taught me to make. He cooked it with pork in the manner of Emilia-Romagna, where I grew up. When I moved to the town of Bevagna in Umbria, to the south, and opened my little trattoria, I chose to use beef as an homage to this region's prized Chianina, a breed of cattle whose belly has the perfect ratio of fat to lean to make a juicy, fragrant sauce. People ask if I use butter in my bolognese. I do not. I use olive oil because the aromas of the beef fat are delicious on their own. I mince the meat and simmer it on a low flame with olive oil; finely minced celery, carrot, and onion; a few tablespoons of a rich conserva that I make with tomatoes from my garden; and some local red wine, sagrantino. Its drying tannins contrast with the fat, and it releases the most extraordinary perfume. A couple of bay leaves, and the sauce is done. I prepare fresh tagliatelle every day. When an order comes in, as it did just now, I throw some pasta in a pan with the ragù, a little salt, pepper, and oil, and, for creaminess and a touch of sweetness, some well-aged parmesan. Then I garnish it with whatever herbs I have growing and send it out to the dining room. From the kitchen, I can hear my wife, Enza, wish the diner not "buon appetito," but "buon divertimento"—have fun—because as they eat this dish, they can savor all kinds of beautiful aromas, and it's really a kind of adventure.
La Trattoria di Oscar
_Piazza del Cirone 2
Bevagna, Italy
_39/0/742-361-107__
Filippo Artioli is the chef-owner of La Trattoria di Oscar.