Above and Beyond
INFLIGHT OVER WESTERN IRAN
10:47AM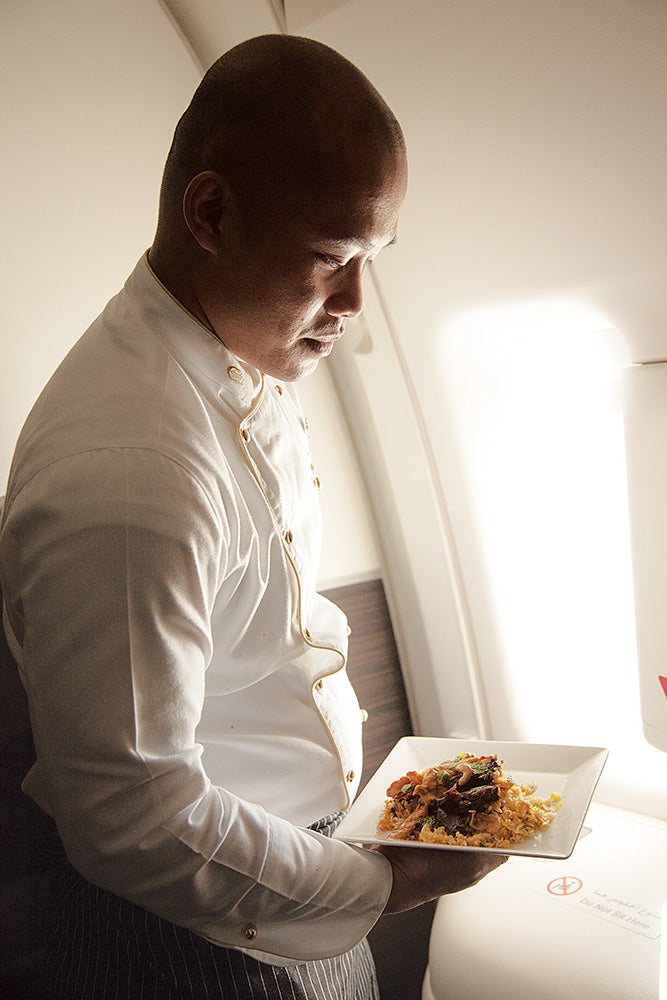 It's still morning local time—whatever local time means when you're at 35,000 feet en route from the Middle East to the United States—but it's night in New York, where we'll be landing in 11 hours, so in the interest of resetting our inner clocks, dinner aboard my flight on Etihad Airways is served. It starts with a flute of Bollinger La Grande Année Brut champagne and a suggestion from Ancleto Sales, the onboard chef, who is standing outside the sliding door of my first-class suite: "If it's all right," he says, "I'd like to design a tasting menu for you this evening." That sounds very all right indeed, and before long, a flight attendant arrives bearing a glass of bordeaux grand cru, recommended by the cabin manager, and a plate of sumptuous olive-oil-poached salmon and plump prawns, followed by an extravagantly spiced biryani of fork-tender lamb atop saffron-tinged rice scattered with fried onions and cashews. To finish, there is thick Arabic coffee and date ice cream. It's an excellent meal even by earthbound standards, made all the more impressive by the fact that it was prepared in a cramped flying galley with little more than a steam oven and a microwave. The other perks of my maiden voyage in a first-class cabin on a transoceanic flight are nice—a real bed, soft pajamas, and Wi-Fi—but what I'll never forget is the meal.
See the recipe for Ethihad Airway's Lamb Biryani »
FACT:
The first airline meal was served by Britain's Hadley Page Transport on October 11, 1919, during a London-Paris flight. The lunch box, consisting of a sandwich, a piece of fruit, and hot coffee or tea, cost 3 shillings, about 81 cents.