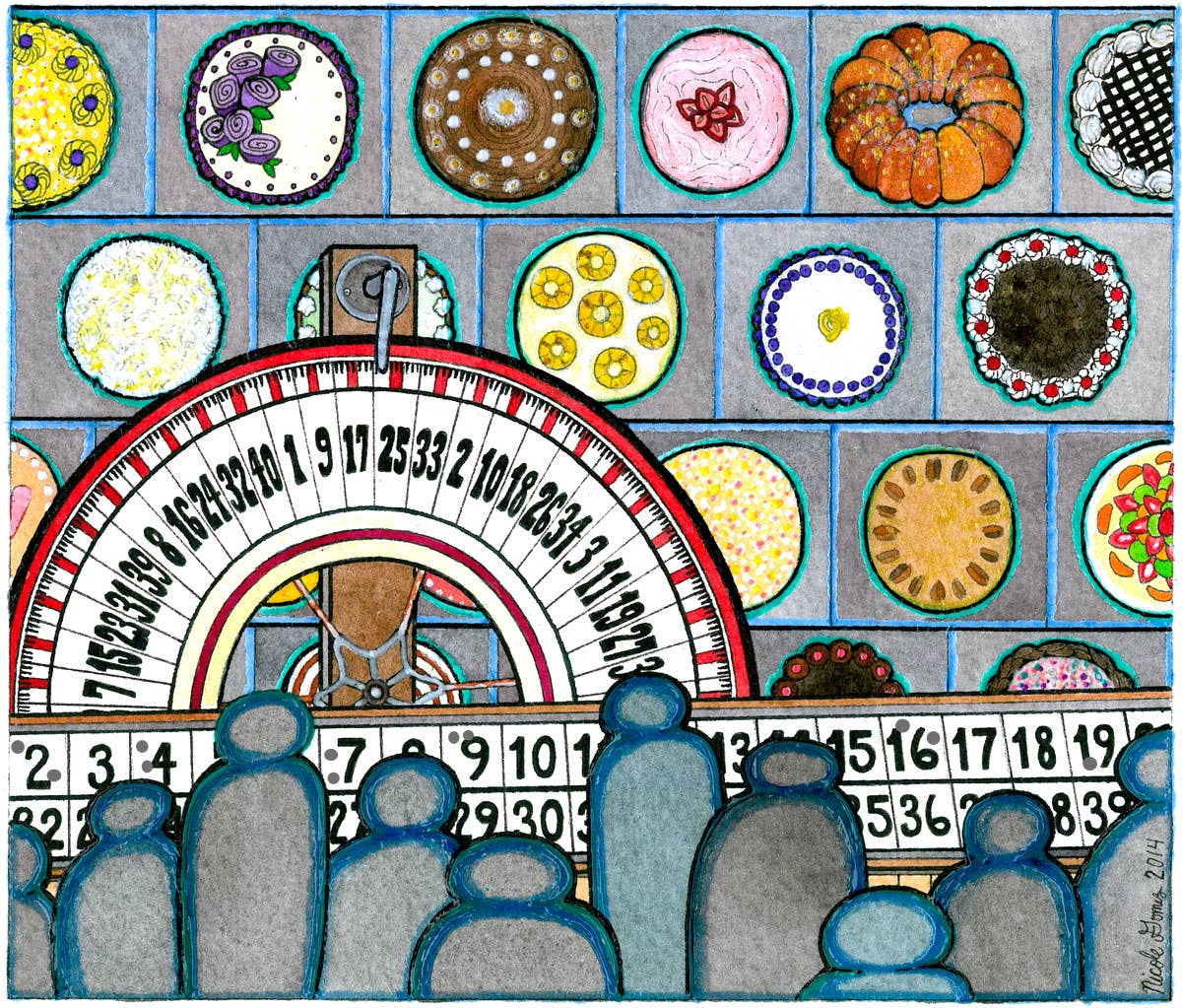 Travel
A Sweet Gamble
At the Wachapreague Volunteer Fireman's Carnival on Virginia's Eastern Shore, attendees place bets for a sweet reward
My wife, Rebecca, is placing a bet for the lemon crunch pound cake. On a counter with a hand-painted game board, she plunks down 50 cents on her lucky No. 4 then stands back as other bettors jostle good-naturedly for a spot. All of them wait eagerly for the attendant to spin the wheel, hoping it will land on their own lucky numbers. The freestanding clapboard booth, located on the fairgrounds in Wachepreague, Virginia, was built in 1957. Along its back wall, 14 homemade cakes are arrayed on wooden shelves. I glimpse a fluffy coconut cake; a "gold cake" with a yolk-yellow crumb and caramel icing; a layer cake striated with fig preserves.
The rules are simple: There are 40 numbers, one bet per number, and one winner per spin. The wheel ratchets, slows, stops, and the victor chooses a cake for his or her prize. The losers sigh, reach for their quarters, and place new wagers. Some play for a particular home baker's confection, others for a favorite sweet. Tonight a thunderstorm threatens, so all play with a measure of urgency.
The carnival, now in its sixty-second year, raises money for the local fire department. And for this tiny fishing village of 230 residents on Virginia's eastern shore, the celebration offers some of the sweetest pleasures of summer. For four weeks, rides whirl and families mill on the midway, enjoying clam fritters and fried soft-shell crabs as the salty scent of the great Atlantic marshes across the street flavors the air. And each night the cake wheel spins until the last confection disappears.
Rebecca wins her lemon crunch. As we make our way to the car, big raindrops start cratering the dust. I look back to see the remaining players sheltering under the raised wooden shutters of the booth, wagering on one more spin.