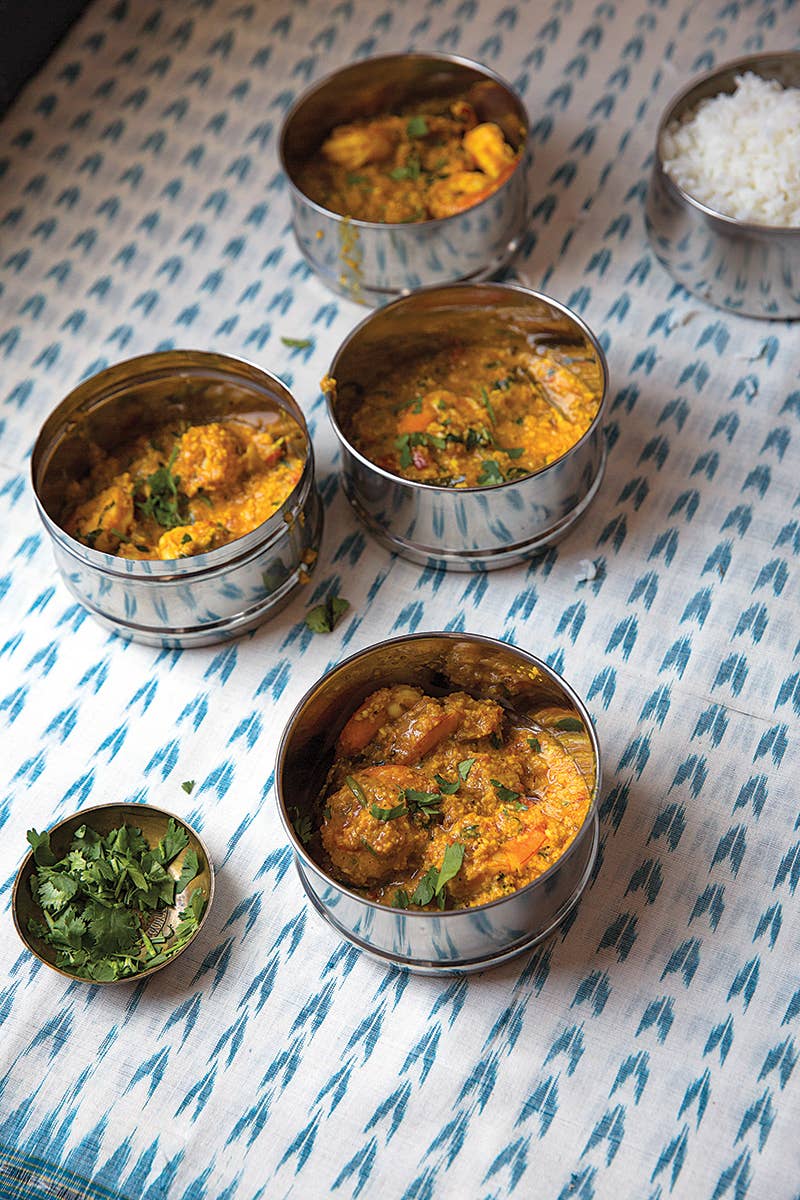 Travel
Christmas on the Coast
In Portuguese-inflected Goa, the most wonderful time of the year is a joyous blending of traditions
It was a tropical Christmas, steaming hot and bright as an egg yolk. Mosquitoes buzzed, gray-backed monkeys rummaged through the mango trees. The geese that live in our front yard waddled over to the fishpond for some relief.
I was in Goa, where I was born and my father still lives. It is a tiny palm-fringed coastal state in western India that was under Portuguese rule until 1961, when the Indian army stormed in and dramatically liberated it. As in other parts of India, the Portuguese brought with them vegetables and fruits that Goans had never heard of before, such as potato and pumpkin, papaya and pineapple; they introduced us to chiles from the Americas. The cross-pollination of food traditions that defines Goa today can be attributed in part to conqueror Afonso de Albuquerque, the Portuguese general who encouraged mixed marriages between Portuguese men and local women in the early 1500s.
Although two-thirds of the population is still Hindu, many Goans converted to Catholicism under the Portuguese, and Christmas remains a beloved celebration. We attend midnight Mass, set up a manger in the garden, and prepare elaborate meals. We like to hang a five-point Christmas star on the porch, and after dark our villages gleam like the night sky.
Last Christmas my husband and I returned to Goa to spend time with my father, sisters, extended family, and friends. The holidays are filled with invitations to our relatives' rambling old houses for dinner. These parties are crowded, loud, happy affairs. We can catch up for hours over wine, beef croquets, and prawn forminhas (canapés), before we finally sit down to dinner, which is always laid out buffet style on long oval tables covered with heirloom lace tablecloths. There are at least a dozen traditional delicacies, such as pork vindaloo and chicken xacuti, accompanied by stacks of sannas, fermented bread. The centerpiece is inevitably a sturdy suckling pig, roasted just right so that the outside crackles and the inside tastes like butter. After dinner my teenage cousins often sing for us.
What I most look forward to is Christmas lunch at our friend Elaine de Lima Pereira's house in Panjim, a 45-minute drive from my father's village. The daughter of a well-known caterer, Elaine was practically raised in the kitchen, and last year she made a dozen dishes singlehandedly for 50 guests.
In the back garden, a long wooden table with white tablecloths and red table runners held the al fresco lunch. Elaine set out a seafood stew, a spicy red pork balchao curry in an earthenware bowl, and crispy baked mussels in their glinting silver blue shells. The roasted duck was red with spices, and the ox tongue had been marinated for three days in ginger, garlic, peppercorns, cloves, and lime. Her wonderful chili-fried tiger prawns—a local specialty marinated in turmeric—were as large as my fist and redolent of the rich taste of fried tomatoes and onions. For dessert, there were walnut drop chocolates and rose-water-infused marzipan fruits. But the coup de grâce was the Bolo Sans Rival or Cake Without Rival, which we ate off plates balanced on our knees in Elaine's living room, our ears buzzing with the sounds of music and children playing.
This festive cardamom-scented staple also came to Goa with the Portuguese. Canopies of butter cream separate four layers of spongy cashew-meringue cake. The sides of the cake are covered with even more cashew nuts, and the top is scattered with silver metallic dragées. The Sans Rival, like Christmas, comes only once a year, but the glamorous confection is so intensely rich that even one sliver feels like a year's worth of indulgence.
Sonia Faleiro is the author of Beautiful Thing: Inside the Secret World of Bombay's Dance Bars.