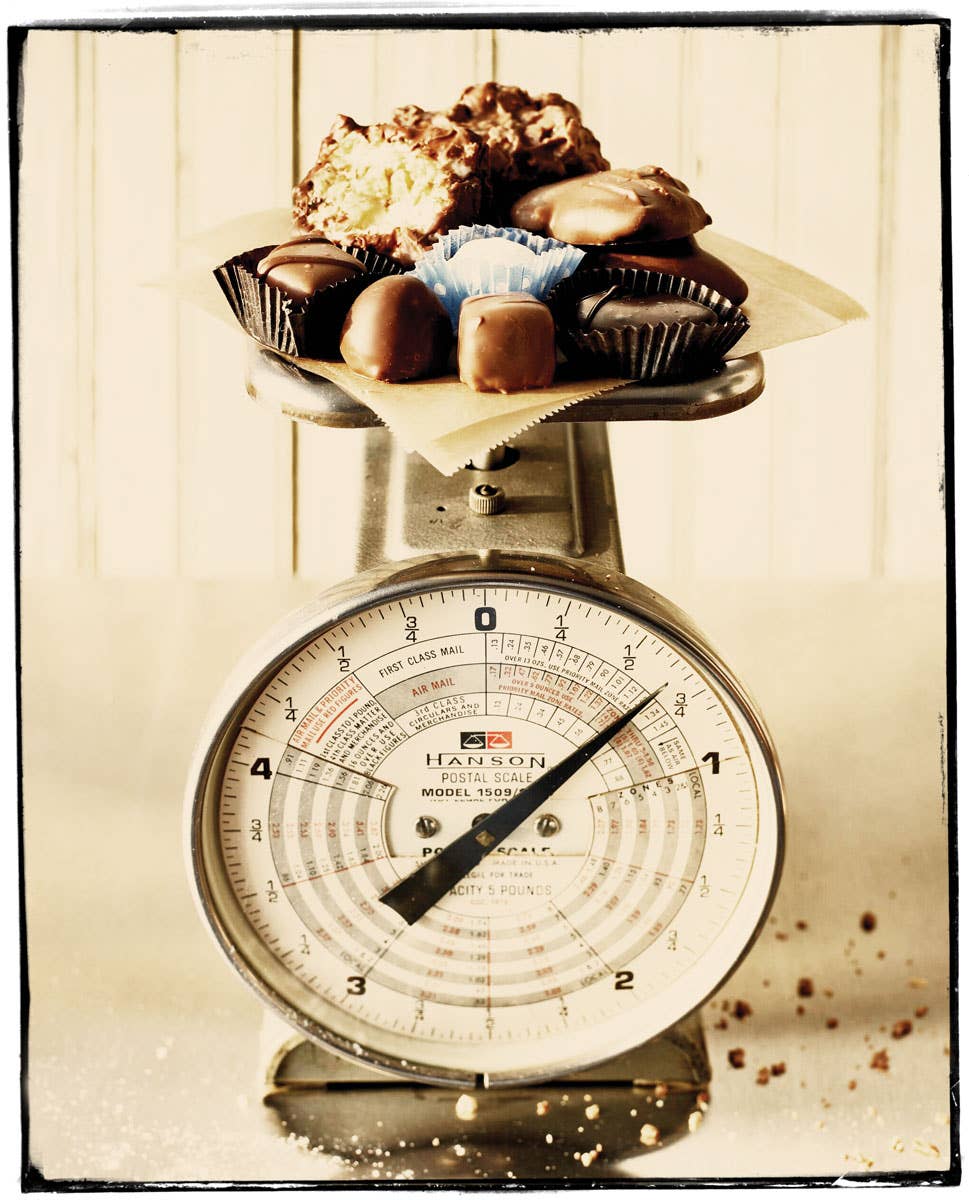 Travel
Welcome to Candy Land
A shuffle off to Buffalo reveals some of the finest confectioneries the Rust Belt has to offer
The first thing that springs to mind when you think about Buffalo, New York, is probably its eponymous chicken wings. But after numerous visits to this city of 259,384 just a stone's throw from Canada, we can assure you that it's also a confectionery gold mine. From Cynthia Van Ness, director of Library and Archives at the Buffalo and Erie County Historical Society, we learned the credit is largely due to the many Greek immigrants who came here at the turn of the 20th century, opening hundreds of European-style confectioneries during the city's boom years.
1 Marshmallow cream is covered in coconut, cashews, and milk chocolate for the quirky Charlie Chaplin.
2 Candied macadamia nuts drenched in milk chocolate and rolled in powdered sugar result in King Condrell's Buffalo Snowball.
3 Take a nugget of milk chocolate, drizzle it with hot fudge, and voila-the decadent hot fudge truffle.
4 This dipped raspberry from Aléthea's is a fresh, ripe berry rolled in sugar and dipped in chocolate.
5 Buffalo's famed sponge candy is a hunk of burnt sugar covered in chocolate.
6 At Aléthea's, spicy candied ginger is coated in buttery milk chocolate.
7 Turtles, including these milk chocolate, caramel, and peanut versions, can be found all over town.
Buffalo's signature sweet is itself a European import: sponge candy a bite-size block of nearly weightless golden spun sugar enveloped in milk or dark chocolate. But that is just the beginning. In Buffalo, chocolatiers concoct their own marshmallow sauce, understand the nuances of caramel, and temper cocoa butter to a luxurious smoothness. Best of all, several sweets shops also churn out their own ice cream, serving elaborate sundaes and shakes.
One of our favorite destinations is Aléthea's Chocolates in the Buffalo suburb of Williamsville. The place is a chocoholic's dream, with candies in every shape and size arrayed on shelves and tables and trays, ready to be gobbled one by one, or by the handful, as the case may be. Dean Tassy and his father, Gust, opened Aléthea's in 1967, naming it after Dean's great-grandmother, who was famed for the sweets she created in her native Kozani, Greece. On our most recent Buffalo trip, we stopped in to sample their exquisite dipped raspberries, the fresh, ripe berries rolled in sugar and covered in chocolate; hot fudge truffles; and spicy candied Australian ginger coated with dark chocolate. Each time Dean handed us something to taste, he took a piece for himself. "At the end of the day I've had enough," he said. "But every morning I want more."
While variations of sponge candy can be found from London to the Pacific Northwest, nobody else uses the care employed by Buffalo's top candymakers. "We respect the sponge," said Dean, who boils white sugar with water and corn syrup, and then whips it like crazy, adding baking soda a little at a time. Covered overnight, the golden candy rises like an ethereal cake. Dean said the dense, chewy parts around the outside should be thrown away, leaving only the most fragile sponge. "That's why our candy is so light." The experience of eating sponge candy is heavenly. Your teeth sink through a thick coat of chocolate before hitting the spun sugar center, which feels crisp and brittle before evaporating into a pleasing burnt-caramel memory.
A heftier choice is the Buffalo-only candy called the Charlie Chaplin. Found in nearly all the city's sweets shops, it's a formidable hunk of marshmallow cream topped with tender coconut and crunchy cashew-studded chocolate. You can order it as a loaf that you slice or opt for a two-bite snack served on a toothpick. How it got its name, no one knows for sure. A common speculation is that Chaplin fell in love with the candy and often had a chocolatier friend make it for him. That's a nice story, but as far as we can tell the actor never had any special connection to the city.
In the suburb of Cheektowaga, we paid a visit to Mike's. Founded some 50 years ago by Anastasia Melithoniotes and her late husband, Mike, this cozy candy shop sports a display room filled with pans of cooling nonpareils. Mike's fluffy marshmallow blocks are especially good covered in milk chocolate and topped with a hail of chopped walnuts for what's known as a Stolen Haven (the shop's twist on the more common moniker, Stolen Heaven). Instead of relying on a candy thermometer, Susan Walter, the Melithoniotes' daughter, uses her spatula to smear slowly cooked caramel on a marble slab. If she can lift and ball it up without it sticking to her fingers, it's ready to be drizzled with chocolate and showered with roasted peanuts for one of the buffest candy turtles we've found anywhere.
While plowing through a boxful of Mike's sponge candy, it dawned on us that the charm of Buffalo's fine confections is their reliance on regular chocolate—the kind we loved as kids—instead of the fancy artisanal stuff. Chocolate here is sweet and simple, with direct appeal to the pleasure centers of the brain—a point that was driven home further at a shop called King Condrell's in Kenmore, where we fell in love with a kitschy confection known as a Buffalo Snowball, a candied macadamia nut dipped in milk chocolate and rolled in powdered sugar.
Along with chocolates, several of Buffalo's top confectioners offer outstanding ice creams, as well as stand-out syrups and sauces to pour over them. Located in the suburb of West Seneca, Sweet's on the Hill uses ice cream from Nick Charlap's, a creamery south of the city. Charlap told us the secret of his radiant ice cream is milk that's been vatpasteurized, a slow process that gives each flavor, even vanilla, a depth of lingering taste without the overwhelming richness of high-butter-fat brands.
For those who like chocolate sauce on their ice cream, choosing among the offerings in Buffalo's parlors can be daunting. Sure you can get hot fudge at King Condrell's, but they also give you the option of thinner bittersweet chocolate or warm French chocolate, which is as dark and thick as pudding.
Any of these places will let you dream up your own ice cream concoctions, but we suggest leaving the composing to Buffalo's maestros. The hot fudge at Aléthea's, for example, is especially profound when it's paired with marshmallow sauce atop buttercrunch ice cream and sliced bananas on the towering dessert known as a Mount Olympus Frappe. Condrell's turtle sundae comes in a wide silver boat blanketed with thick whipped cream and plastered with pecan halves. The nuts glisten with enough salt to enhance the sundae's sweet components. But restrain yourself to only one pecan piece per bite. That way you'll have enough room on your spoon for the whipped cream, hot fudge, caramel sauce, and decadent ice cream, too.
Aléthea's
8301 Main Street, Williamsville
716-633-8620
King Condrell's
2805 Delaware Avenue, Kenmore
716-877-4485
Mike's
2110 Clinton Street, Buffalo
716/826-6515
Nick Charlap's
7264 Boston State Road, Hamburg
716/312-0592
Sweet's on the Hill
1203 Union Road, West Seneca
716/675-3981