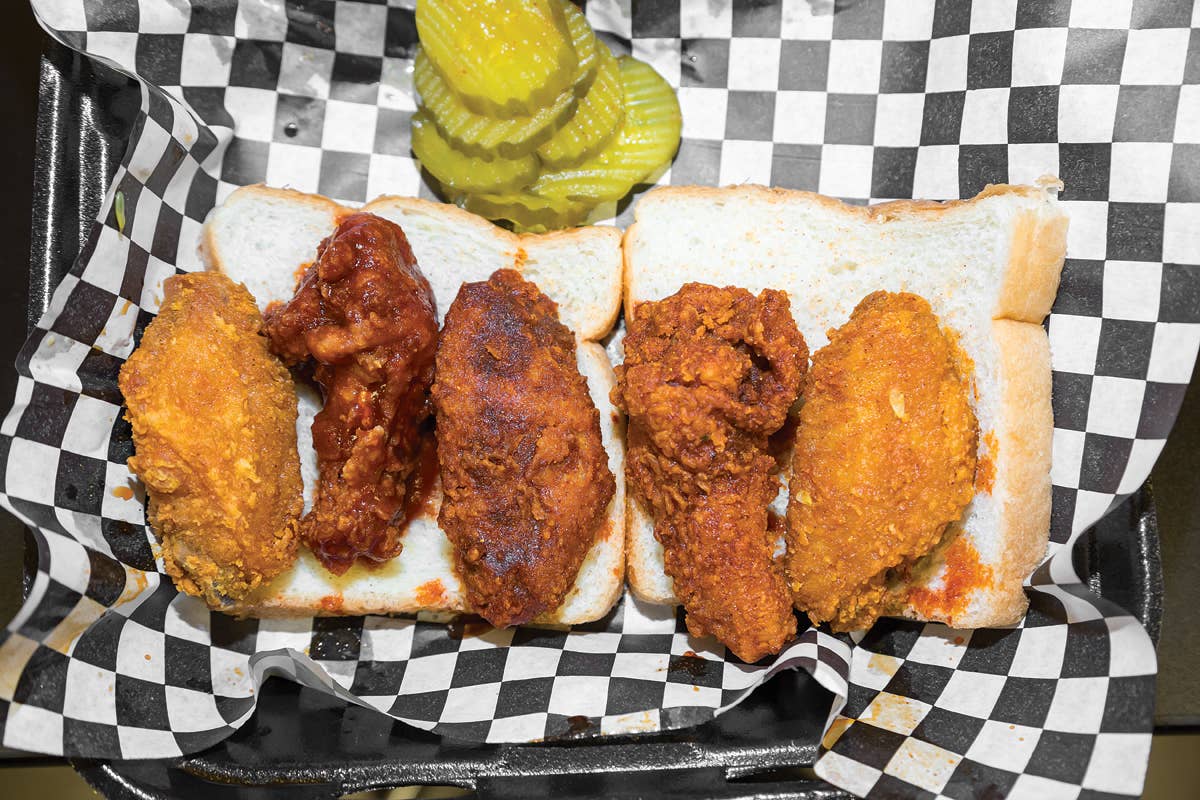 Travel
Hot Country
In Nashville, a piquant poultry dish has become a way of life
"Make me hurt," murmurs a slender young woman in business pinstripes and high heels before placing her order at the window inside Bolton's Spicy Chicken & Fish, a tumbledown eatery on Nashville's east side. Twenty minutes later, we watch as she carries a wax paper package to a table. She peels back the wrapper, revealing a massive hunk of fried chicken enveloped in a glistening veil of pepper-red crust beside a slew of dill pickle chips. There is a slice of white bread on top of the chicken, as well as below, to soak up the spicy grease. It looks like a sandwich, but the bones are still in there, and its heft makes picking it up seem absurd. While plastic knives and forks are available, like everyone else here, she doesn't use them. This is chicken to tear apart with your fingers, to pick at, to gnaw every bit of meat off of every single bone. This is Nashville hot chicken.
With each bite, beads of perspiration build on the woman's brow. She undoes the top buttons of her blouse, removes her earrings from her earlobes and drops them on the table; she begins to sniffle and breathe heavily, to fan herself and whisper, "Mercy!" several times, as if in a euphoric trance. Finally, when she wobbles to her feet to throw away the bones, she sighs, "I'll be okay," to no one in particular and steps out into the sunny Music City streets.
Bolton's is one of a handful of Nashville restaurants specializing in hot chicken, as well as hot fish. While the fish—usually fried whiting splashed with hot sauce and served as a sandwich—has comparables in other cities with thriving soul food scenes, hot chicken is in a class by itself.
Each hot chicken joint has its own carefully guarded recipe, but the basic idea is to marinate chicken in a brine of buttermilk infused with cayenne, paprika, garlic powder, and other spices. Then it is dredged in more spice and double-fried. Finally, when the chicken is fresh from the hot oil, it is slathered in a fiery buttery paste that melds with the crust, creating a crunchy, pepper-charged coat, resulting in an infernal delight. Yet, stunning as hot chicken is, heat alone is not what hooks devotees. Aqui Simpson, who opened a hot chicken restaurant in 2007 called 400 Degrees, is convinced it's as much about flavor as ferocity. Good hot chicken should be spicy, yes, but that heat should be tempered by sweetness, juiciness, and an umami richness.
It is said that hot chicken was created as a form of revenge in the 1930s to purposely hurt the first person ever to eat it. Thornton Prince, the proprietor of a fried chicken restaurant, had a lady friend so irritated by his carousing that early one morning, upon his return from who-knows-where, she served him a plate of chicken with enough pepper punch to drop his sorry ass. But the booby-trapped bird backfired: Mr. Prince liked it. He liked it so much that he put it on his menu. Today, Prince's Hot Chicken Shack, now operated by Thornton's great-niece André Prince Jeffries, is the Olympus of Nashville's hot chicken universe. Proprietors of all the other hot chicken places in town learned to love it here first. It was Prince's that first tucked the ferocious bird between slices of bread, and Prince's that scattered pickle chips around it. The seemingly unassuming strip mall joint is also responsible for establishing the near-ubiquitous heat scale of mild, medium, hot, and extra-hot. Prince's medium is as incendiary as a four-alarm Texas chili. And the hot version tests our pain-pleasure tolerance so emphatically that we have yet to find the will to try extra-hot.
Its intensity explains why hot chicken is one preparation in which an otherwise bland breast is like a blank canvas to paint with spice. That's not to say that versions made with dark meat aren't a thing of extraordinary pleasure. At Hot Stuff Spicy Chicken & Fish, a spiffy-clean storefront southeast of the city, we poke the tines of a fork through the brittle red crust on a thigh and watch as juices come pouring out. This piece is crazy moist, sopping the bland supermarket bread with a slurry of spices and chicken fat, transforming it into a starchy, savory pudding that almost no one leaves behind.
Hot Stuff's chicken comes in degrees of heat that go from Lil Spice and Lemon Pepper to X-, XX-, and XXX-hot. Ordinary hot (no X) clears our sinuses and takes our breath away. While a manager suggests sweet fruit tea as a salve, it has little effect on a ravaged tongue. What does work, we find, is cake. Hot Stuff's counter is arrayed with slices of layer cake made by local baker Spencer Middlebrooks. And the cooling effect of his tall, silky yellow cake with caramel-tinged mocha frosting is just what our blazing taste buds need.
Though the city's hot chicken joints are informal, this is by no means fast food. For good hot chicken, you wait. Each order is fried to order because a heat lamp would risk a softened crust on a dish in which frangibility is fundamental. Regulars know to phone in their order 20 minutes before they arrive. On the small tarmac around Pepperfire Hot Chicken, which has no indoor dining, cars crowd willy-nilly as their drivers read newspapers, talk on cellphones, or doze while listening for their names to be called on the loudspeaker.
Isaac Beard opened Pepperfire in the fall of 2010 and is one of the few white men among Nashville's hot chicken purveyors. Beard, a Nashville native, is convinced that this specialty of the city's African-American communities can captivate the country just as its profile in his hometown has grown into a source of citywide pride and the inspiration for an annual hot chicken festival every Independence Day. He may be right. Recently, hot chicken joints have started popping up as far away from Nashville as Brooklyn's Peaches Hot House and Cackalack's Hot Chicken Shack in Portland, Oregon.
Hot chicken does have a way of inspiring devotion that verges on addiction. A woman we met in line at Prince's gleefully told us she eats extra-hot five days a week (the restaurant is closed Sunday and Monday). I can't help it, she said. "I just need it."
Bolton's Spicy Chicken & Fish
624 Main Street
615/254-8015
Prince's Hot Chicken Shack
123 Ewing Drive
615/226-9442