Instagram Itinerary: Maine's Downeast and Acadia Regions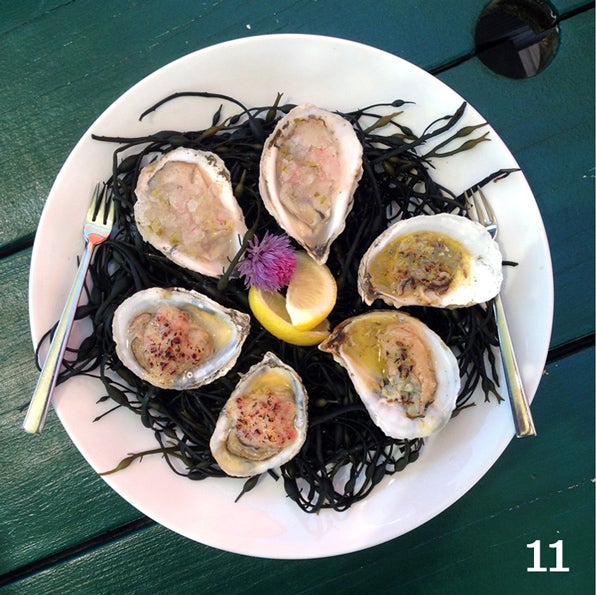 1. Start in Lubec with breakfast at Fisherman's Wharf, where, true to the name, you can watch fishermen bringing in the day's catch from the deck. Don't miss the fresh jam and the fried dough, a surprisingly light and fluffy treat that gets drizzled with molasses or maple syrup.
Fisherman's Wharf
69 Johnson Street, Lubec, Maine
207/733-4400
2. Drive into Canada for a tour of Campobello International Park, FDR's summer retreat. Tour the home where the family summered, which is furnished almost entirely of original pieces, including the original stove and kitchen tools the family used.
3. Quoddy Bay Lobster is our pick for lunch—lobster rolls are an obvious choice, but the fish chowder, haddock sandwich, and chicken salad are also standouts.
Quoddy Bay Lobster
7 Sea Street, Eastport, ME
207/853-6640
4. Visit the farm stand at Tide Mill Organics (open from 10–2pm on Saturdays) and pick up some of their fresh vegetables, yogurt, or grassy, flavorful milk.
Tide Mill Organics
91 Tide Mill Road, Township of Edmunds, ME
207/733-2551
5. About an hour west you'll find Bartlett's winery, where Bob and Kathy Bartlett are making nuanced fruit wines and a fragrant small-batch rum. Our favorite is the Blueberry Winemakers Reserve—an oaked wine that's super fruity and full-bodied, with notes of vanilla on the nose and a dry finish.
Bartlett's Winery
161 Chicken Mill Pond Road, Gouldsboro, ME
207/546-2408
6. Go for some small plates at Fiddler's Green, where Chef Derek Wilbur serves an eclectic mix of global foods mixed with Maine specialties, like house-smoked mussels with mushrooms, salt cod fritters, and plenty of local oysters.
Fiddler's Green
411 Main Street, Southwest Harbor, ME
207/244-9416
7. Stop off at the Liquor Locker in Southwest Harbor for some hard-to-find Maine beers to take home (or to enjoy as a nightcap), like Marshall Wharf's Sorachi Ace Pale Ale or Baxter Brewing Co.'s Daughters Of Poseidon.
Liquor Locker
11 Seal Cove Road, South West Harbour, ME
207/244-3788
8. If you finish the evening early enough (and you still have room), head to Morton's Moo for a scoop of grape nuts or ginger ice cream—both local favorites.
Mornton's Moo
9 School Street, Ellsworth, ME
207/266-9671
9. Stay the night at the Blue Hill Inn and go for a breakfast of local treats like blueberry pancakes or crab quiche with eggs from the inn's own chickens. Or go for coffee and the Platonic ideal of a sticky bun at Millbrook Company Restaurant and Bakery.
Blue Hill Inn
40 Union Street, Blue Hill, ME
207/374-2844
10. Drive out to Nervous Nellie's on Deer Isle, where sculpture artist Peter Beerits has created a fantastical town named Nellieville straight from his imagination, peopled with life-size figures made of wood and metal. On the side, Beerits and his wife Anne make jams and chutneys in the nearby kitchen, in flavors from blueberry to hot tomato.
Nervous Nellie's
598 Sunshine Road, Deer Isle, ME
207/348-6182
11. Have dinner at Aragosta in Stonington, where chef Devin Finigan is turning out beautiful, subtle dishes like local oysters grilled with fennel butter and housemade charcuterie. Eat out on the deck, where you'll have a spectacular view of Stonington Harbor.
Aragosta
27 Main Street, Stonington, ME
207/367-5500
12. If you have room for dessert, trek over to Quietside Café on Main Street. Go for a slice of their monstrous blueberry pie, or if you've had enough blueberries, the creamy key lime tart with chocolate cookie crust.
Quietside Café
360 Main St
Southwest Harbor, ME
207/244-9444