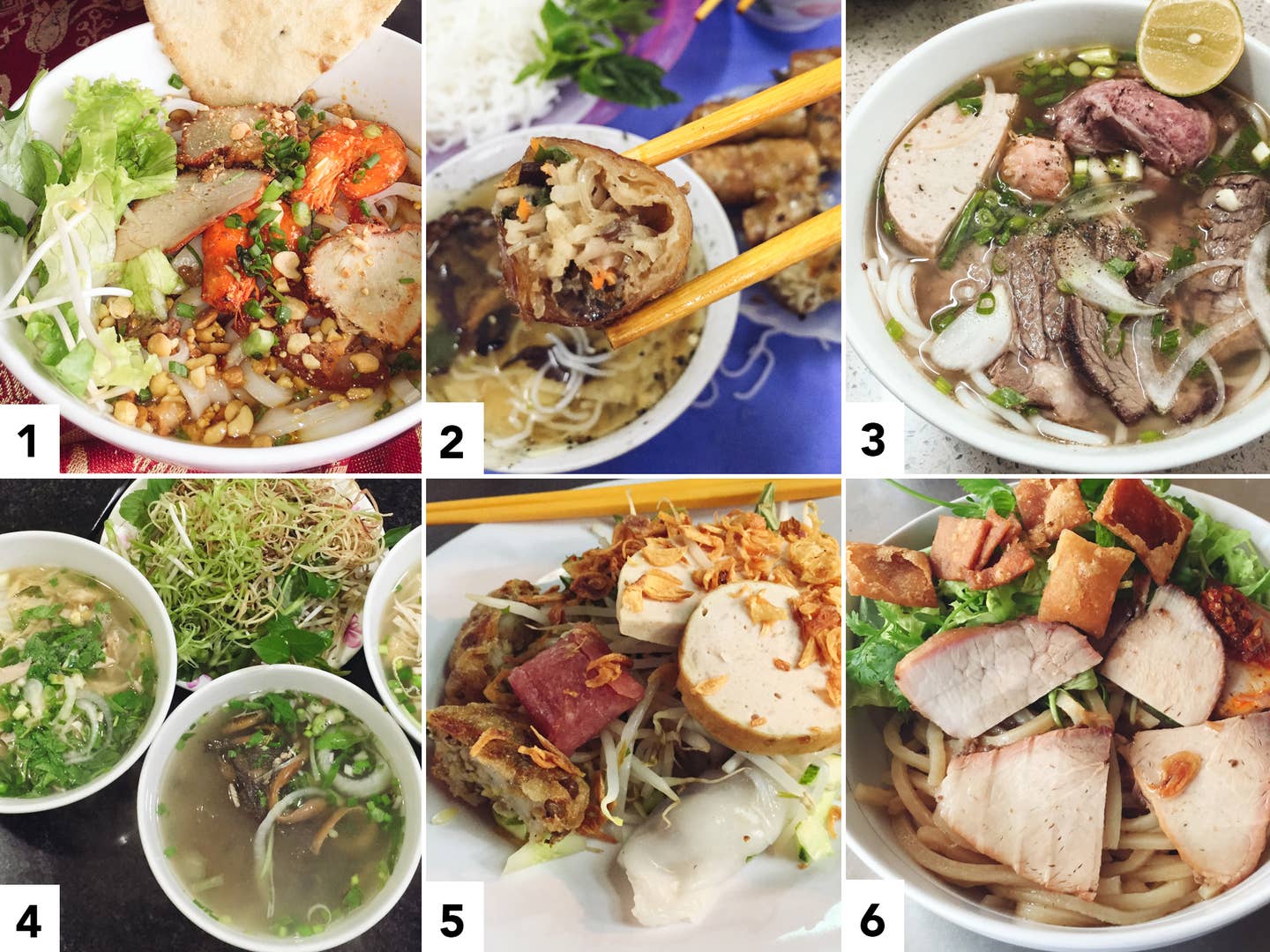 Travel
10 Noodle Dishes Not to Miss in Vietnam
Chef Leah Cohen of Manhattan's Pig and Khao spent weeks chasing the best noodle dishes in Vietnam
Every year, I visit southeast Asia for three weeks to get inspired by the food. I bring back some of what I find during my travels to Pig and Khao, my Thai- and Filipino-focused Manhattan restaurant. This year, with a new noodle bar concept in the works, I headed to Vietnam for the first time in many years in search of noodle inspiration.
When you think of noodles in Vietnam, the first dish that probably comes to mind is pho. While pho is incredible—I never get tired of eating it—there are tons of other amazing noodle-based dishes to discover, too. Here are the ten best that I came across during this year's trip; any one of them could give pho a run for its money.
The fresh rice noodles used in this dish from Hoi An are similar to fettuccine in size and you can get them in white or yellow—the only difference between the two is the addition of turmeric powder to the batter. There are many different variations but I prefer the one with pork, shrimp, and a broth sweetened by tomatoes. It's garnished with grilled rice crackers, lettuce, and herbs.
There are many different variations of bun cha, but my favorite is one I had in Hanoi. The dish always contains grilled pork, bun noodles (round rice noodles), herbs, and nuoc cham. I like a version with two types of pork: grilled patties and thin grilled slices of pork belly, served in nuoc cham sauce with bun noodles and a side of nam rem (a fried spring roll) and lettuce.
Bun bo hue gets its name from Hue, Vietnam's imperial city. The broth is made from beef bones, pork knuckle, lemongrass, and chiles, and the noodles are thicker and more cylindrical than those used in most other Vietnamese noodle dishes. My favorite version was served with a plate of raw herbs, banana blossoms, bean sprouts, and a side of oil-fried chile-lemongrass paste.
This dish was so good I had to go back and eat it again for breakfast. You can order it two ways: dry, or as a soup. I prefer the soup, which consists of glass noodles, crispy eel, and poached eel served in an eel broth. Herbs, shaved banana blossom, and bean sprouts are served on the side. Be sure to get Chinese donut sticks, an optional side, to dunk in the soup.
Banh cuon is a great snack to have any time during the day. The fresh rice noodles are shaped into a circle, stuffed with a pork and mushroom mixture, and then rolled—essentially Vietnamese cannelloni made out of fresh rice noodles. Banh cuon is typically served with nuoc cham, crispy shallots, pork floss (fluffy, dried shredded pork), and cha que(pork paste), but it can be filled with anything you like.
I had cau lao the first time I visited Vietnam and was addicted at first bite. The noodles cannot be recreated outside of Hoi An because they are made with the water from the city's ancient Cham wells. The most comparable noodles are udon, although cau lao noodles are made with rice instead of wheat. A broth flavored with five spice and lemongrass is served over the boiled noodles, topped with roasted pork, and garnished with fried noodles, lettuce, bean sprouts, herbs, and a rice cracker.
The base of the broth for this noodle soup dish is made from freshwater paddy crabs, tomatoes, and tamarind, which adds a tart-sweet flavor to the dish. Bun rieu is served with rice noodles, a crab paste with a texture similar to tofu, and blood cubes. Some variations of this dish add annatto seeds, which give the broth a red hue; fried pork or tofu are other common additions. The soup is almost always served with a side of fresh herbs, shaved banana blossoms, and bean sprouts.
The first time I ate bun bo nam bo, years ago, it blew my mind. While it's originally from Saigon, the only place I have had it is in Hanoi at a spot called Bun Bo Nam Bo that exclusively serves this one dish. Bun bo nam bo has stir-fried beef with lemongrass and flavored beef stock and is served over bun noodles, known in the U.S. as rice vermicelli noodles. It's brothy but not quite a soup. It's garnished with peanuts, crispy shallots (my favorite!), herbs, bean sprouts, lettuce, pickled carrots, and papaya—there are a lot of amazing textures going on here.
Cha ca comes from Hanoi, where there is actually a street named after it, and the best places to get it are still there. The star of this dish is definitely the turmeric fish, which is cooked with dill and scallions tableside. The bun noodles are served on the side along with nuoc cham and peanuts and are meant to be eaten with the fish. The dill adds a really unique and uncommon flavor that I really love.
This noodle soup dish is pork overload, in the best way possible. There are 5 different forms of pork pâté served in the soup which also comes with bun noodles. The different types of pork included: cha lua; pork paste wrapped in banana leaves; cha que, which is a pork paste similar to the first but with the addition of cinnamon powder; and then three kinds of pork meatballs. Bun moc is super hearty—but not heavy—and makes a great breakfast or early lunch. The best version I've had was in Saigon, right next to the Ben Thanh market.