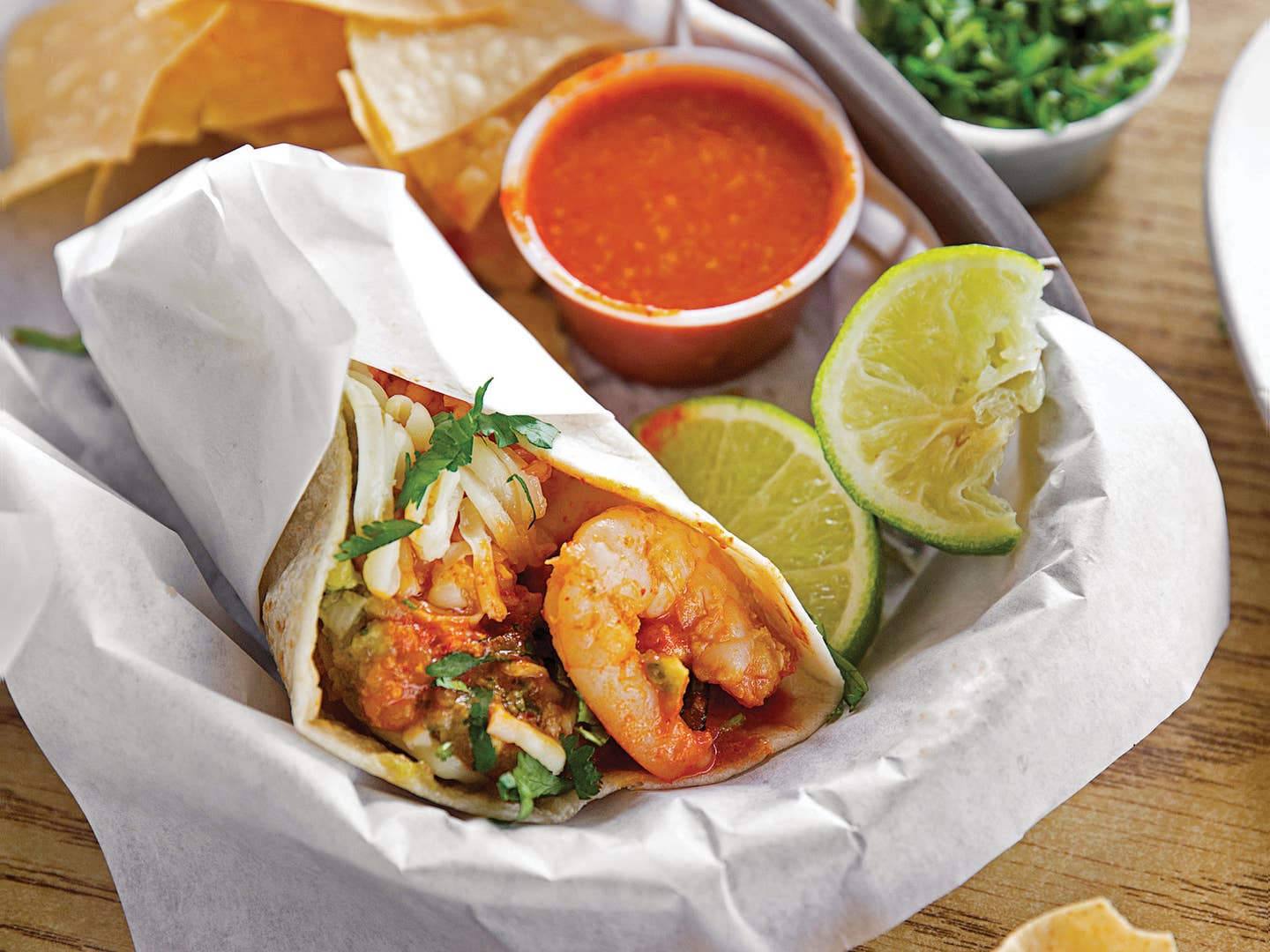 Travel
On the California Taco Trail
Restaurateur and Mexican-food fiend Sara Deseran eats her way down California's historic tortilla-packed Highway 99
The craggy branches on the almond trees are just starting to squeeze out their soon-to-be springtime storm of blossoms as my husband, Joe Hargrave, and I drive along a small dusty road in central California. Joe grew up in these parts during the 1970s, before tract housing and big-box stores replaced a sea of orchards, and he still proudly dominates the name-that-tree game. He ticks them off—almonds, walnuts, apricots—as we make our way to Highway 99.
Although there are now more efficient routes for traversing central California, State Route 99, also called the Golden State Highway, used to be the chosen one. It was the main thoroughfare from Mexico to Canada, and a straight shot through the Central Valley, California's 22,500-square-mile fertile crescent, which cranks out more than half of the nation's produce. Here, Dust Bowlers from the Plains sought jobs and arable soil during the Great Depression, and, more recently, Mexicans, about 14 million strong across the state, have proved integral to the area's agronomic success. In their communities throughout the Valley, they have also cultivated and perfected their very own version of Mexico's greatest culinary gift—the taco. Joe and I are on a 48-hour, 276-mile road trip down 99, from Sacramento to Bakersfield, to discover the very best of them.
One turn onto 99 is reminder enough that we're not doing a Two for the Road-type jaunt across Europe. The truck-laden freeway is jammed with semis transporting everything from live honeybees to tangerines. We whizz by Jack in the Boxes and RV dealerships. "Jesus Saves" billboards meet "Rain for Rent" signs, a constant reminder of California's drought.
It's a trip six years in the making. Joe and I own four restaurants in the Bay Area called Tacolicious. It's a silly, love-it-or-hate-it kind of name. But when we launched in the summer of 2009 as a stand at the Ferry Plaza Farmers Market, Joe wanted to rebel against the San Francisco trend of naming new restaurants after glamorous highways—like A16, for the Italian autostrada that cuts through Campania, or RN74, after the route in France's Burgundy region—and he suggested Highway 99, as a wry nod to the road's comparative grittiness. Now, it is finally time to do a little taco R&D to see if the highway can deliver on its promise of epically delicious Mexican eats.
First stop: Chando's in Sacramento. Owner Lisandro "Chando" Midrijal spent a decade in Tijuana while his dad ran a tortilleria there, but after his family moved to America, he grew up in Marysville, about 40 miles north of the capital. In 2010, after his father passed away, Midrijal left his job as a salesperson at Apple.
"I started by catering in people's backyards," he tells me. He grew the business into a modest window-order operation and now runs three locations, popular enough that I'd been warned to get there early.
We're greeted by the smoky scent of carne asada grilling on a parrilla. Out back, the patio is furnished with tables and strung with party lights, making me wish it were a sweltering Sacramento summer night instead of a mild spring morning. I try every one of the six tacos on the menu. They're all fabulous, but it's the Yucatán-style cochinita pibil—the pork shoulder dripping with brick red achiote-stained juice and topped with crunchy pickled onions and slices of habanero chiles—that gets me.
Joe coaxes me back into the car, and we drive for a half-hour to Taqueria Mi Lindo Apatzingan—a yellow-and-orange '70s-style restaurant next to a laundromat, owned by the Hermosillo sisters from Michoacán, Mexico. There, in the suburb of Rio Linda, I chase savory chicken tacos with a gargantuan stein of ice-cold, garnished with thick, chile-encrusted cucumbers and fat shrimp. The drink is almost a meal in itself. And it's only 11:30 in the morning.
After whiling away the better part of the day in Modesto, Joe's hometown, where we scarf down cabeza tacos made of tender cow's head on handmade tortillas at El Mexicano on the town's taco-packed Eighth Street, we finally break away and drive southeast down 99. The same sun that envelopes you like a 105-degree sauna in the summer is just now starting to set in shades of rainbow sherbet, crop dusters swooping down over the flat fields. Route 99 is not a stone-cold stunner, but it has an undeniable, and unsentimental, beauty to it.
We pull off the highway in Turlock and into a gravel lot to find a gray school bus. Viva Taco, run by Silvestre Valencia, who opened the food bus 14 years ago, is an eat-in restaurant with a ceiling of quilted stainless steel and a counter. Valencia is a kind, soft-spoken man who immigrated here a long time ago from Michoacán. He is limping, wearing a back brace, and in obvious pain.
"I hurt my back last year in an accident," he explains, "but I don't have the money to pay for surgery." Yet he is working, as he often does, by himself. I can't tell if it is Valencia or his succulent and tender carnitas taco that breaks my heart just a little bit.
The next morning we wake up in Fresno, one of the most rapidly expanding cities in the Valley. In the elevator, someone cheerily asks me if I am there for the soil convention. Happily, Joe and I are headed to Don Pepe Taqueria, where, at not yet 11 a.m., men in bucket cowboy hats wait in line next to young guys sporting white socks to the knee and sleeves of tattoos. The modest spot is known for spicy shrimp tacos: flour tortillas wrapped around sweet shrimp, creamy rice, shredded cheese, guacamole, and—if you're smart—piquant chile de árbol salsa. As I pour some onto my taco, I ask owner Andre de Anda, a man with Paul Newman blue eyes, if it's traditional.
"They serve something like it in my hometown of Guadalajara," he says, and rattles the recipe off the top of his head—chile de árbol, lemon, sugar, salt, garlic, and some pickled jalapeño juice. I scribble it down in a notebook for later, ever grateful for the kindness of strangers.
The next person we meet up with is technically a stranger, though he doesn't feel like one; I've been corresponding with him for weeks now. At La Elegante, in Fresno's faded Chinatown, we meet Mike Osegueda, the enthusiastic organizer of the annual Fresno Taco Truck Throwdown. There are bars on the windows, but inside, the cozy, pumpkin-colored space is crammed full of chatter, abuelitas chowing down next to cops. At Osegueda's recommendation, we order the goat birria, a traditional slow-cooked stew. It arrives, the simple, fragrant broth packed with impossibly tender chunks of goat meat that we all inhale.
Before we bid farewell to Fresno, Osegueda suggests we stop at a spiffy Mexican grocery store called El Mercado Super, which proudly shows off its trompo, or vertical spinning rotisserie, with al pastor. At the counter I order a coconut agua fresca (I'm a huge fan of coconut), which turns out to be a natural pairing for the al pastor. I wash down big bites of ruddy crisped pork and chunks of charred sweet pineapple with swigs of the creamy, refreshing drink and wonder why it's taken me so long to make this trip.
Flying past dairy cows and vivid green alfalfa fields in the shadow of the snow-capped Sierras, we turn off 99 into Earlimart. Aldo's taco truck is a hard-to-miss green-and-yellow affair parked next to the David Lynch-ish Earlimart Motel. At the nearby gas station, a tumbleweed rolls by; a city girl, I snap a picture. I stand on tippy-toes to order a carne asada taco at the window and it arrives, a thing of beauty with chunky grilled onions and pickled jalapeños. I can only half-finish it. It's my 16th taco in the last 24 hours, after all.
Passing Merle Haggard Drive and $40-a-night motels, the sky batiked with evening light and clouds, we push on to Bakersfield. "To a stranger driving 99 in an air-conditioned car…these towns must seem so flat, so impoverished, as to drain the imagination," wrote Joan Didion in Slouching Towards Bethlehem. I'm proud to not be a stranger any longer.
We roll up to our final joint, Loncheria Otro Rollo, a little red trailer parked nextdoor to a gas station, where Guadalajara native Raquel Casillas makes her specialty: potato tacos. They are the reason I've made the trek. At the red-and-white checked table moments later, we come face-to-face with hot, deep-fried tortillas folded over mashed potatoes, all smothered in a salsa ranchera, with cabbage, queso fresco, and radishes on top. Joe and I each take a bite of the crispy, creamy, saucy tacos and look at each other as only two singularly taco-minded people can. The unspoken word? "Bingo."
A week later, our version of these tacos makes it onto the Tacolicious menu. We call them Tacos de Papa Hwy 99.
Or take a road trip of your own:
Where to eat down Route 99
Aldo's
1164 N. Front St., Earlimart
661-667-1501
El Mercado Super
4707 E. Belmont Ave., Fresno
559-452-0135
El Mexicano
Eighth St., Modesto
La Elegante
1423 Kern St., Fresno
559-497-5844
Loncheria Otro Rollo
2525 White Lane, Bakersfield
661-342-3813
Taqueria Mi Lindo Apatzingan
928 Oak Lane, Rio Linda
916-991-2577
Viva Taco
49 W. Canal Drive, Turlock
209-678-3899