Saturday Morning Grocery Mile in Portland, Maine
Visitors too can put Portland's stellar produce and seafood to good use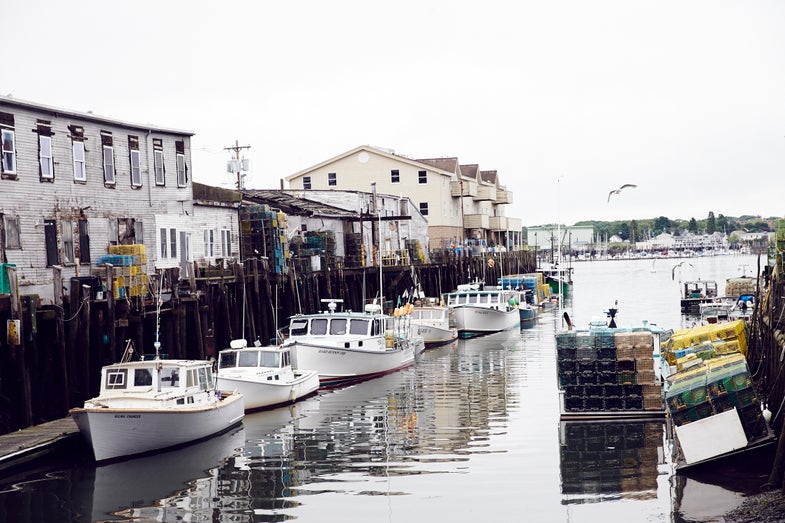 When I fly back home to Portland, Maine, after some time away, I look down from the plane onto the beat-up fishing boats steaming in to this classic New England city's harbor, and I think: lobster and crab, striper and haddock, mussels and scallops, harvested just for me.
For seafood, and any food, really, Portland is a great place to visit and an even better place to live. Amongst the city waterfront's crowd of 19th- and early 20th-century brick buildings, there's a remarkably dense concentration of restaurants, watering holes, breweries, bakeries, coffee roasters, groceries ranging from Asian to Latin to Italian, even a mead factory. In the cobblestoned Old Port you can find the august heroes of the city's 1990's gustatory revolution, Fore Street and Hugo's, joined by more recent standouts, from Paciarino, whose fresh-made pastas transport you to the Tuscan countryside, to the ambitious world-beat concoctions of Masa Miyake, who now has his own farm about 20 miles away, where he grows many of his own ingredients.
You could (and should) plan a week-long itinerary around the city's great restaurants, as many do. But the simple pleasure of selecting ingredients and enjoying them at their freshest shouldn't be overlooked by visitors; whenever I have friends coming into town, I send them on my favorite Saturday morning grocery itinerary, to make like a local and gather the fixings for a perfect afternoon picnic. Because, after all, the same resources that attracted ambitious chefs to Portland—abundant seafood and an equal abundance of local produce—are available to you and me.&
The mile-long journey starts on Munjoy Hill, in the city's east end. The neighborhood is picturesque like a San Francisco postcard: steep sidewalks, (mostly) ship-shape three-story apartment buildings, bright light bouncing up from the water that surrounds the neighborhood on three sides. I begin, usually sleepy and purposefully underfed, at the wide boulevard of the Eastern Promenade, overlooking a long grassy sward that slopes down to Casco Bay, its low-slung islands, and its constant buzz of boat traffic.
Up I go along Congress Street, which splits the peninsula lengthwise, to the appropriately named Hilltop Coffee for some round, chocolate-tinged brew roasted by Coffee By Design. CBD, whose plant is just over the other side of the hill, was one of the city's first local roasters. For 20 years now, early in the week, the toasty, caramelized scent of their morning roast has wafted across the neighborhood.
Duly fueled, I peek into nearby Rosemont Market, one of several specialty shops that owner John Naylor has seeded around the city. I can only leer at the stout-beer chocolate cupcakes that stand at parade rest by the register. Too early. But I do pick up some chives and a house-made muhammara as lunch plans forming around the oily, hot-spiced walnut spread.
Heading downhill, I have more hungry glances for Otto Pizza, a thin-crust joint with a smorgasbord of toppings that include bacon, mashed potato, even pulled pork with mango, and Two Fat Cats Bakery, where the zesty tri-berry pie beckons too, but no.
I do stop at brick-faced Micucci Grocery, where I pull a deli ticket and contemplate the mosaic of Italian basics in front of me: prosciutto they'll slice thinner than paper, mortadella, well-priced roma tomatoes, and, a dollar less than anywhere else in town, silky-soft rounds of cheese from the Nubian goats who live at Fern Hill Farm over in the state's Lakes Region. Upstairs in Micucci's bakery I find the reward for starving myself all morning: a puffy tile of Sicilian pizza from the brick oven, which will be my late breakfast (as a marker of Portland's culinary engagement, these tangy squares were a closely-followed news item when the original baker left in a huff).
Now I've got some energy for the final yards. I head around the corner, past another Rosemont—this one dedicated to fresh produce, much of it local—to waterfront Commercial Street. Across from the cruise ship dock and the municipal ferries, Standard Baking Co. backstops a commercial parking lot. When the ships come in, that tarmac is a red carpet for a steady procession of customers who line up to choose from dozens of offerings: breads in shelves and baskets in back, pastries on the countertop next to the registers.
Back in the '90s Standard made its bones with just-so French baguettes and croissants. But there's a lot more, from pleasantly glutinous sticky buns to breads and cookies that rotate depending on the day, such as Thursday focaccia and Friday challah. I have never, ever gone wrong here.
Today I choose the trusty baguette, and on to the finish line, less than a mile from where I began: Harbor Fish Market, which opened in 1969 on a downtown wharf where lobstermen could—and still do—motor in with their daily harvest, to what is now a node for national distribution of New England crustaceans and bivalves.
There are well-cut fish from far and near, and mussels grown on a rope-farm a few miles out in the bay. In season there's Maine shrimp (which to me carry a hint of cilantro), Gulf of Maine haddock and cod, fresh Rhode Island squid. And the four big troughs of the bubbling lobster pound are always swimming with Maine's prime seafood commodity.
I'm here for the local oysters. Sure, Harbor brings in Wellfleets from Cape Cod and Beau Soleils from New Brunswick, but with oysters, just as with tomatoes and corn, fresh-picked makes all the difference. So I make a selection from the many Maine varieties, farmed and wild, which have come onto the market over the last decade: brawny, briny Pemaquids, easy-open Winterpoints, sweet St. Johns.
And I am done. I call a friend out on one of the islands and catch the next ferry there. We'll go fishing for striper to grill for dinner, if we're lucky. But first, we'll sit by the shore and shuck and slurp those oysters—as I recommend you do—with a bit of coarse pepper, lemon and chive. We'll line the baguette with prosciutto, local tomatoes, Maine cheese, and, for a lark, spread on some of that muhammarah. It's hard to find a better way to spend a Saturday.
RESTAURANTS
MARKETS & BAKERIES
Fore Street
288 Fore Street
207/775-2717
Hugo's
88 Middle Street
207/774-8538
Miyake
468 Fore Street
207/871-9170
Otto Pizza
576 Congress Street
207/773-7099
Paciarino
470 Fore Street
207/774-3500
Coffee By Design
1 Diamond Street
207/879-2233
Harbor Fish Market
9 Custom House Wharf
1-800-370-1790
Hilltop Coffee
90 Congress Street
207/780-0025
Micucci Grocery
45 India Street
207/775-1854
Rosemont Market and Bakery
Multiple locations
Standard Baking Co.
75 Commercial Street
207/773-2112
Two Fat Cats Bakery
47 India Street
207/347-5144
See more stories about the food of Maine in our Essential Maine guide »