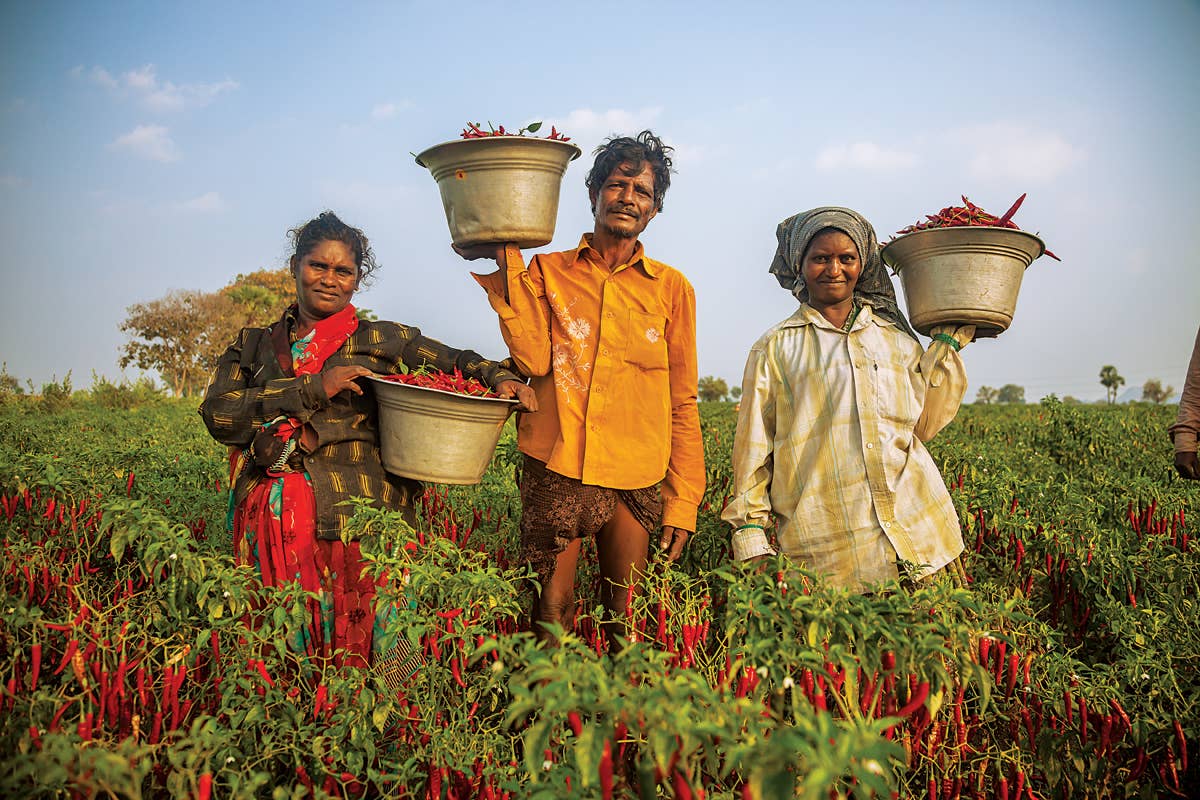 Travel
The Heart of South India
Andhra Pradesh is home to fiery chiles, fresh fish, savory meat dishes, and people who live off the land and waters
I am in Rajahmundry, a town on the banks of the mighty Godavari River, as part of a slow, delicious journey to explore the many, varying cuisines of Andhra Pradesh. I am just about to eat in a mess.
Andhra messes (short for mess halls) serve freshly made vegetarian food very cheaply. Hotel Vasavi is a dark, basement joint where, for a dollar, I am offered two types of rice: one plain and one flavored with a well-spiced tomato sauce. Rice is the base of the meal. To add variety of flavor, texture, and nutrients, there's majjiga pulusu, mixed vegetables cooked in a buttermilk sauce; palakoora vepadu, a stir-fried spinach; a curry made from jackfruit; and sambar, a spicy lentil-based stew. Since fried foods are essential to the soft, wet meal I'm having, I order kosu vepadu, a crispy cabbage fritter, which looks a bit like Medusa's head, with the strands of shredded cabbage providing a crunchy, unruly halo. All of the foods are startlingly, marvelously hot.
Andhra Pradesh, near the Bay of Bengal, is known for its chiles, which are cultivated in the Guntur district, along the state's southeast coast, and are used to flavor the rice grown in the area's countless patties. Along with rice, there's a passion here for the pungent and sour. The sourness, which perks up meals and seems necessary to combat the soupy tropical climate, can come from limes, tamarind, vinegar, green mangoes, sour oranges, star fruit, and other local plants.
Seafood also figures prominently here. On a small island in the Godavari River, which runs through Andhra Pradesh to the bay, I watch as a home cook named Ramanna sets up an open wood-burning fire outside her thatched hut. She squats in her printed blue sari, cooking a simple dish of gongura, red, sorrel-like sour leaves with tiny river shrimp, the two main ingredients flavoring each other.
I drive farther west to join other aficionados at the Babai Hotel, a small but popular eatery in the city of Vijayawada known for the softest idlis, flying saucer-shaped steamed cakes made with rice and urad dal, black lentils. Large steamers huff and puff in the kitchen, turning out dozens of idlis at a time. Each is anointed with ghee and served with a pat of butter. They melt in the mouth. They may be eaten with a dry chutney known as podi or with sambar. Equally loved here is the pesarattu, Andhra's savory pancake. Made with a batter of whole mung beans, soaked, blended, and spread out thinly on a griddle, pesarattu is large, crisp, nutritious, and quite addictive. I eat mine with a creamy coconut chutney and some sweet, milky coffee on the side.
But the foods of Andhra are not all beans and vegetables. To feast on meat, I travel to the city of Telangana, in the northwestern part of the state. Since the 14th century, Muslim emperors from Delhi sent governors to rule the Telangana area, now known as Hyderabad state. The governors often rebelled and set up their own kingdoms, and the region slowly developed a unique cuisine that was part northern Muslim and part southern Hindu. A Telangana-style chicken cooked today by a Hindu might well have both the south's coconut milk and the north's yogurt, southern seasonings like curry leaves and lime juice, and northern spices like mace and cardamom.
It was the Nizams, the dripping-in-diamonds-rich rulers of the Asaf Jahi dynasty, starting in the 18th century, that had both the money and the leisure to become active patrons of this composite cuisine at its most elaborate. To taste it, you have to visit one of India's grandest hotels, the Falaknuma Palace. It's here I watch the making of a kacchay gosht ki biryani, a dish where rice and raw marinated meat are cooked together so magically that these disparate ingredients are done at the same time. Better yet, you have to be invited by one of Hyderabad's ever-courteous old families. I was lucky enough to receive a welcome from one aristocratic family while visiting. There I watched a housemaid named Rehana prepare a wonderful nihari, slow-cooked beef trotters, seasoned with potli ka masala, rare expensive spices, including sandalwood and rose petals, tied in a muslin bouquet garni. Rehana also prepared khatti dal, soured with tamarind and seasoned with curry leaves and mustard seeds. Pressure cookers whistled and hissed, and when we sat down to eat, there was plenty of rice for the dal, naan for the nihari, and pickles to eat with everything.
Madhur Jaffrey is the author of Madhur Jaffrey Indian Cooking (Barron's, 2003)