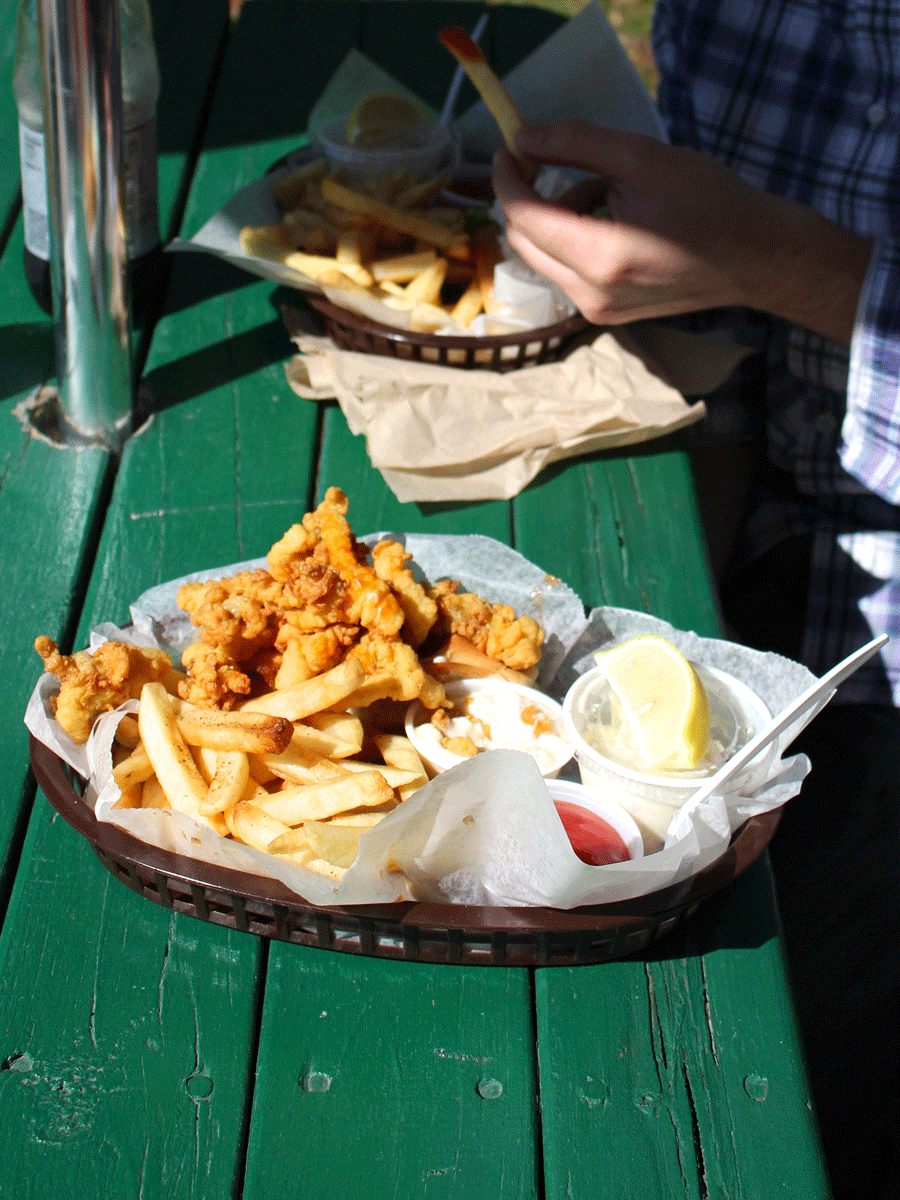 Travel
The Itinerary: Two Perfect Days in Camden, Maine
Where to eat, what to do, and where to stay in this quaint, midcoast town
Growing up in the Northeast, Maine always meant vacation, as it does for many: Sandwiching s'mores around a crackling campfire in Acadia, dipping toes into icy tidal pools in Port Clyde, and cracking lobster claws up and down the coast. As a Boston-based adult often caught up in the busyness of life that can plague us all, the sweet simplicity of a Maine summer escape starts to beckon when June fades into July. After watching friends exchange vows on the moss-covered stone steps of the enchanting Camden Harbor Amphitheatre last year, I was eager to get to know the quaint, quintessentially Maine town, so I recently set out for a two day, one night jaunt.
Perched midcoast, Camden lies between the gentle bustle of Portland and the solitude of the craggy Northern coast. As a destination, the town strikes a unique balance: fulfilling the reclusive urge to getaway from the concerns of daily life, while serving up amenities you'd expect from the most cosmopolitan seaside resort. Whether you want to indulge in a seven-course, seasonal tasting menu with wine pairings, or sit at a roadside picnic table, putting back pints of fried clams, Camden has you covered.
1:30 PM: WELCOME TO VACATIONLAND
Long Grain
31 Elm St, Camden
207/236-9001
Extracting yourself from the daily grind is work in and of itself. If you are anything like me, your escape will commence with an underfed, over-scheduled morning that leaves you ravenous, and a bit woozy as you finally pull into picturesque Camden, after a four-hour drive up the coast. Sit down in the airy, light-filled Long Grain restaurant, owned by husband and wife team Ravin Nakjaroen and Paula Palakawong, the two turn out an ever-changing menu of what they bill as "Asian home-cooked & street food," pulling ingredients from local farms and flavor profiles from their Native Thailand. Icy pour of Tsing Tao in hand, an oil-slicked Panang curry, fragrant with coconut and chilies, teeming with fork tender braised beef, materializes before you. Alternate with bites of Pad Ke Mao, a slightly spicy, toothsome stir-fry of meaty mushrooms, crisped pork belly, peppery greens, and thick handmade noodles topped with plenty of sweet basil. Chopsticks fall into a rhythm and you have a kind of moving meditation—curry, noodles, beer, curry, noodles beer. You are here. Officially on vacation.
The Goose River Exchange
23 Bayview Street
207/236-3345
Peruse this charming store chock-full of vintage magazines, books and posters; you never know what you might find when you aren't really looking. Tucked in the back room, in drawer marked "misc. maps", between guides to Prussia and Mexico, was a ripped, but recoverable 1920's map of my adopted hometown of Somerville, Massachusetts. After years of looking for just such a print to hang in my hallway, this serendipitous discovery made my day. $20 later I walked out with my prize, and strict instructions to have a framer lay it on linen. Whether it's a favorite forgotten children's book, a New England nautical guide, or antique postcard, you are sure to find some hidden treasures of your own.
5:00 PM: PROSECCO AND POSTCARD VIEWS
Camden Harbour Inn
83 Bayview Street
207/236-4200
Even if you're not checking into this elegant Relais & Châteaux property, it's worth checking out the sumptuous lounge offerings at cocktail hour. The charming, historic hotel sits perched on a hilltop overlooking the sparkling water. Sip a glass of prosecco on the white wooden porch, or saddle up to the bar for one of their well-made cocktails mixed by dapper bartenders who will craft something special to suit your cravings—when I requested a Campari drink, sans gin, our barman whipped up a fizzy, bitter-sweet concoction kissed with grapefruit. Whatever you order, be sure it includes a house-made candied citrus peel.
7:30 PM: ARTFUL PLATES AND PITCH-PERFECT PAIRINGS
Natalie's Restaurant at Camden Harbour Inn
83 Bayview Street
207/236-7008
Clear your schedule. An evening at Natalie's should stretch from before the sun dips below Mt. Battie, to well into the evening. Choose from executive chefs Chris Longs and Shelby Stevens 4, or 7-course tasting menus, with seasonal small plates like rabbit loin with fiddle heads, spring onions and mustard seeds, and the impossibly flavorful, vegetarian, local farm egg with wild mushrooms, asparagus and truffle pecorino. Then there is always the 5-course lobster tasting menu, showcasing the quintessentially Maine crustacean every which way, alongside house-made pastas, beside rich foie gras, and atop tender greens. I recommend springing for the accompanying wine tasting; if not for the pitch perfect pairings, then to spend a bit of your evening with Micah Wells, the wonderful sommelier who walks you through each pour with grace and infectious enthusiasm for the interesting wines on his list.
9:00 AM FUEL YOUR MORNING
Zoot Coffee
31 Elm Street
207/236-9858
After such an epic dinner, it's hard to believe you are eating again, but if you are staying the night at Camden Harbour Inn you don't want to miss the complimentary champagne breakfast included in your stay. Help yourself to a smorgasbord of fruit, housemade granola and pastries, or order up fluffy silver dollar ricotta pancakes studded with Maine blueberries. If savory is more your style go for the surprisingly light (and supremely delicious) chilaquiles. If you didn't get your fill of lobster last night, there is always the Maine lobster benedict.
Otherwise, power up your morning with one of Zoot Coffee's rich Italian-style espresso drinks, like the strong but smooth iced Americano. The local café also serves up organic juices and smoothies, as well as tasty baked goods that include a generous selection of vegan and gluten-free offerings.
10:00 AM: WORK UP AN APPETITE
Maiden's Cliff Trail
Highway 52
Located in Camden Hills State Park, Maiden's Cliff Trail is a perfect hike for the food-centric traveler. Just a mile long, up a moderately rocky woodland path, you will work up a good appetite, and be back to Camden in time for lunch, with plenty of time to soak in the panoramic view of Lake Megunticook and the Atlantic Ocean on the way.
1:30 PM: LUNCH IN ANOTHER ERA
Boynton-McKay Food Company
30 Main Street
207/236-2465
Lunch with the locals at this historic diner. The building, which opened as an apothecary in 1893, is still fitted with the original birds-eye maple cabinetry, Minton tile checkerboard floor, and pressed tin ceiling. Order at the counter and slide into a booth to enjoy a classic avocado BLT or eggs any style from their all-day breakfast menu.
2:15 PM: Good Design To Go
Sugar Tools
29 Bayview Street
207/706-4016
This small shop houses a beautifully curated collection of well-designed and covetable artisanal goods for the home and garden, from handsome, yet fully machine wash and dryable striped linen aprons to the Japanese Hori Hori gardening tool, literal translating "dig, dig," which owner Amy O'Donnell tells me is a digger, weeder, and seed planter all in one. Whether it's the airy Lithuanian tablecloths, Mason jar cocktail shakers crafted by brothers in Brooklyn, or Maine-made rope bracelets, something is bound to end up in your basket.
Mount Battie Takeout & Ice Cream
235 S Belfast Road
207/236-6122
You are going to want a snack before you hit the road and head home. Make sure you get it at Mount Battie Takeout & Ice Cream, an unremarkable looking shack just north of downtown, where owners Gary Oliver and Kevin Defoe serve up some of the best, unadulterated New England seafood around. Maybe you are lucky enough to snag a seat at the solitary picnic table outside the takeout window. More likely, you will eat leaning against your car on the side of Route-1, but you'll be happy either way. Fresh-shucked local clams are fried up crisp and golden, with meaty bellies and a side thick fries to sprinkle with malt vinegar. The crab roll is simply just-picked crabmeat mixed with a little mayonnaise, tucked into a toasted hot dog bun. You won't want to wait to dig in, but if you must have an ocean view, they will pack up a picnic to take to nearby Lincolnville beach, so you can stretch out your Maine get-away just a little bit longer.
Camden Harbour Inn
83 Bay View Street
207/236-4200
A Luxurious Relais and Chateaux property, built in 1874, with beautiful harbor views.
Abigail's Inn
8 High Street 207/236-2501
A quiet bed & breakfast just a short walk to Camden's harbor.
Camping at Camden Hills State Park
280 Belfast Road
207/236-3109
Enjoy the outdoors and visit Camden on a budget. Make reservations well in advance at campwithme.com
Camden is about 200 miles from Boston between Portland and Bar Harbor. Major airlines fly into Portland International Jetport (85 miles south) and Bangor International Airport (65 miles north). From there, you can rent a car or hire a limo or taxi to take you to Camden.
Catherine Smart is a Boston Globe correspondent for the food section, and owner of The Pocket Garden, a Boston based personal chef service. You can find her recipes, writing, and photography on her blog smartentertaining.com