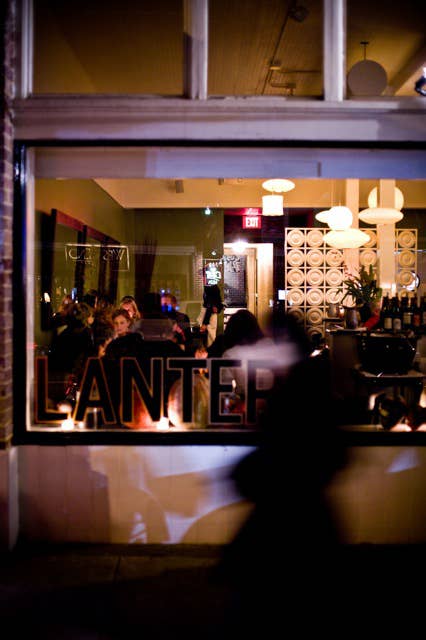 Travel
Tour Guide: Ashley Christensen's Raleigh, Durham, and Chapel Hill
Chef Ashley Christensen—one of North Carolina's most talented and beloved chefs, and a great supporter of the North Carolina restaurant industry in general—shares her favorite places to eat and drink in the Triangle.
_Since opening Poole's Diner in 2007, Ashley Christensen has become one of Raleigh, NC's most celebrated chefs. She has mastered the art of breathing new life into comfort food, and somehow managed to both command the local restaurant scene and create opportunities for other chefs, bakers, and makers in the area.
While Charleston has recently been the belle of the Southern food scene's ball, North Carolina's "Triangle" (Raleigh, Durham, and Chapel Hill) is brimming with bakeries, restaurants, and bars with personality, top-quality food, and kind, earnest service. So we asked Christensen to share her favorite places to eat and drink in the area—here are her top picks._
Person Street is a super fun new bar on the outskirts of downtown Raleigh, snuggled up in the middle of two residential neighborhoods. I like that it offers the energy of downtown with the comfort of a warm neighborhood vibe; the room is well-designed, bright, and fresh. The drinks are creative (and strong) and the beer and wine lists are well-curated. I love this place for 5 PM cocktails, and my crew likes to close it down with last-call drinks.
Garland is a wonderful new restaurant in the heart of downtown Raleigh. It was dreamt up and realized by Cheetie Kumar + Paul Siler, a badass rock-and-roll couple: They founded the band Birds of Avalon together, and are also invested in the music venue above the restaurant, Kings, and the dirty-in-all-of-the-right-ways rock and roll bar under the restaurant, Neptune's. Cheetie is the cook (because she modestly refuses to call herself a chef), and Paul works the front of the house, politely conveying the clean, fresh, local ingredient-driven intentions of the India-inspired menu. The "cook" doesn't conform to the average idea of Indian food that most of us pedestrians expect. Instead, she cooks from a place of genuine connection and inspired expression—which results in dishes like South Indian Escabeche, corn cakes with tandoori vinaigrette, and a Chicken Tikka Salad Sandwich. I learn something every time I eat here.
Garland
14 W Martin St, Raleigh, NC 27601
(919) 833-6886
Chef Matt Kelly's killer little bistro off of 9th street in Durham kicks out well-seasoned French classics (think tartiflette) side by side with inventive new takes on traditional French foods (crispy duck tongue salad with grilled peaches). The wine list rocks, and the raw bar program is one of the best I've ever experienced. The oysters are super fresh and meticulously shucked. The chilled poached seafood is perfectly cooked, too.
Vin Rouge
2010 Hillsborough Rd, Durham, NC 27705
(919) 416-0466
A brand spankin' new ramen and izakaya in downtown Durham, founded by Billy and Kelli Cotter of Toast, and Nick and Rochelle Johnson of the Cookery and Ponysaurus. We really, really needed this! They offer 6 styles of delicious ramen, with my favorite being the miso, served with ground pork, soy-marinated soft egg, pickled cabbage, sweet potato, bean sprouts, and scallion. The upstairs izakaya boasts an ambitious list of perfectly executed bar snacks, and a great selection of cocktails, beers, and wines. I tend to lean towards the perfect pairing of a pony-sized Miller High Life—it's so good with savory broths and charcoal-grilled meats and vegetables.
Dashi
415 E Chapel Hill St, Durham, NC 27701
An incredible bean-to-bar chocolate project in Raleigh's Depot district—the chocolate is outstanding. I especially love their bittersweet varietals. The shop offers Stumptown Coffee and a view of their processing facility. It's a beautiful space, and the smell of the roasting cacao is absolutely intoxicating. They also extend BYOB privileges on their patio, as a means of showing support to their beer retailing neighbor, Tasty Beverage.
Neal's is the sandwich joint that everyone wants in their neighborhood: classic pastrami and kraut, muffulettas, and hot dogs served on pretzel rolls with proper mustard. This place is the stuff that cravings are made of. And, just as any respectable deli should, they serve breakfast. I highly suggest the sausage, egg, and fried apples on a biscuit.
Neal's Deli
100 E Main St, Carrboro, NC 27510
(919) 967-2185
I'm not sure if we can technically call Panciuto part of the Triangle (as it's in Hillsboro), but they are at a minimum honorary members of the Triangle cooking community. Chef Aaron Vandemark does right by his slogan "connecting bellies to farms," purchasing only from farms in his "backyard." Perfect pasta (like black spaghetti with shrimp polpette and braised bacon), inspired seasonal ingredients, and the kind of seasoning that makes you feel like the people in the kitchen love you. This place is top-notch and totally worth the drive.
Panciuto
110 S Churton St, Hillsborough, NC 27278
(919) 732-6261
You know how sometimes people complement a restaurant by saying, "We felt like we were someplace else"? I feel this way every time I visit the bar at Lantern. I love North Carolina, and it's never about wanting to feel like I'm in a bigger city. The Lantern bar just makes me feel like I'm in a place that I never want to leave. I truly believe that success in the restaurant business is about creating experiences that people want to own a piece of. I feel this kind of pride when I sit at this bar. The low, sexy lighting (everyone looks AND feels good here), the absolutely professional and sincere service, and the food and drink that somehow get better and better every single time I visit (even though each time feels like the best it could possibly be).
Things you must have: Tea-smoked chicken with yang chow fried rice (ask for extra rice; take the extra rice home; cook the extra rice the next morning with one more egg in a frying pan). The cured fish bento box (hope that it's trout). The lettuces with the plum vinaigrette (so simple, so stunning). The Whole NC fish. Any of the amazing Austrian wines on the list (they were made for this food). Dessert, always (the pastry chef is one of the most badass sugar bosses in the area). And any of the cocktails (though I really love their riff on the Pimm's Cup, the Junebug).
The Triangle area has struggled a little with solid, healthy takeout options. Mami Nora is a Peruvian-style rotisserie chicken joint with three locations spread around the Triangle. I'm a roast chicken junkie. It's absolutely what I want as my last meal on earth. The sides and sauces are really delicious, and the chicken's seasoning, smokiness, and texture are just perfect. These guys are nailing it. The birds themselves are local, all-natural, hormone- and antibiotic-free. My favorite practice is what I refer to as the "Hero Move:" I make all my own salads and sides, and then I swing by Mami Nora's for just the bird. They do the heavy lifting, and I get to eat perfect rotisserie chicken. Win!
Mami Nora's
Four locations in Raleigh, Durham, and Cary