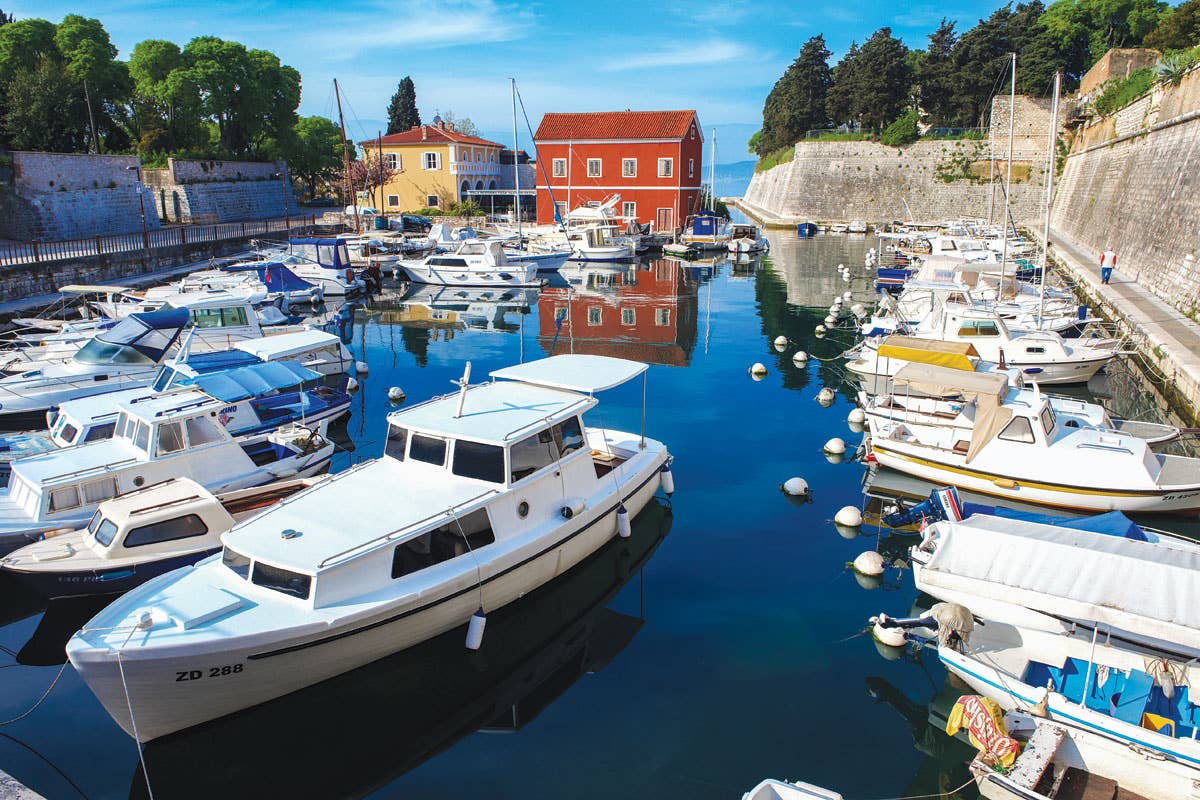 Travel
Travel Guide: Dalmatian Coast, Croatia
Croatian Airlines flies from the country's capital, Zagreb, to the cities of Zadar, Split, and Dubrovnik on the Dalmatian coast, as well as to certain islands. For more information on planning your trip, contact the Croatian National Tourism Office.​ This guide first appeared with the story Splendor in the Isles in SAVEUR Issue no. 164.
Dinner for two with drinks and tip
Inexpensive Under $50 Moderate $50–$75 Expensive Over $75
WHERE TO EAT AND DRINK
Fośa
Ulica Kralja Dmitra Zvonimira 2, Zadar (385/23/314-421)._ Moderate._ At this chic spot tucked into Zadar's old town, chef Damir Tomljanović's modern cooking showcases the best of land and sea, pairing the daily catch with puréed potato and creamed Swiss chard (an elegant take on blitva). Small plates—crispy cuttlefish fritters, fish carpaccio in citrus emulsion—round out the menu.
Konoba Opat
Uvala Opat, Otok Kornat, NP Kornati (mobile 385/91/473-2550). Moderate. As one of the only restaurants in the beautiful Kornati archipelago, this 103-year-old establishment accessible only by boat could get away with much less than its perfectly executed lobster risotto, stewy langoustine na buzaru, and pristine grilled fish and clams. With the help of a wood-fired oven, the staff produces fresh bread daily.
Sopot
Ulica Sopotska 5, Benkovac (385/23/686-118) Moderate. Situated 20 minutes from the coast in Croatia's idyllic hinterland, this rustic restaurant has been roasting lamb and cooking meat peka-style (long and slow under a clay dome) since 1904.
Zlatna Skoljka
Obala sv. Ivana 40, Jezera, Murter (385/22/438-024). Inexpensive. In the sleepy fishing village of Jezera on the island of Murter, this seaside trattoria specializes in classic Dalmatian cooking, with definitive renditions of dishes such as black cuttlefish risotto.
Dolac (Market)
Gornji Grad–Medveščak, Zagreb. The 80-year-old uber farmers' market in Zagreb has everything from produce to freshly butchered meat. Located in Ban Jelačic Square in the heart of the city, the Dolac includes several traditional open-air markets, an adjoining covered market, and the Ribarnica fish market. The market usually closes at three or four o'clock, earlier on Sundays. The cafés surrounding the square are great for people watching and affordable light meals.
Rozarij
Prijeko 2, Dubrovnik (385/20/321-257). Moderate. Cash only. For fresh seafood with authentic local flavor, stop at this reasonably priced restaurant in Dubrovnik's old town. The tiny spot is favored by locals for its fish soup, shrimp with white risotto, and buzzara, a traditional dish of scampi and mussels cooked in court bouillon.
**Cocktail Bar Massimo **
Kula Zakerjan, Setaliste Petra Kanavelica, Korčula Old Town (385/20/715-073). Located in a 15th-century tower on the waterfront of Korčula's old town, this bar is accessible only by ladder (drinks arrive via a dumbwaiter). Sip a cocktail while lodged in a turret overlooking the water, the best spot in Korčula for watching the sunset.
Brač
One of the largest of the Dalmatian islands, Brač is closest to Split and known for its natural beauty. Historically Brač was famous for goats, but sheep figure more dominantly in today's landscape. If you travel to Brač, be sure to sample vitalac, a grilled specialty of sheep intestines, sometimes stuffed into a whole roasted lamb or sheep. The island is noted for its rustic goat and sheep's milk cheeses as well as olive oils and wines. Most of these products are highly sought after yet rarely found off the island, so take the opportunity to score a unique culinary treasure.
WHAT TO DO
Kornati National Park
Ulica Butina 2, Murter (385/22/435-740). This archipelago of 140 mostly unpopulated islands is a playground for sailors and nature lovers. Several reputable agencies, including Secret Dalmatia, provide daylong tours of these otherwordly islets and reefs.
Culinary Croatia
This company designs tours specifically for gastronomes. It features off-the-beaten-path culinary tours, wine tastings, dinners, and cooking classes. Learn how to make authentic peka, travel to Brač island for a taste of the historic cooking traditions of the tiny village of Dol, or take a five—day jaunt through the country's island -farmers' markets.
Pilchard Festival
Seafood is an integral part of Croatian cuisine, and there are numerous celebratory fishing festivals throughout the summer. At the beginning of August, head to the northern coastal town of Fazana for the annual Pilchard Festival, which celebrates the town's symbol, the pilchard—a type of sardine—and features events such as fish-crate-hauling contests, lessons in handling nets and salting the fish, and, of course, eating. All the restaurants along the nicknamed "pilchard road" showcase a wealth of delicacies, leaving no doubt as to why the tiny fish has long been the lifeblood of this coastal community.
Asparagus Days
Asparagus, the universal signifier of the spring season, will delight locavore-minded foodies attending the 14th annual Asparagus Days, a two-week celebration of the wild asparagus growing on the slopes of the Učka mountain range in the Kvarner region and in the neighboring area of Istria. The festival, which runs April 12–27, kicks off with a frittata made from 66 pounds of wild asparagus along with 1,000 eggs served in the town square of Lovran, a village situated on the northern Adriatic coast.
Marunada (Chestnut Festival)
If you can't make it to Lovran in the spring, there's always the Marunada festival in October celebrating the chestnut harvest. The Lovran chestnuts known as maruni are larger and sweeter than the typical variety and have been an important export since the 17th century.