Travel Guide: Iceland
What to eat, where to stay, and what to do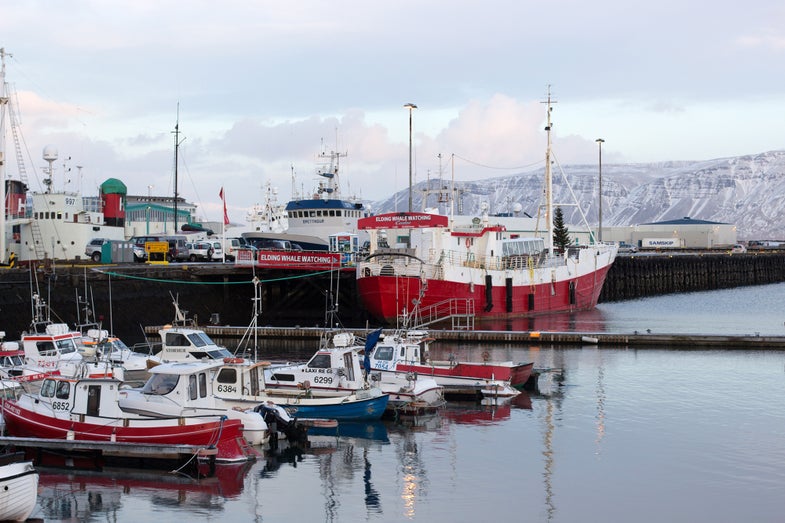 HOW TO GET THERE
Icelandair offers direct flights from Boston, New York, Washington D.C., and Seattle to Keflavík International Airport, 30 miles from Reykjavík.
WHERE TO STAY
Icelandair Hótel Reykjavík Marina (Mýrargata 2, 101 Reykjavík; 354/444-4000) Start the morning with a bowl of skyr, Iceland's thick, strained yogurt, from the breakfast buffet at this cheery marina district hotel. Its restaurant Slippbarinn, open for lunch and dinner, serves fun fare like flatbreads topped with garlic-fried langoustines—an Icelandic riff on pizza.
Kex Hostel (Skúlagata 28, 101 Reykjavík; 354/561-6060) Rooms run from singles to 16-bunk dorms. The common area, adorned in blown-up bingo scorecards, includes a bar featuring local microbrews and bands, a barber offering straight-razor shaves, and an eatery turning out dishes designed by Gunnar Karl Gíslason of Dill: spring pea soup, tender arctic char, and more.
WHERE TO EAT
Bæjarins Beztu Pylsur (Tryggvagata 1, 101 Reykjavík; 354/511-1566) Stop by this kiosk in the marina district for an exemplary version of this local street food: a pork, beef, and lamb hot dog nestled in a fluffy white bun, topped with sweet-tangy mustard, ketchup, tartar sauce, and fresh and fried onions. It's a heavenly mess.
Dill Restaurant (Hverfisgata 12, 101 Reykjavík; 354/552-1522) Chef-owner Gunnar Karl Gíslason applies modernist cooking methods to traditional Icelandic dishes for a uniquely Icelandic slant on New Nordic cuisine.
Grillið (Hagatorg, 107 Reykjavík; 354/525-9960) Located on the eighth floor of the Radisson Blu Saga Hotel, this glamorous restaurant offers a panoramic view of Reykjavík. Chef Sigurður Helgason's twists on classics include cured reindeer with beet and locally caught plaice with ísbúi, an Icelandic washed-rind cows' milk cheese.
Kolabrautin (Austurbakki 1, 101 Reykjavík; 354/519-9700) Hike the sweeping stairs inside Reykjavík's Harpa concert hall to reach this sleek restaurant with an enormous coal-burning stove as its centerpiece. Italian-inspired dishes range from wood-roasted catfish with parmesan and peperonata, to squid-ink risotto with tiger shrimp, cherry tomatoes, and a balsamic reduction.
SNAPS Bistro Bar (Þórsgata 1, 101 Reykjavík /+354 511 6677) Updated continental inspired cuisine in a cozy open-kitchen eatery that feels like cross between an old-world European bistro and a friendly neighborhood pub. Young and old alike, locals gather at the bar for the exceptional steak frites, classic cocktails, and front row seats for live sets from some of Reykjavík's best bands.
Reykjavík Roasters (Kárastígur 1, 101 Reykjavik /+354 821 9850) Just a stone's throw from Hallgrim's Church, and featuring an amazing daily brew, this charming coffee house quickly became a daily stop during my stay. The beans are carefully sourced from small growers around the globe, then roasted in modest batches in the cozy front room by owner Torfi Þór Torfason. Be sure to pick up a Sarah Bernhardt cookie and an OmNom chocolate bar at the front counter before you go.
WHAT TO DO
Blue Lagoon (Grindavík, Iceland /+354 420 8800) Iceland's largest geothermal spa is amazing. Named for its milky blue pools of silica-rich sea water fed and heated by volcanic springs, enjoy a soothing soak with a steam-clouded view of the surrounding mountains and lava fields. A day pass will get you access to the extensive spa facilities, mineral-rich mud masks, the lava rock sauna, and a swim-up bar. The complex has two eateries on premise, including, as well as a gift shop where you can choose from a complete line of signature skincare products. Flying in or out of nearby Keflavík airport, look for the billowing clouds of steam and aquamarine pools from the air.
Luxury Adventures (+354 577 1155) Offering premium travel services, Lux provides a range of options for exploring the natural beauty beyond Reykjavík's city limits. Customized/personalized trips and tours with professional guides; book a helicopter tour for a closeup view of Iceland's remote, volcanic interior; a day tour of the Golden Circle: Þingvellir, Iceland's oldest national park, stopping on the shores of Thingvallavatn lake at the site of the first meeting of Iceland's original parliament in the year 930; Gullfoss Waterfall: and the geyser and hot spring area around Geysir.
WHAT TO READ
by Gunnar Karl Gislason and Jody Eddy
Chef Gunnar Karl Gislason's first cookbook champions Icelandic cuisine by creating new classics around locally sourced, high-quality native ingredients. Chapters are divided by specialty producer, with titles such as "the Goat Farmer," "the Seabird Egg Collector," and the Salt Maker," and feature a bio plus Q&A with each expert. Gislason's original and approachable recipes give us an in-depth glimpse of modern Icelandic cooking, and let the island's pristine bounty shine.
Available from Ten Speed Press; $40
Nanna Rögnvaldardóttir
For a comprehensive overview of Icelandic cooking with a balance of traditional favorites and modern adaptations, cookbook author Nanna Rögnvaldardóttir's recent update of her 2001 classic offers an in-depth glimpse into the ancient beginnings and evolution of the island's cuisine. And as a food historian who grew up on a remote farm in northern Iceland, it's a rare recipe that isn't accompanied by Nanna's insightful notes on the dish's ingredients, origins, and development over the years or ages.
Available from Iðunn; $30