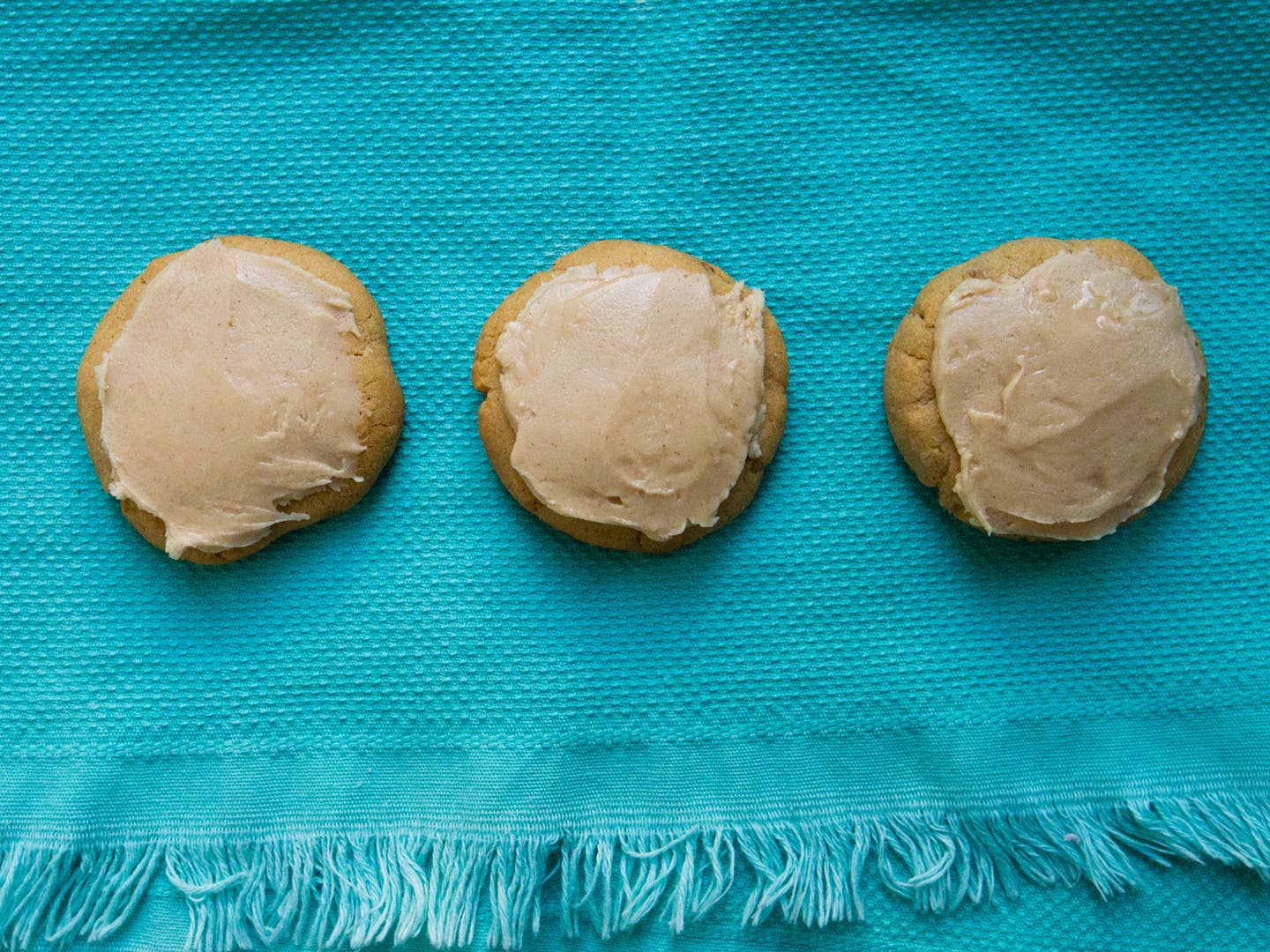 Travel
Turtleback Cookies: Alabama's Almost-Lost Recipe
These soft, glazed, spiced cookies are one of Alabama's best-kept secrets
I first discovered turtleback cookies on a weekday afternoon in Demopolis, Alabama, when I wandered into a gift shop with a narrow bakery case in the back. It held dozens of flat cookies finished with an oatmeal-colored glaze.
"They're turtlebacks," the blonde teenager behind the counter said, as if no other explanation was needed. Assuming it was just a part of the local culture that my dad had forgotten to teach me about his native state—like the famous Alabama and Auburn football rivalry—I ordered two and left. I sat down in the nearby town square and removed the golden cookies from their wax paper bag. The candy-sweet icing crackled as I took a bite. It was crisp on the outside, soft on the inside, and fragrant with warm spices; I was hooked.
Few people outside of Demopolis, a small town in the rural Black Belt region, know about turtlebacks. They're the signature treat of Traeger's bakery, named for the hard cinnamon glaze that glistens like a glossy turtle shell on the surface of each cookie. The beloved local business opened around 1926, back in the days when all of downtown's abandoned storefronts were still occupied. "William Henry Traeger changed trains in Demopolis on his way to Meridian, Mississippi, and saw a bakery for sale. He returned to buy it and spent a lifetime in Demopolis," writes his son and the inventor of the turtleback cookie, William H. Traeger, Jr. in The Heritage of Marengo County (Heritage Publishing Consultants, 2000).
Traeger's Bakery soon established itself as a local institution, and William Jr. and his wife Amelia eventually took on the family business. "Not many small towns had a bakery," she recalls. "We did everyone's birthday cake and wedding cake." The case was also filled with petit fours, Turkish macaroons, doughnuts, and a huge variety of other cookies. Yet it was William Jr.'s turtleback that the people of Demopolis remember most.
The original version was based on a standard spice cookie recipe. With its warm spices, cashews, and a confectioners' sugar glaze, it shares some striking similarities with German lebkuchen and the spice cookie recipes found in many Southern cookbooks. Over the years pecans became the standard addition in Demopolis, where pecan trees grow in backyards. They're always finished with the same caramel icing, glossy and marked by a defiant Southern sweetness.
The couple sold the bakery in 1993, and the building and its recipes tragically burned down a few years later. By then, though, the people of Demopolis were obsessed. To this day they continue to bake versions of Traeger's turtleback cookies, refining and tweaking the recipe in an attempt to replicate the original. A neighbor recently told Mrs. Traeger that he had just made the best batch yet. "They're not quite the same," she says. "But people keep trying." I like to think my version gets pretty close.