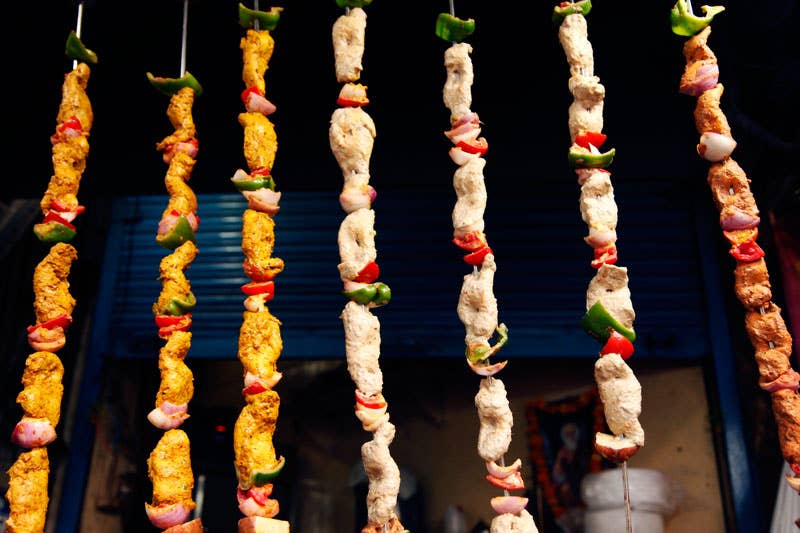 Travel
Unruly Appetites
A taboo dish opens the door to looking beyond political and religious differences
I remember my first taste of Delhi's grilled meat back in the late 1970s. A teenager, I had barely enough money for two skewers of boti-kebabs—tender cubes of mutton marinated in yogurt, garlic, green chilies, turmeric, garam masala, and other spices—which the kebabwala pulled from the fire with a plug of newspaper and emptied into a stitched-leaf bowl. They were hot and juicy, stinging my fingertips as I popped them into my mouth. I shifted them on my tongue to avoid blisters. They tasted like nothing I had ever eaten: meaty, salty, and fatty with top notes of clove and cinnamon and undercurrents of ginger enveloped in savory-sweet, caramelized char.
A provincial rube, I had moved to Delhi for high school in need of training in cosmopolitan civility. I had never before used a fork. But, though the table manners of the parlor would present one set of lessons, kebabs proved an equally cosmopolitan, albeit cruder, pleasure. My father and uncles—all traveling salesmen—had told tales of this delectable, sinfully unclean food, but nice, middle-class Hindu vegetarian that I was, I hadn't yet had the opportunity, or the courage, to try them for myself. The truth was, I was afraid. And not only of the notion that the forbidden food would taint me.
As a child, I lived with my Bengali father and Odiya mother in a Bengali ghetto in the state of Odisha, surrounded by migrants who had been driven out of East Pakistan for being Hindu. The Bengal border would be the site of not one but two of the greatest forced migrations in history, once in 1947 during the making of India and Pakistan, and then again in 1971 with the making of Bangladesh. Upwards of thirteen million people were shifted each time, with death, dislocation, and downward mobility the result. I grew up in a context of violence—physical, murderous violence between Hindus and Muslims, Hindus and Sikhs, and Odiya and Bengali Hindus.
One day rumors spread that Odiya women had been raped on the Puri Express train. What turned out to be nothing but gossip did not stop young Odiya men from invading the Bengali quarter in retaliation. It did not matter to them that my mother was one of their own; we were as imperiled as our neighbors. Two people were killed—one thrown from a balcony and another, a little girl, stabbed. The police abandoned us. The next morning my mashi, my mother's younger sister, came to our rescue, a rifle across her lap. A few years later, I watched from our balcony as a Hindu mob destroyed the Muslim-owned hotel across the canal. The shattering of glass and the screams of grown men ricocheted across the neighborhood. We turned off the lights and huddled in fear. I grew afraid that, when cultural lines were crossed, violence would ensue.
But, one spring afternoon, six months after arriving in Delhi, my youthful dustu-khide—my unruly appetites—provoked by the aroma of grilling meat laced with clove and cinnamon, enticed me into Delhi's Muslim quarter on my way home from school. Just past the Mughal ruler Humayun's Tomb, I turned down a narrow, winding street crowded with men in skullcaps. The muezzin's call to prayer spiraled from the minarets, scattering pigeons from the spires. Just across the street from the mosque, I found the source: a kebabwala, a vendor of grilled meats, fanning the flames of a charcoal grill with a palm frond.
As I ate those savory skewers of meat under the shadow of Sufi saint Nizamuddin Aulia's shrine, I didn't yet know that this meal was one of the rites, for me, of passage from boyhood to manhood. Beyond the visceral pleasure of that rich, taboo food, I was awakening a new hunger for what lay beyond the carefully drawn boundaries that separated "us" and "them." That day, I had my first tentatives taste of a life lived as a different kind of man, one open to the world's diverse, and delicious, possibilities.
Krishnendu Ray is an Associate Professor and Chair of the Department of Nutrition, Food Studies and Public Health at New York University. This is his first article for SAVEUR.