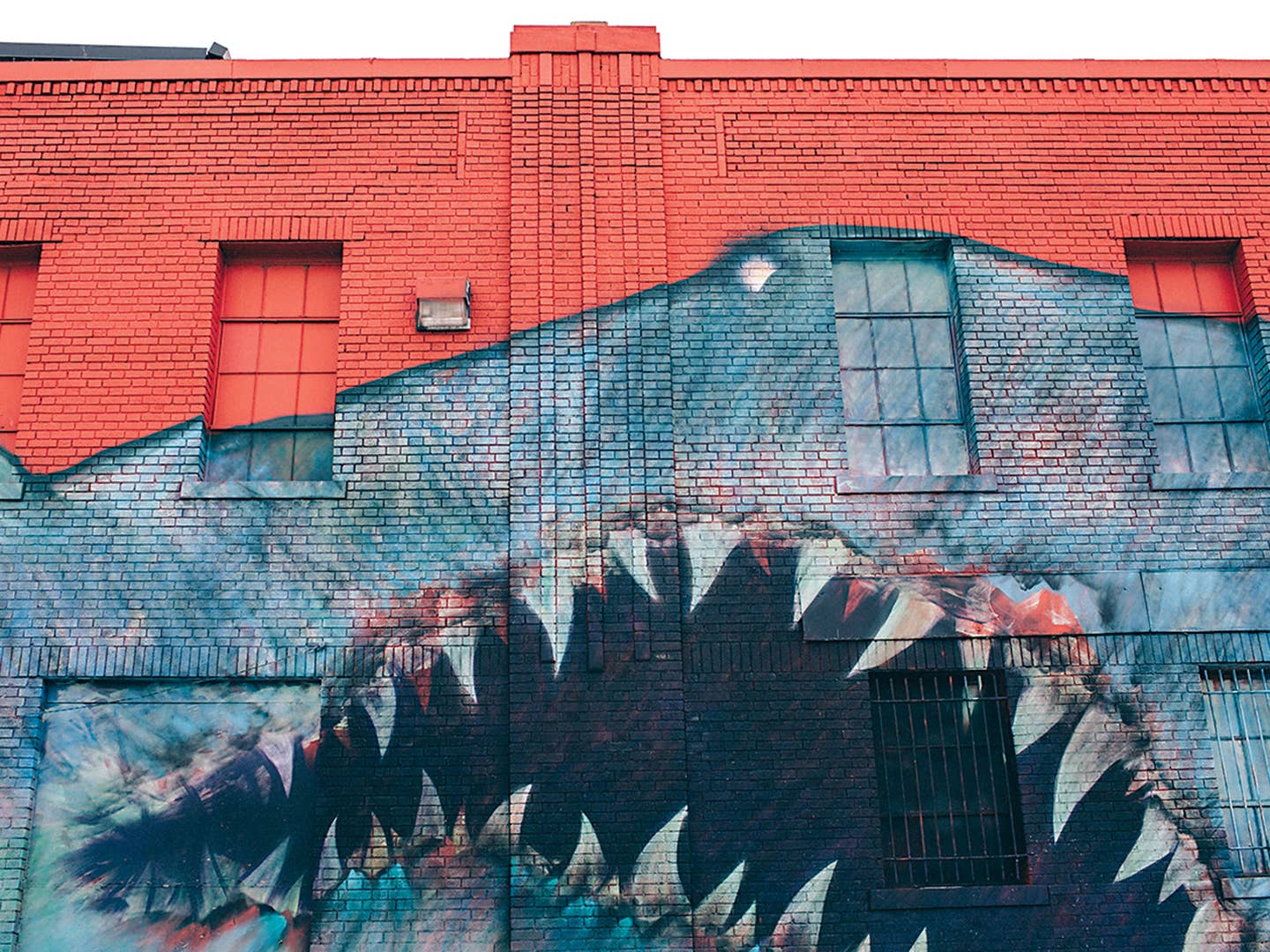 Travel
Destination: Detroit
A driving tour through Motor City's sprawling geography and revved-up food scene
Those of us who know and love Detroit consider it a kind of half-finished heaven. We favor its brawny, threadbare aura, its onion-and-mustard-spangled coney dogs, its rambling thoroughfares from a time when Cadillac Eldorados ruled the roads. The city's lonely Gothic churches, historic Art Deco skyscrapers, and spacious island park are joined by a vast network of urban farms growing all sorts of delicious, fresh things in between swaths of concrete jungle. These farms, together with the city's new restaurants dispersed in pockets all over town, make an urban road trip the best way to explore Motown.
Start your cruise at Anthology Coffee (1401 Vermont St.), the city's newest specialty roaster. The warm, airy café is stashed away behind an obscure yet quintessentially New Detroit spot: a co-working space for local entrepreneurs and creative types in a former Corktown printing factory. There, owner Josh Longsdorf brews his single-origin beans at a Modbar espresso machine and a spacious pour-over bar.
Suitably caffeinated, you'll want to head northeast on Jefferson Avenue, through downtown and past the iconic Joe Louis fist-bump monument at Hart Plaza, keeping Canada on your right, until you arrive at Rose's Fine Food (10551 E. Jefferson Ave.). Run by cousins Lucy Carnaghi and Molly Mitchell, the 30-seat restaurant specializes in refined diner food, like brisket hash, huge cinnamon rolls, and old-fashioned egg creams. Consider taking your meal across the water on Belle Isle, an idyllic 1,000-acre island park with an Albert Kahn-designed aquarium and conservancy plunked in the middle of the Detroit River.
On your way back downtown, take a detour to the Heidelberg Project, a massive outdoor art installation, including a polka-dot house and streetlamps festooned with stuffed animals, occupying two whole city blocks. Just west is Eastern Market (2934 Russell St.), a sprawling, open-air bazaar that is the central nervous system of Detroit's culinary resurgence. Occupying a labyrinthine building, more than 250 vendors sell produce and locally made food, such as organic raw-milk cheeses by Oliver Farms and juniper-and-garlic brats from Corridor Sausage Co.
From there, it's a few minutes to Selden Standard (3921 Second Ave.), chef Andy Hollyday's local, seasonal restaurant. Lunch hovers somewhere between rustic Mediterranean and Midwest meat-and-potatoes, with a fried chicken sandwich and a hearty veggie ribollita on the menu, plus an outstanding pastrami. "I'm inspired by food from all over the world," Hollyday says. "But the real stars of our plates are sourced within three miles of here. Detroit's urban farms are a big part of the reason why I cook here."
To visit the city's largest contiguous urban farm (there are 1,500 and counting), head west on I-96 after lunch and hop off at Schoolcraft Avenue, then turn left on Outer Drive West, until you land at D-Town Farm (you can arrange a visit through the Detroit Black Community Food Security Network, 3800 Puritan Ave.). Tucked behind a formidable deer fence are vegetable beds of organic mushrooms, kale, garlic, and more; several beehives; and four hoop houses. Spread out over seven acres, the farm, which is largely run by volunteers, is surrounded by an open prairie and wetlands in the verdant and rambling 1,100-acre River Rouge Park.
Turning north, you'll pass 8 Mile Road, the highway that composes Detroit's northern boundary, and plunge into the suburb of Ferndale, home of Torino (201 E. 9 Mile Road, Ferndale). It took Detroiters a while to wrap their heads around chef Garrett Lipar's free-spirited, Nordic-influenced cuisine—the distance between coney dogs and fluke topped with pickled mango, corn dust, and micro Cuban oregano indeed seems large. A daily tasting menu features foraged ingredients, highbrow fermentation, and beautiful, fussed-over platings, like a dish of tender grilled and pressure-cooked octopus with braised seaweed, salty scallop chips, and heart-of-palm purée topped with pickled mushrooms. "It's new, and it's not comfort food," says Lipar, a 2015 James Beard nominee for the Rising Star Chef award. "But it tells the story of this region from an angle you probably haven't tasted before."
For the 20-minute backtrack downtown, forget I-75 and take Woodward Avenue the whole way. Some two dozen Gothic, Beaux Arts, and Romanesque Revival churches line the road, as well as several historic Art Deco beauties like the big-block Fisher Building and the old Majestic Theatre. Along with pre-war landmarks, Detroit is slowly reclaiming its storied distilling past. Detroit City Distillery (2462 Riopelle St.), a producer of small-batch whiskey, bourbon, vodka, and gin, is the latest among craft-spirit ventures. Founded by eight childhood friends, it's housed in a cavernous old slaughterhouse in Eastern Market. An attached tasting room is outfitted with a Prohibition-era mahogany bar salvaged from a local store and serves a mix of classic cocktails and house specialties, like the old-fashioned-inspired Fashionably Yogi, with bacon-washed bourbon, maple syrup, house coffee-pecan bitters, and orange. It's the perfect nightcap for a winding urban tour.
Where to Eat, Drink, and Discover your Inner Urban Gardener in Detroit
D-Town Farm (Detroit Black Community Food Security Network)
3800 Puritan Avenue
(313) 345-3663_
Torino
201 East 9 Mile Road, Ferndale
(248) 247-1370