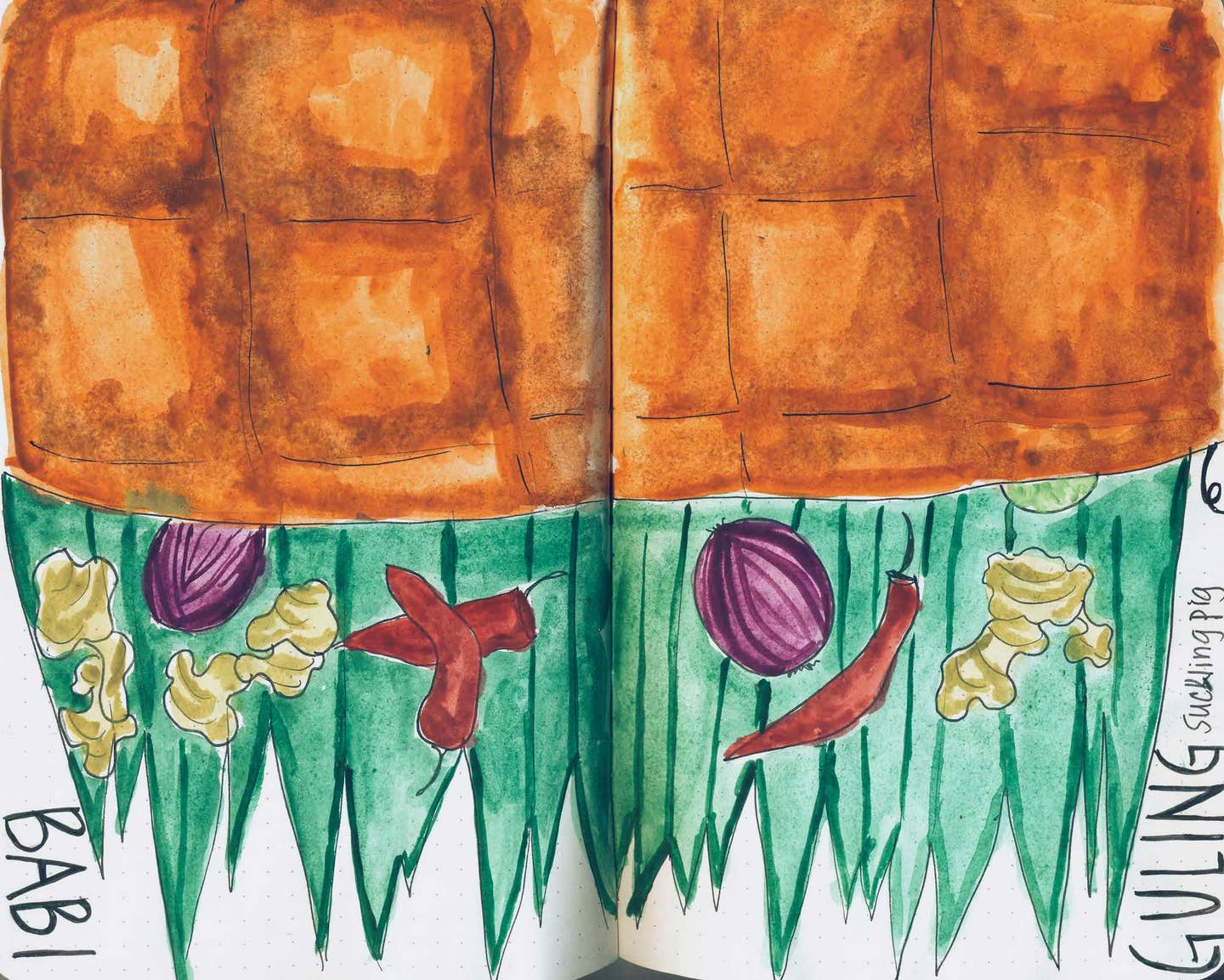 Travel
One of the World's Best Suckling Pigs is Worth a 3 A.M. Drive Around Bali
And other especially tasty street snacks to try on this delicious Indonesian island
If you want to eat the best of the Indonesian island of Bali, skip the shiny tourist restaurants lined along the beach and get yourself to a warung. These small roadside food stalls don't have signs, printed menus, or even consistent ours, but if crisp-skinned suckling pig and a peanut mix with fried anchovies gets you hungry, warungs are the place to go.
Your best tool for navigating warungs is your eyes. Long lines are a good sign, and when the suckling pig spinning around the fire looks particularly crackly, you know you've struck gold. But the eating the best will take some legwork.
Babi guling is roast pig filled with lots of good stuff: coriander, peppercorn, lemongrass, candlenut, chile paste, turmeric, garlic, ginger, and shallots. It's then roasted for hours over an open fire until the skin blisters and cracks, then turns a deep golden brown. The dish's cult following is so strong, people have been known to travel to the island just to eat it. And it's unique to Bali: While most Indonesians are Muslims that don't eat pork, many Balinese practice a form of Hinduism that permits it.
After asking around for a few days, the local consensus was that eating Bali's best babi guling would require trekking to the remote town of Buduk, about 30 miles north of Canggu, to visit a warung that's only open from the middle of the night to 9 a.m.—or until they run out. I was in for either the best babi guling in all of Bali, or doomed to hungrily wander the streets until sunrise.
Luckily for me, my driver knew the general area to drop me off, and offered this advice: "Follow anyone you see walking the streets—babi guling is the only reason people are out here at this time."
For a split second I questioned my decision to risk my life for some suckling pig, but then I spotted a group of giggling and tipsy twenty-somethings who seemed like they'd be on their way to the Indonesian equivalent of a greasy spoon at this time of night. With every twist and turn down the narrow alleyways, the wafts of smoke and the smell of burning wood told me that I had to be on the right track. When I was hit with the sharp smell of ginger, chilis, and garlic, I knew I was getting closer, and once I could see the long line that already snaked through the streets, I knew I had actually found it.
The family that owns this warung starts preparing their pork at 3:30 in the morning, so when I got there they had already peeled off the crackling and were cutting through the buttery flesh. If I had wanted the best pieces of skin, I should have left even earlier. I knew what I was missing—I spent much of my childhood lurking at the lechon table at Filipino birthday parties, slyly picking off and eating the crunchiest bits of skin. As I made my way to the front of the line, I wished more than anything that I could do that with the glorious sheet of crackling right in front of me.
For a shack in the middle of nowhere, this place was a well-oiled machine. There's the tray of pig on one end, and a kitchen on the other, where plates of rice, juice meat, glistening shards of crackling, and lawar come together. Lawar is a traditional salad made of minced meat, spice paste, grated coconut, snake beans, and fresh pig blood. If you look like you don't belong, the lady serving may ask if you want your salad without the blood. I'll leave that choice up to you.
Here are five other snacks to try while hunting for suckling pig.
While wandering through the Taman Sari Market in Seminyak I came across a peculiar, egg-shaped fruit that looks just like its name: salak, the snakeskin fruit. Peel away its leathery, reptile-egg skin to reveal a delicately aromatic fruit reminiscent of honeyed pineapple.
Though typically a Javanese specialty, this salty snack makes its way to Bali too; look for the warung near the Ubud Art Market. A mix of peanuts dipped in rice flour batter seasoned with candlenut and anchovies, then deep fried, it becomes a lacy, airy, and deliciously crunchy cracker.
From street stalls to warungs to fancy restaurants, you will find mie goreng in nearly every kind of eating establishment in Bali. Thin curly noodles are stir-fried with shrimp, chicken, pork, and vegetables such as bok choy, cabbage, shredded carrots, tomatoes, and sprouts. Kecip manis, a thick and sweet Indonesian soy sauce, creates a perfect balance of sweet and salty. Mie goreng is usually topped with a fried egg, and garnished with cilantro, limes, and shrimp chips.
On my first day in Seminyak, I took a cooking class where I was introduced to pandan, a grass-like plant used in many Southeast Asian desserts and responsible for kuih ketayap's neon-green hue. As we cooked the the thin pancakes, the pandan sent out notes of jasmine with nutty undertones. The cakes themselves are slightly chewy and fluffy, and filled with a sticky sweet mixture made of grated coconut and palm sugar. Keep an eye out for them whenever you get a sweets craving.
Sate lilit differs from the usual grilled, and marinated variety of Indonesia satay in that it's made with minced meat (usually chicken or pork) and mixed with grated coconut, coconut milk, spices, and lemon juice. The coconutty meatloaf mix is formed into round shapes around sticks of sugar cane or bamboo, and then grilled, resulting in a tender and slightly smoky bite that's full of flavor right to the core.