Bangkok is Banning Street Food by the End of the Year
What's the world's street food capital without the street food?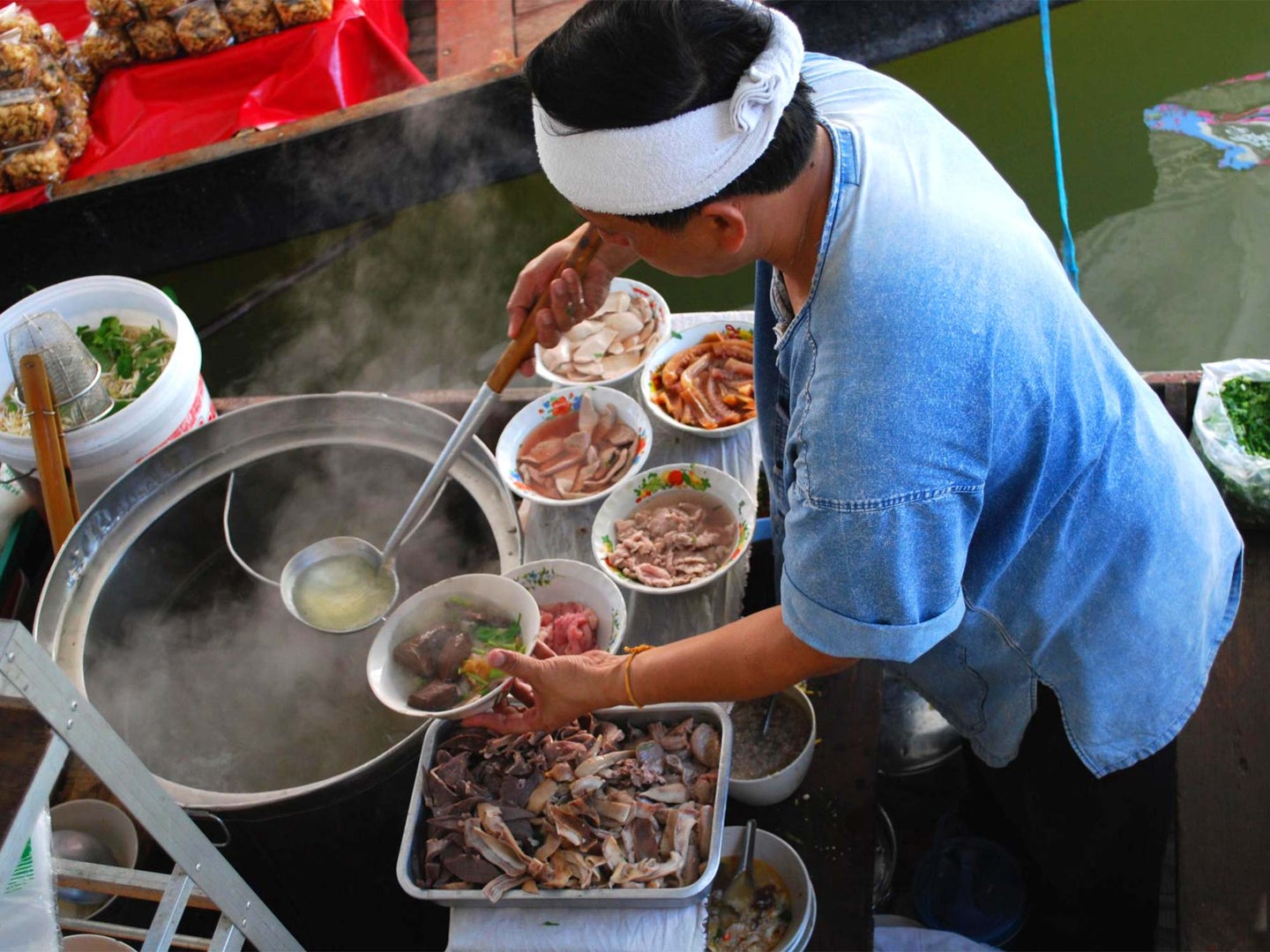 People need to be saved from their own terrible ideas. That includes lawmakers: American lawmakers, British lawmakers, and even Thai lawmakers. Today, Bangkok officials announced that street food is to be banned from the city, which is not only the capital of Thailand but also the de facto capital of Southeast Asian street food.
In an effort to clear the city roads and enforce hygiene, Thai officials will cracking down on all street businesses by the end of the year. "All types of stalls including clothes, counterfeit goods and food stalls will be banned from main city roads," said Wanlop Suwandee, a chief advisor to Bangkok's governor, speaking to AFP.
As with many other Southeast Asian countries from Vietnam to Singapore, Thai street food is a major tourist attraction, employer, and cultural symbol. Signature items, like quick bowls of chicken soup, meat skewers, and pad Thai, are favorites of Thais of all socioeconomic statuses and professions, who sit side by side on sidewalks and street corners to enjoy a meal. The law targets all 50 of Bangkok's districts, including the famed areas of Yaowarat (Chinatown) and Khaosan, where alone there are 200 street stalls.
Leah Cohen, chef-owner of Pig & Khao restaurant in New York City, spent a year staging at restaurants across Southeast Asia, eventually settling down in Bangkok. "Street food is the culinary backbone of the country, and the way many Thais can afford to eat," Cohen tells SAVEUR. "People spend decades perfecting certain dishes and pass the knowledge on to their kids." She adds that her own experience in the city was made possible by affordable street eats: "The only way I could have afforded my year abroad, and eat and learn as much as I did, is because of street food."
Authorities insist that the motive behind the act is cleanliness and safety, but critics are accusing the government of attempting to "remodel Bangkok into a Singapore-lite." It's a goal reflected in various morality campaigns imposed by Thailand's military junta, which came to power in 2014.
The announcement comes on the heels of CNN's awarding Bangkok the title of 'best street food in the world' for the second year running. If you want to get your fill of it, you'd better get yourself to Thailand before the end of 2017.
h/t The Guardian