Travel
8 Essential Asian Street Food Dishes Worth Getting to Know
Luke Nguyen's new book, Street Food Asia, shows the best snacks to get in Saigon, Bangkok, Kuala Lumpur, and Jakarta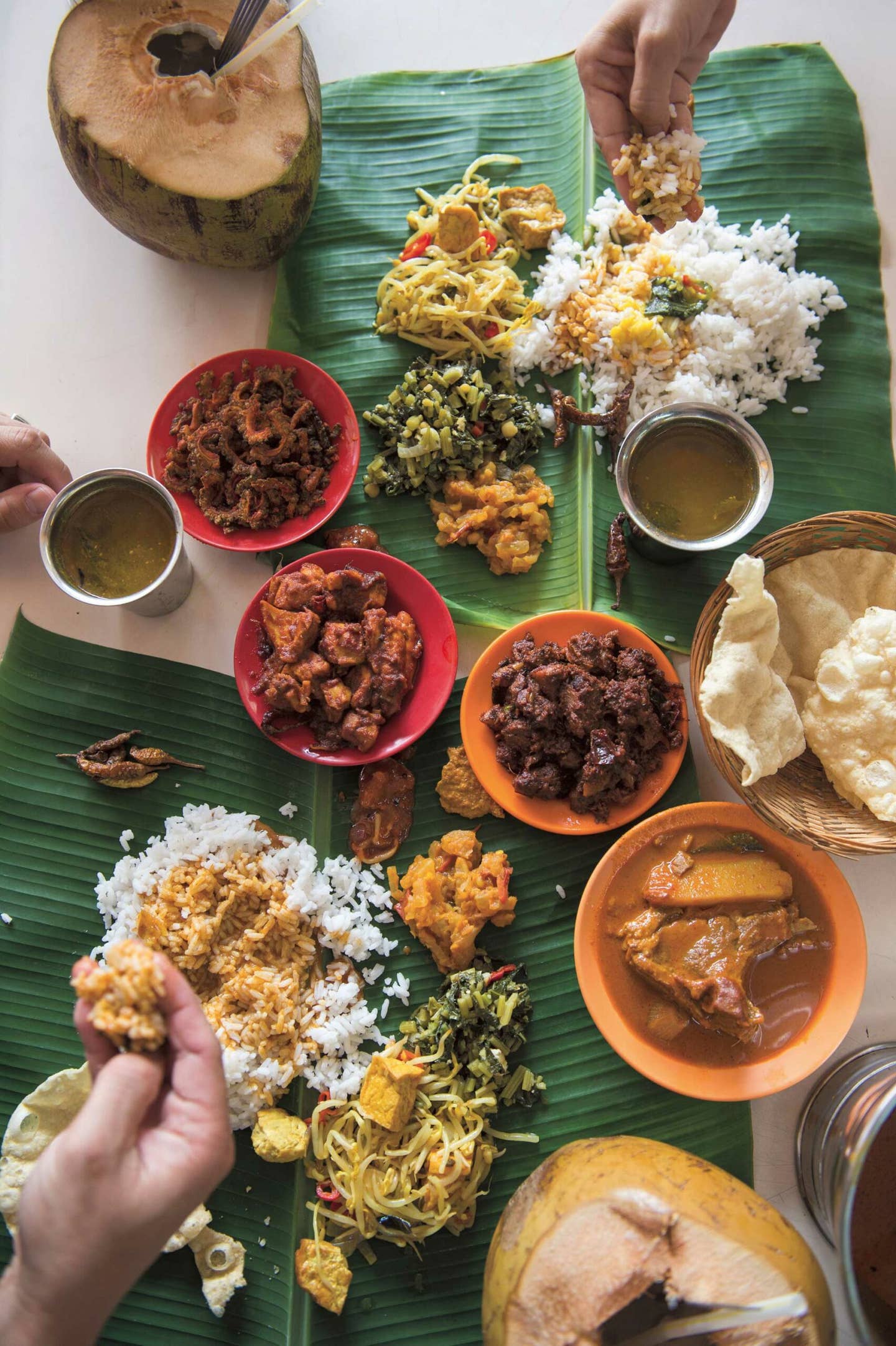 For the street food novice, the options in Asia can be overwhelming. Enter: Luke Nguyen, a Vietnamese-Australian chef who was born in a Thai refugee camp following his parents' escape from Vietnam, their home country. His family settled in Australia and opened a Vietnamese restaurant, and this is where Nguyen first became interested in exploring his roots. He is a television personality and runs The Red Lantern restaurant in Australia. But now, he's bringing his in-depth knowledge of Asian street food culture to the page.
This is a popular dish in Saigon and across southern Vietnam, though it is not easily found outside of the country. The thick noodles—which resemble silkworms, hence the name—are made from a combination of rice flour and tapioca flour. Coated in a thick, coconut milk sauce, they are drizzled with generous quantities of Nuoc Cham sauce and served with shredded pork and pork skin, cooked bean sprouts, julienned cucumbers, fresh herbs, pickled vegetables and Spring Onion Oil. Both sweet and savory, somewhere in between an entrée and dessert, I love to enjoy it as an afternoon pick-me-up treat!
On Cô Giang Street in District 1 there is a guy who cooks this dish using just a basic chargrill. Betel leaves are interesting; where the Thais like theirs raw, the Vietnamese love to cook them either in stir-fries or stuffed and chargrilled, as here. The stuffing is a mixture of minced beef, lemongrass, garlic, fish sauce and coriander; it's rolled neatly in the leaves to make small, tight rolls, which are then grilled. You can eat these little packages in lots of ways; stuffed into baguettes, for example. But my favorite is to wrap them in rice paper with fresh vermicelli noodles, tons of fresh herbs and some star fruit and green banana, for a slightly sour edge. This is a ripper of a dish to cook for a barbecue at home.
In search of what they promise is the best satay, some locals send me down a main road. 'It's across from the Pertamina Hospital – just look for Sate Ayam Dankambing, on Jalan Kayai Maja, number 21', they tell me, making it all sound so easy. It isn't. I have no idea what I am looking for, only that this satay is completely worth any effort. But after I've walked about 20 meters, I see the smoke, smell the aromas and know I've found my destination.
I spy two long charcoal barbecues with guys madly fanning coals. They grab around 20 beautifully threaded satay sticks at a time, submerge them in a dark, sticky marinade, and then put them straight onto the grill. Coals hiss, flames ignite, smoke puffs and the meat quickly cooks to succulent, charred perfection. The sticks are plated with sticky rice cakes, kecap manis, crispy fried shallots and a gorgeous peanut sauce. Customers eat right outside, among the smoke and fumes, sitting on wooden benches and watching the world pass by. I buy a serve of the dainty skewers; they're not huge. I get a mix of chicken and mutton, their specialties.
Jakarta is known for its big malls and locals love hanging out in them. They have amazing food courts but I far prefer street food and often you find some wonderful offerings in the laneways and areas just around the big malls. At around 10.30 am near the tree-lined entrance to Citywalk Sudirman, a popular mall, a whole pile of street food carts are wheeled out and start setting up shop. Later, high-rise office workers pour out of their buildings for their favorite dish and the place is pumping by lunchtime. My favorite cart is the one preparing ayam penyet – I love sitting and watching the theatre and fun of it being made.
A popular East Javan dish, ayam penyet ('ayam' means 'chicken') is cooked using chicken maryland pieces that are marinated in tons of spices and deep-fried until they're exceptionally crispy. While this is happening, the cook makes the sambal. This involves deepfrying a handful of green chillies until soft, then pounding them in a cobek with some salt to make a vibrant green paste. The cooked chicken goes onto the stone as well and is smashed hard with the pestle, so the meat is torn and softened and becomes easier to eat. Next, the green sambal is slathered over and the chicken is served in a paper-lined basket with coconut rice, fried tempeh, mint and raw cabbage. And even more chilli, of course.
The thing that really blows me away about Kuala Lumpur is how various culinary strands all come together here. One of these is seen in the significant Indian influence and one dish from this tradition I have come to truly appreciate is Indian banana leaf rice. You literally eat steamed rice, plus an assortment of curries and accompaniments, off a large, fresh banana leaf. The go-to place for this is Usha's, a food stall on Jalan Othman in Petaling Jaya Old Town, not far from Kuala Lumpur's city centre. Usha is the matriarch-cook and she's been pulling in the locals for over 20 years with her tasty curries. One of the 'aunties' who work here will come and scoop rice onto your leaf then around that go pickles, pappadums, dhal, chutneys, maybe a boiled egg and then the curries.
These are all pre-cooked and you choose the ones you want – Usha is famous for her goat tripe curry, dry mutton curry, chicken korma and salted fish curry. She also cooks mean fried chicken and fried fish and there are some unusual things on her menu, like the finely sliced bitter melon that is battered then deep-fried until it's really crispy. And her dried salted chillies, which are great. Everything is aromatic with spices and curry leaves and you eat using the fingers of your right hand. Done well, this is a super elegant way to eat. Done clumsily it's... well, a bit messy, but fun nonetheless (you can opt for cutlery if you really want). Eating here is a really warm experience as you feel like you are a guest in a family home, not at a food stall. When you've finished your meal you fold the banana leaf up, from the top down, to cover all the food bits; it's both a sign of respect and says that you've finished (and loved) the food.
Right next to the Seapark Market in Petaling Jaya, you'll find a guy at a stall making wantan mee. But his aren't just any old wantan mee because he makes his noodles 'fly'. Literally. After blanching the noodles for your order, he flings them really high into the air (we're talking two storeys high into the air!) deftly catches them then keeps on cooking the dish. It's so much fun to watch and whether it's just a gimmick, I'm not sure. Some people honestly reckon throwing the noodles like this makes them taste better, imparting a springier texture. I'm thinking it's a very clever way to get rid of all the water – you don't want wet noodles for this dish.
Wantan mee is a street food classic in Kuala Lumpur. Basically it consists of thin egg noodles topped with an almost black sauce made from soy sauce, sesame oil and lard. Slices of sticky, sweet, home-made char siu (Cantonese barbecue pork) go over the top with some blanched choy sum (Chinese flowering cabbage). The small bowl of wantan in clear, pork-flavoured soup is to have alongside your noodles. This is considered fast comfort food in Kuala Lumpur and it's simple but delicious. Here's a tip if you want to go to the market to see my noodle hurler; he starts cooking at around 6 pm and it's best to get there early to see him in action while the light is still good.
If you want a really authentic floating market experience, be prepared to get up at 5 am for a long drive; I'd suggest hiring a car and a driver for the day. You have to go to Amphawa Floating Market, about 90 kilometres southwest of Bangkok, where the city's natives flock during the weekend. It's vibrant, busy and the food is spectacular, especially the seafood. But I also like eating boat noodles; they're such an iconic dish. They're so-called as they originated in the floating markets and canal ways of Bangkok during the 1940s as part of a government initiative to increase noodle consumption – there was a severe rice shortage at the time and it's believed that many of Thailand's now-famous noodle dishes sprang up during this era.
Traditionally, they feature a distinctive brown stock that's colored using pig's or cow's blood, which also gives the broth its particular texture. You can still find the dish made this way but not all cooks use blood. Other ingredients and flavors, which tend to be strong, include cinnamon, dark soy, fermented tofu, pork or beef, bean sprouts, water spinach (morning glory), fried garlic, soft-boiled eggs and crisp pork rinds. It's a powerful tasting dish and one that always comes in a rather dainty portion; it's more than possible to eat two or even three bowls. The reason the bowl is so small is because decades ago, boat noodle vendors were one-man bands who had to blanch noodles, chop ingredients, assemble and serve soup, take money, give change and wash bowls, practically at the same time. For ease, they kept the bowls small.
I love these things! I don't just love eating them (although they are a favorite Thai sweet snack of mine), I also love watching them being made. This requires real skill plus perfect timing and to me, they're the kind of thing I'd pay serious money for in a fine-dining restaurant, rather than a few baht on the hot streets of Bangkok. This dish dates back 600 years so it's fair to say the Thais have perfected it over a long time. The batter is made using rice flour, pea flour, some palm sugar, eggs, water and a pinch of salt. It's spread to form small, super-thin discs on a hot plate; they look like tiny tacos.
Once the rounds are brown and super-crisp, they're topped with an egg white and coconut sugar mixture that's been whipped until it's stiff and resembles meringue, or a mixture of dried shrimp, grated coconut and fine threads of egg yolk called 'foi thong', or 'golden strands', with chopped coriander (cilantro) finishing the whole thing off. Buying a combo of the two, as is normal, delivers a mix of sweet and savory flavors that may sound weird but I promise you khanom bueang taste amazing. They're not something you could easily make at home; best you get yourself to Bangkok and eat them there. My recommended place for these is near the famous Golden Buddha Temple, on Soi Sukon 1. This little street is a great daytime street food destination, kicking off with all sorts of goodies at around 11 am, just in time for lunch.