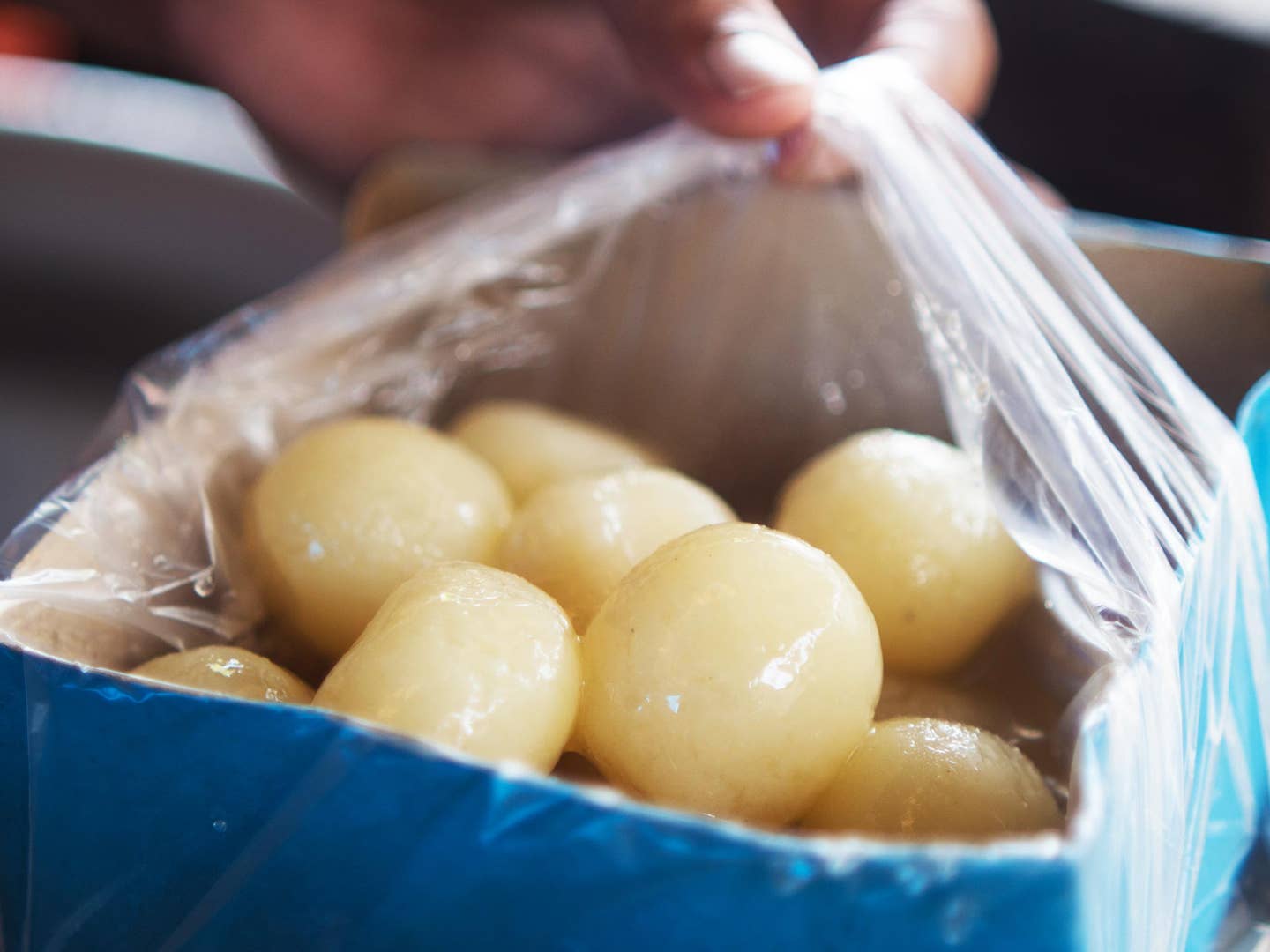 Travel
The Fourth-Generation Mishti Master Winning Over Bangladesh's Insatiable Sweet Tooth
In an alley beside an ancient courthouse, Rana Ghos carries on a family legacy to perfect mishti, the Bengali sweets that nourish a nation's happiness
The country of Bangladesh broils underneath an eternal, equatorial sun, surrounded on three sides by India and the fourth flanked by the hazy Bengal Sea. But in the city of Rajshahi, not even the searing sun above can match the collective heat of hundreds of people crowding an ancient courthouse. Yet everyone is cheery. It's here that their deeds are finalized, their debts squared away, and where they arrange the purchasing of new homes.
Hoba Ghos Sweets perches in the alleyway of this 200-year-old courthouse. It does well here. The final thumbprint pressed onto the pages of court documents is cause for celebration, which in local tradition means handing out sweets to your entire village.
The cooking in Rajshahi is as fiery as the sun, but Bangladeshis also have serious sweet teeth. They flock to sweets like hummingbirds crowding a fragrant blossom, and the sweetest nectar comes from the syrup perfuming Hoba Ghos Sweets, blooming along the wall of the courthouse.
Rana Ghos stands tall but demure. He's a fourth generation mishti wallah, a sweets maker, born and raised within five miles of the same courthouse that houses his family's sweets stand. He's a nod-while-you-talk kind of guy, but that's because he's also too busy ladling the most deliciously sweet syrup you've ever tasted onto your perfectly formed rasgulla. One of Bangladesh's many mishtis (literally: sweets), these silken white balls of sweet cottage cheese are bathed in sugar water and ghee so they melt into syrupy pools on the tongue. In the canon of South Asian sweets, rasgulla is perhaps the simplest of mishtis. Every auntie and their grandmother has a recipe for one. But unlike the aunties, Rana refuses to add any cardamom or rosewater to his recipe. Instead, he chooses to let the dairy speak for itself.
Rana's rasgulla are more tender than anyone's, his ghee more pure. Each ball is supple, but so tender that you question if it was even a solid in the first place. It has the kind of melt-in-your-mouth quality you can only get from two masterful hands that have been transforming crumbly cottage cheese into the wagyu of sweets for over three decades. I've scoured the birthplace of rasgulla in Calcutta, which is my father's birthplace as well, and none compare to Rana's more tender version.
The sugar will inevitably make you chatty. That's when you learn he gets up everyday before dawn to visit his own cows—he has a family of ten cows and calves—and to prepare his homemade milk curd with lime juice as well as tamarind to bolster the sweets' silkiness. Then he forms the sweets and bathes them in a syrup of sugar and triple-refined ghee, the clarified butter all South Asians swear by. The secret to the finest sweets is in that syrup—and how he lets the balls bathe in it all night. He serves it alongside a piece of soft bread to mop it all up.
Under the tent sprawled across a two shabby brick walls, I can't seem to shake the feeling that I'm sitting in an oasis. "Hoba Ghos Sweets couldn't exist anywhere else," Rana says. "My great-grandfather knew. We've been here as long as this courthouse has. The air here is too perfect, just enough flow, just warm enough to tenderize the mishti even more."
As I look up from the last bit of syrupy bread glistening on my plate to Rana ladling syrup for doe-eyed newlyweds, I realize why his stall has been so successful. There are three generations of mishti-perfecting hands resting on Rana's shoulders. In this blazing country, family is everything, and these sweets are the celebration of family, new and old. I look over to my father talking with attorneys in the next table. I call out to Rana for one more plate of mishti. "This one's for my father," I whisper.
He doesn't look up from the pot. "All the world's happiness is in mishti. No one's ever angry while they're eating it." A smile spreads on his face as wide as the pool of syrup in his ladle. It makes him look a little more like his father, who watches over the stall with his son, still tinkering with his own mishti. I wonder if Rana's son's sweet tooth has come in yet, and how wide his smile will one day be when he forms happiness with his own hands.
Hoba Ghos Sweets
Rajshahi Court, Rajshahi, Bangladesh
+880 01715270374