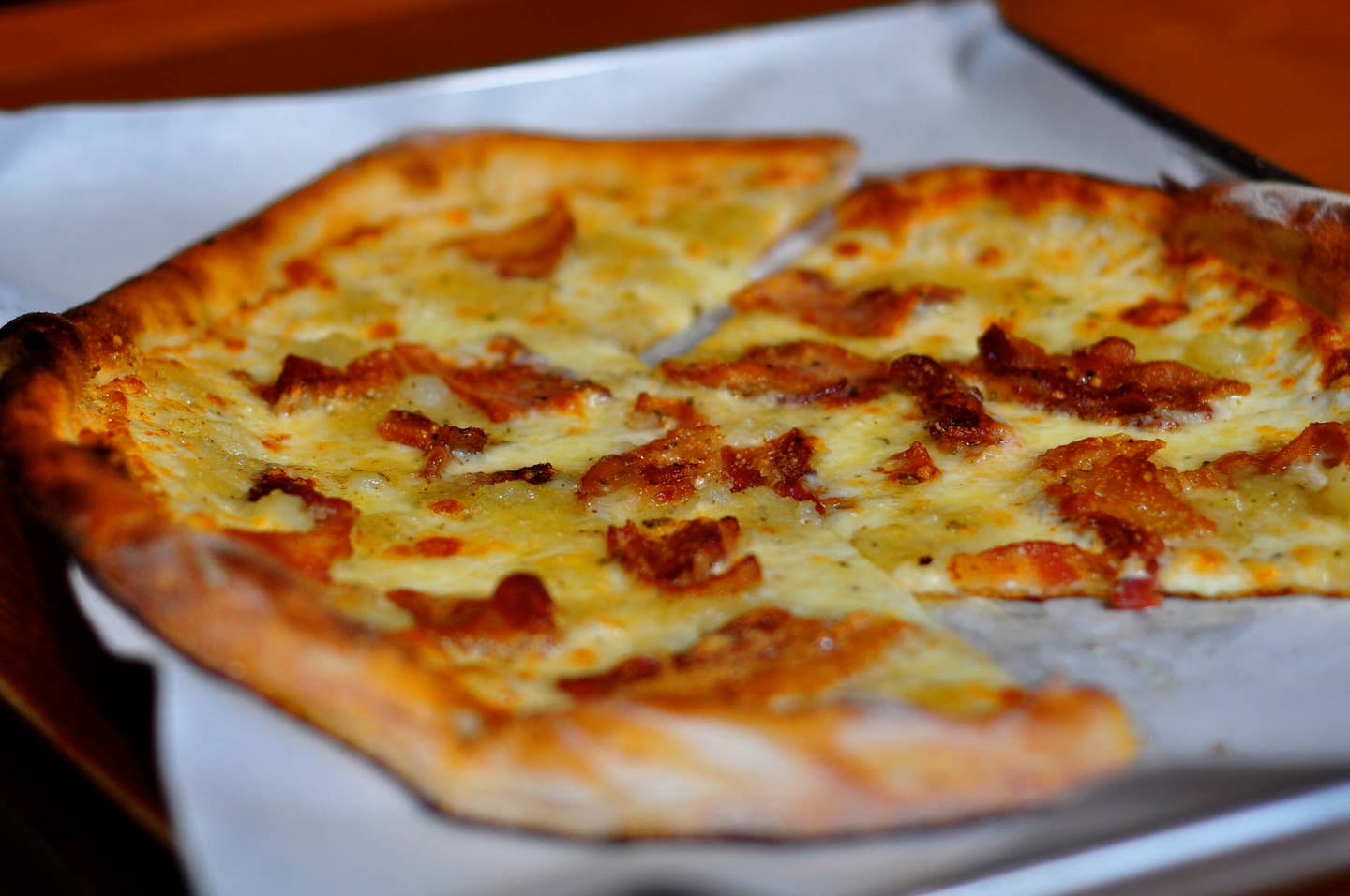 Travel
This Mashed Potato Pizza Is New Haven's Secret Handshake
To most of us, the Connecticut city's pizza scene is all about the clam pie. But for local kids Bar Pizza's oddball creation is a delicacy all its own
When talking about pizza in New Haven, the conversation inevitably turns to the clam pie. It's the defining style of one of the country's great pizza towns, and it looms large in a town short on culinary inventions. For decades, clams were also pretty much the only game in town when it came to unique toppings in the celebrated local pizza culture.
But, especially for the younger generation of New Haven County kids, there's another pizza that has edged in on this territory: Bar's oddly appealing, much loved mashed potato pie. It's become better known in recent years, for sure, but it's still not synonymous with the city in the same way that clam pie is. It's more the secret handshake of New Haven's pizza scene.
If you grew up in or around New Haven, at some point you went to Bar. Katy Schneider, a coworker of mine at New York Magazine who went to high school in town confided in me that she celebrated a string of consecutive birthday parties at the restaurant. Did she order the mashed potato pie? "Of course—that was the point!" she replied.
In a city that's been starved for quality nightlife seemingly forever, Bar has long served as a refuge for people who want to drink decent beer. It was a brewpub years before craft breweries started opening in Connecticut. Now it's a place for kids returning home and for those who never left, a go-to destination for informal five-year high school reunions. Mashed potato remains a given.
Maybe your friend got kicked out for climbing on things where the DJ spins. But at some point, you encountered the mashed potato pizza. Which, an informal survey of high school classmates and New Haven townies I've met over the years confirms, nearly everyone's first impression of is "this sounds really weird and not good." As one devotee argues, it doesn't sound like it should work. If you didn't go grow up in New Haven, you likely also thought this. Even some of the people working at Bar did.
The pizza is less a menu item than a topping option offered alongside 28 others (plus seasonal options like lobster), which you can order on a red (tomato-sauced) or white (tomato-free) pie. Here is how you should really order it: a white pie with garlic and mozzarella, don't skip on the crispy bacon that's cooked exactly how you'd want it to be at other pizzerias.
When you hear the words 'mashed potato pizza,' you undoubtedly expect a leaden pie and a stomach ache. But Bar makes it work through a careful balancing act. The dough is super-thin but foldable, and general manager and co-owner Frank Patrick says the key to the pizza's success is the way they layer on the potatoes on: "a trade secret," he smirks. It's airy, not overly buttery, and also not piled on with abandon.
"When we first starting making the pizza" Patrick explains, "I never tried the mashed potato for a year or two." When he summoned the courage, he realized the team was onto something.
There's no romantic origin story behind this oddball pie. According to Patrick, Bar's original owner Randy Hoder really loved going starch-on-starch. "Like, he would put spaghetti on sandwiches and so forth. When we started making the pizza at Bar, just as an afterthought, we thought it would be a cool idea to try mashed potatoes on the pie."
One-time regular Hugh Fryer remembers things a little differently. A resident of New Haven and doctoral student at the time, Fryer was part of a small group invited to taste-test pizzas at Bar. A friend and fellow Yalie suggested a Thanksgiving-themed pie, which Fryer says was an instant hit with tasters. One staffer experimented with several versions of the pie, including one with cranberry sauce.
The pizza became a seasonal hit, and the way Fryer tells it, when the time came to take it off the menu, a small but vocal cadre of devotees clamored for it to remain. Eventually the Thanksgiving theme went out of favor, he says, giving way to the current (optionally) bacon-enhanced form. Fryer moved from New Haven and is no longer a regular at Bar, but in his time he's eaten the pie too many times to count.
This was back in 1994. The mashed potato pizza was then, and pretty much remains now, an outlier on the menu. As Patrick explains, Hoder wanted to keep Bar faithful to the purist New Haven 'apizza' tradition, which never adopted the toppings-crazy mentality of some New York pizzerias that specialize in "gourmet" toppings like buffalo chicken and penne alla vodka. Maybe that's why the mashed potato pizza has never taken off nationally, and the way it's remained the kind of thing that locals nod knowingly to each other about.
"At first, you know, it wasn't a big hit," Patrick says. "We've had the pizza restaurant open for 20 years now, and at first you'd sell a couple of them here and there."
That's changed within the last decade, but especially within the last five or six years. Now, Patrick says, there are nights when one out of every four pizzas is topped with mashed potatoes. On a busy Saturday, when they can average a pizza a minute, that can mean as many 150 mashed potato (and often bacon, too) pies. The kitchen goes through about 550 to 600 pounds of potatoes a week as well as 800 pounds of bacon, a not-insignificant amount of which ends up on mashed potato pies. Now, one could argue, Bar means mashed potato pizza, and has become a New Haven staple.
"It's almost like a rite of passage to enjoy that," Aidan Stewart jokes. "Like I brought girls on dates there. It kind of tests them. If they enjoy that pizza, you know, keep 'em around for a little while."
Stewart grew up in nearby Meriden and came to New Haven, where he still lives, to attend Southern Connecticut State University. He's been going to Bar since 2002, and had his 21st birthday party there. Did they have the mashed potato pizza? "Oh, you know we did dude. If you're in New Haven for the first time ever and are out on the town, like you have to go there. That's it. If you've never had that pizza before, that's it."
Chris Crowley is the Associate Editor of New York magazine's Grub Street. He was raised on New Haven pizza.