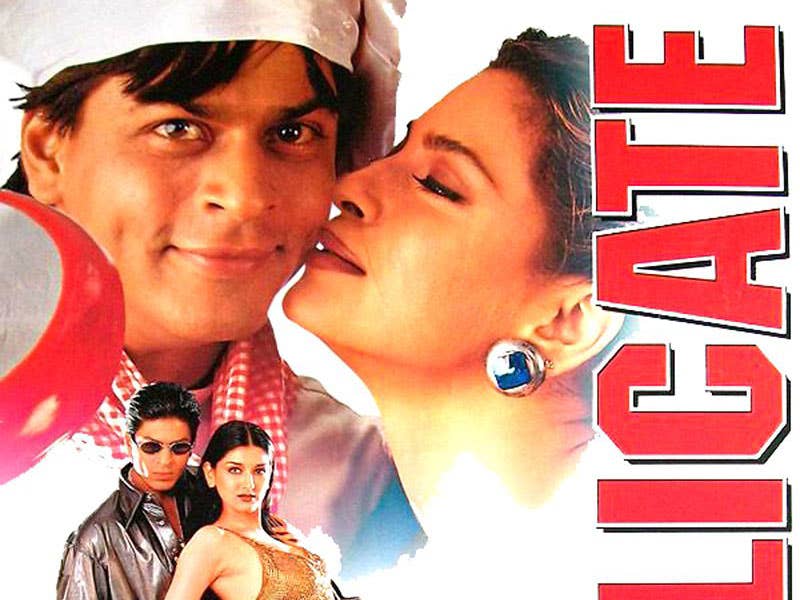 Culture
The Best Food-Themed Bollywood Movies Ever Made
From lunch-swapping love stories to chef/con artist comedies, these are perfect picks for dinner and a movie
In talking about Bollywood movies, it's easy to go straight to the flashy saris and catchy dance numbers. But the most under-appreciated element, quite often, is what the characters are eating.
The meals in many Bollywood flicks serve as important subtexts to stories about identity, place, and family. Or, in other cases, food functions as a straightforward plot device meant to ground an otherwise absurd story (all too common in the world of Bollywood).
Here are seven of the most food-centric Bollywood films to queue for your movie night.
A totally adorable tale of an Indian woman who travels to Manhattan for a wedding and realizes how unbelievably annoying it is to learn English as an adult. After a frustrating incident at a coffee shop in which a horrible barista berates her for not knowing the difference between an Americano, a cappuccino, and a latte (who even does?!), she decides to enroll in English classes using the money from her side hustle selling homemade laddoos (think big balls of sugar and ghee).
Along the way, she meets an attractive French chef who gives her the confidence to do her laddoo business full-time ("Man cooking: art, lady cooking: duty," she thoughtfully observes to him), master her lunch order ("latté, double cheese sandwich with vegetables, iced water"), and end up charming all those wedding guests with her perfect English and round Indian sweets.
Pivotal Dish: Laddoos, made with lots of love and ghee.
An uppity Londoner named Omi returns to his native village in Punjab and discovers that his grandfather, who runs the family restaurant, has totally forgotten the secret ingredient of the place's signature dish, Chicken Khurana.
Omi teams up with his childhood friend, Harman, to track down the recipe, going through an unimaginable number of chicken thighs in the recipe-testing process and ultimately reconnecting with his heritage. In the end, the secret ingredient is revealed to be…weed. Yes, we were all disappointed too.
Pivotal Dish: Chicken Khurana, obviously.
This is essentially a rip-off of No Reservations, the vaguely well-known American film starring Catherine Zeta-Jones and Aaron Eckhart—but instead featuring Bollywood megastar Amitabh Bahchan as Buddhadev, the egotistical chef of London's most celebrated Indian restaurant (unimaginatively called "Spice 6").
One day, a guest named Nina has the audacity not only to reject chef Buddhadev's signature Hyderabadi Zafraini Pulao (saffron rice), but to make him her version to try instead (it turns out to be even better than the restaurant's take). The chef follows Nina out of the restaurant to scold her, and obviously, a whirlwind romance ensues. You leave the theater with a wild craving for spicy, crispy rice.
Pivotal Dish: Hyderabadi Zafraini Pulao, whose recipe Amitabh Bahchan recites exactly during the movie (Basmati rice, lamb cooked for 18.25 minutes, 5 grams each of garlic and ginger, 2 spoons of pure ghee, a touch of yogurt, 10 spoons of milk, 2 spoons of red chile, lots of saffron, and absolutely no sugar).
Break Ke Baad centers on Aaliya and Abhay, longtime pals with clear romantic ties but vastly different career goals. Aaliya wants to act; Abhay wants to cook. Abhay follows Aaliya to Australia, gets dumped by her, promptly runs out of money, and is forced to become a taxi driver.
This turns out to be a blessing in disguise, as Abhay's daily lunch (Murgh Masalam Aur Paratha — like a kathi roll) turns out to be very popular among his fellow drivers. He starts a food stall in the taxi parking lot, which turns into his very own restaurant on the beach. Of course, once the restaurant becomes hugely successful, Aaliya wants Abhay back, and, in an all-too-predictable ending, the film closes with their marriage.
Pivotal Dish: Murgh Musalam aur Paratha, the sole offering of Abhay's Indian food stall.
Your typical story of an escaped prisoner, Manu, who finds his lookalike (who happens to be a chef), and tries to impersonate him in order to evade the law. The doppelganger chef is a loveable chump named Bablu, making it all the worse when he gets arrested by the police (during a date, no less), allowing Manu to assume his identity.
As you can imagine, Manu is a significantly worse cook than Bablu, and the restaurant kitchen quickly descends into chaos — all while Manu is being hunted down by a gang of thugs.
Pivotal Dish: Vanilla cake with whipped cream frosting. Bablu adoringly bakes this for the restaurant's manager, Sonia, with whom he is hopelessly in love.
Ila is a sad housewife looking to spice up her marriage, so she decides to make her husband special lunches to take to work. Unfortunately, India's famous dabbawalla network (a system built to bring home-cooked tiffins to and from offices—known for never, ever screwing up) makes a mistake, delivering Ila's husband's lunch to a bored, widowed account, Sajaan.
Saajan goes nuts for Ila's food, and the two start exchanging letters through the packed lunches, sharing intimate details about their lives and falling in love in the process. The two try, unsuccessfully, to meet in person (Saajan chickens out)—but the letters have a powerful effect on them both, with Saajan learning to be more compassionate, and Ila finally getting the guts to divorce her husband.
In the end, Saajan decides to go after Ila before she leaves, but the movie ends before we ever find out if he makes it.
Pivotal Dish: Kofta Paneer: dumplings made of potatoes, cheese, and nuts swimming in tomato gravy. It's a favorite of Ila's husband (who we never actually get to meet).
One of the most critically acclaimed Bollywood films of the past decade, especially important considering female-led flicks in Bollywood rarely get the same attention as their male counterparts).
Queen is an uplifting story about a girl, Rani, who gets left at the altar and decides to go on her European honeymoon by herself. She befriends Vijaylakshmi, a spirited woman who gives Rani the confidence to let loose on her vacation. This includes flirting with attractive restaurant owner Marcello, whom she beats in a cooking competition with her homemade golgappas (a classic chaat dish consisting of puffed rice crackers filled with potatoes and tamarind water). With all her newfound chutzpah, she kicks her fiancé to the curb once and for all, and learns to be an independent woman.
Pivotal Dish: Golgappa: earning praise for her home cooking is the major turning point for Rani's self-confidence (leading into the fantastic number above).