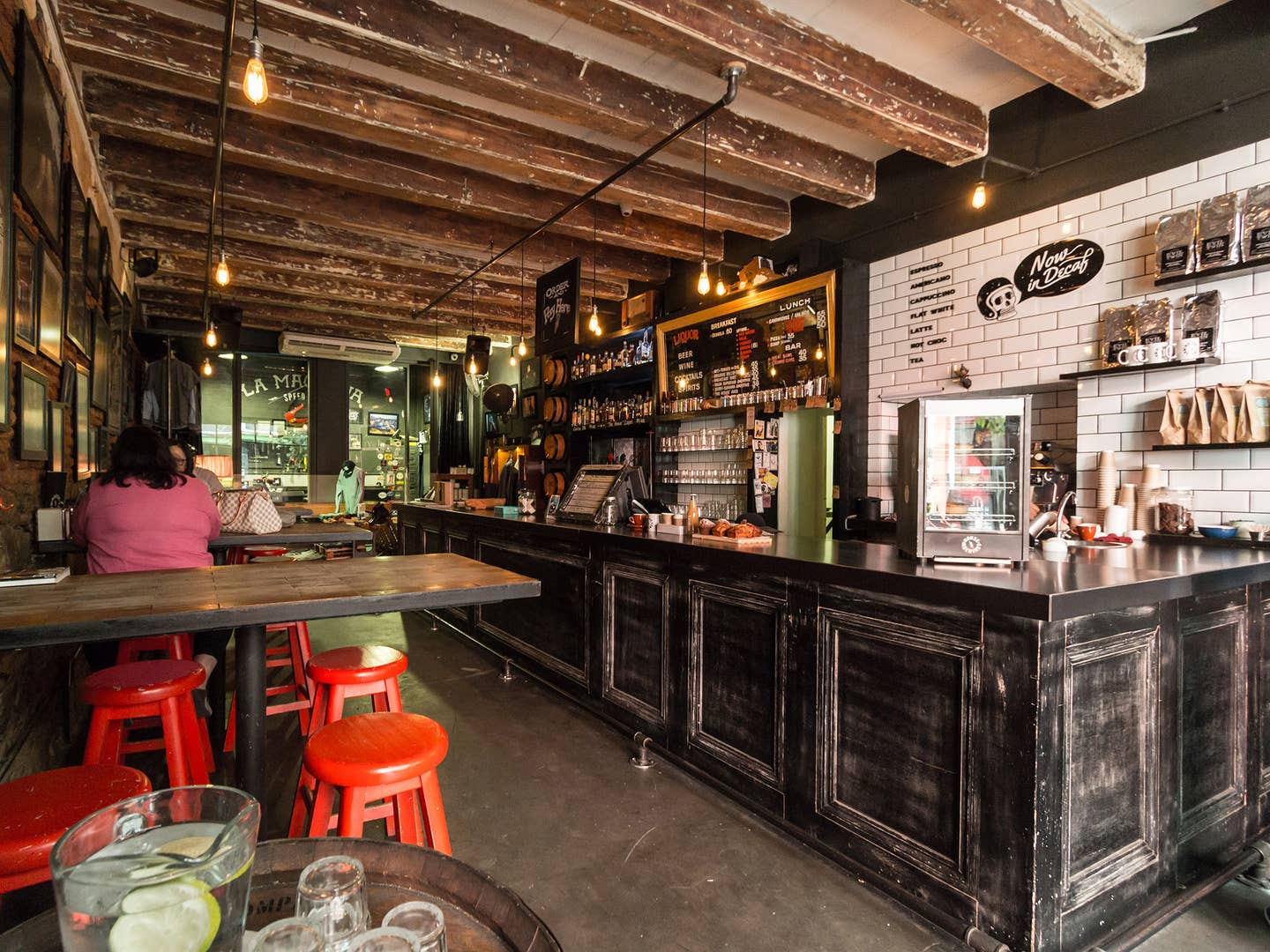 Travel
Dispatch: Where to Drink in Cape Town
The 5 best places to get a proper cocktail in South Africa's most exciting city
A recent stint working the South Africa wine harvest in Elgin left my weekends free to investigate nearby Cape Town. I spent my days lounging at the beach or, when I had energy, hiking up Table Mountain, and evenings were the domain of my favorite activity: tippling. Thankfully, quality-driven cocktail bars have started popping up all over a drinking landscape previously devoted to dive bars, wine bars, and cheap backpacker haunts. Guided by the cataloguers of nightlife at Cape Town Magazine, I hunted down a handful of venues elevating mixology far beyond the residents' erstwhile libation mainstay of Coke mixed with Klippies (a.k.a. Klipdrifts, a type of cheap brandy). If you find yourself on a foray way down south, here's where you should be drinking a proper cocktail.
The House of Machines
Daytime hours at this multi-use retail space are devoted to specialty coffee, but when dusk descends, the focus flips to booze. Highlights include a barrel-aged Negroni and smoke-infused Old Fashioned, as well any bourbon from their expansive collection. Intrepid drinkers should try The Signet: made with pear-infused Woodford, sherry, and tonka syrup, it comes garnished with a nail-impaled cross-section of dehydrated pear.
84 Shortmarket Street
+27 21 426 1400
Mon 7 a.m.–4 p.m.; Tues–Fri 7 a.m.–late; Sat 9 a.m.–late
Secret Gin Bar
Housed in a former undertaker's shop and accessible only by knocking on the door of Honest Chocolate Café, this recently opened bar sits in what used to be the embalming room, which adds a nice little dash of creepiness to your imbibing, if that's your thing. On offer are a range of small batch gins and tonics, along with four main G&Ts called "remedies," meant to treat maladies of the heart, head, soul, and ambition.
64a Wale Street
Wednesday–Saturday, 5 p.m.–late
Mother's Ruin Gin Bar
The décor at Cape Town's first gin-centric joint may be spartan, but the liquor shelf is fully stocked: owner Mark Mulholland has amassed 95 global brands, and is continuing to bulk up his collection. Fans of locally distilled Inverroche, a gin infused with hand-harvested Fynbos botanicals from South Africa's floral kingdom, can be ordered neat or with an array of tonics. Otherwise, try the house classic Lawrence of Arabia, a Beefeater gin and tonic gently sweetened with dates and honey.
219 Bree Street
+27 82 455 2223
Open Mon–Sat 4 p.m.–1 a.m.
Orphanage Cocktail Emporium
This stylish space, meant to evoke a '20s era speakeasy, has a dark, moody interior and is named after the nearby Children's Home St. Francis. In fact, 25 percent of proceeds from sales of More Tea Vicar cocktail support the children's home, so you can truly drink for a cause. The sweet-sour drink, served in a vintage cup and saucer set, features Rooibos syrup (a local herbal tea), vanilla vodka, cranberry, and lemon.
227 Bree Street
+ 27 21 424 2004
Mon–Thurs and Sat 5 p.m.–2 a.m.; Fri 3 p.m.–2 a.m.
The One & Only Vista Bar and Lounge
The trendy and original cocktails from Johan Blaauw, one of the city's most ambitious mixologists, are the perfect accompaniment to a late afternoon spent gazing at a cloud-dusted Table Mountain, visible through immense floor-to-ceiling windows at this hotel bar. Blaauw's Cape Malay is a South African twist on a Sidecar: he blends sweet and woodsy rooibos and rosemary syrup with raisin-infused local brandy Van Ryn's.
Dock Road, Victoria & Alfred Waterfront
+27 21 431 5888
Daily 11 a.m.–2 a.m.