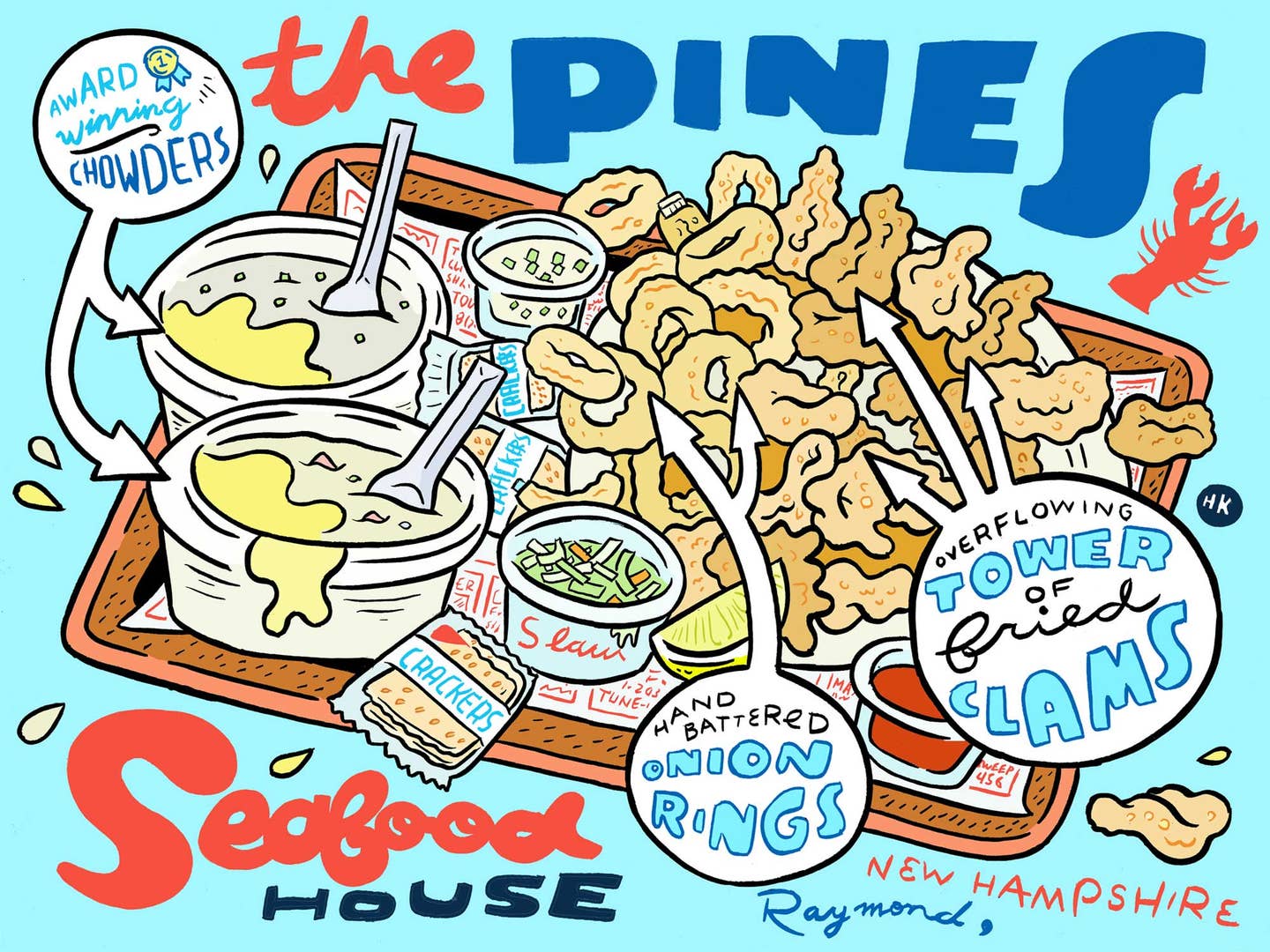 Travel
Does This Landlocked Seafood Shack Serve New England's Best Clam Chowder?
The Pines Seafood House, on a regional New Hampshire highway in the middle of nowhere, does some singularly spectacular seafood
Welcome to Hawk's Illustrated America, a monthly series following illustrator Hawk Krall's journeys through the back roads of the U.S. in search of our country's most obscure and delicious regional specialties.
Isn't the first rule of seafood shacks that they should be on or close to the water? Even if you know in the back of your mind that your lobster probably came from 500 miles away, it's nice to at least see a boat while digging into a lobster roll.
By that test, The Pines in Raymond, New Hampshire isn't much to look at. Sitting on the side of a small regional highway in what's best described as the middle of nowhere, it looks more like a roadside ice cream stand than anything like a clam shack. But here is the rare place where a sign announcing "award-winning chowder" isn't false advertising. In a sea of New England seafood shacks, this landlocked one stands out.
Whether you're talking hot dogs, ice cream, pizza, or diners, no place has more regional food favorites than New England. Every state—nearly every town—has its own oddball food items. People shoot the breeze about their favorite frozen lemonade stand or clam joint the way others might discuss Michelin-starred restaurants. And everything seems to tastes better in New England.
In my trips up and down this part of the country, I'm struck over and over how seemingly every random diner and divey lobster hut puts so much care into their food, something that's a bit of a rarity back home in Philadelphia. There are probably more delicious, amazing, strange, and unique regional foods per square mile in New England than anywhere else in the country. This is especially true for seafood shacks and their barebones menus of lobster and clam rolls, chowder, and steamed and fried seafood.
I've eaten a lot of chowder in New England, but none like what they make at The Pines. It's rich, but from an inconceivable density of seafood, not cream or starch. No fishy funk of frozen or sketchy product. A judicious amount of potato. No thickeners; just pure seafood (okay, and plenty of butter that floats to the top in little droplets) like lobster, shrimp, whole-belly clams, haddock, and scallops, plus something the shack cryptically describes as "chowder milk." This is the kind of chowder that gets people to line up to buy it by the gallon.
How do they get an unthickened broth that rich? Fish bones? Juicing lobsters and clams? And how are their fried clam bellies so utterly perfect, fresh, juicy, and clean-tasting where so many others are greasy, under-seasoned, dry, and boring? I contacted the owners to ask some questions but they politely declined an interview. "We visited [saveur.com] tonight, and it is quite wonderful. However it is not what we have to offer. We are very basic, and simple."
A good friend who's been eating at The Pines since she was four years old tells me that "it's a very New Hampshire 'Live Free Or Die' response. Can't be beholden to any fancy big city entity." She also points out another signature of The Pines: free food on your birthday. It's a bit unclear how you are expected to prove this (a driver's license?) and if you have your pick of the menu, but it's been a draw at The Pines as long as they've been around.
It's a little disappointing to not pick the brains of the Launier family, who opened The Pines in 1982 and have turned it into such a great local institution. It's even more disappointing to not learn any of their chowder secrets. But that's just how they want it. And to me, artfully dodging any press hype only reaffirms their cred as an off-the-grid shack with the most magical seafood chowder I've ever tasted.
Hawk Krall is an artist, illustrator, and former line cook with a lifelong obsession for unique regional cuisine, whose work can be seen in magazines, newspapers, galleries, and restaurants all over the world. He focuses on editorial illustration, streetscapes, and pop-art style food paintings.