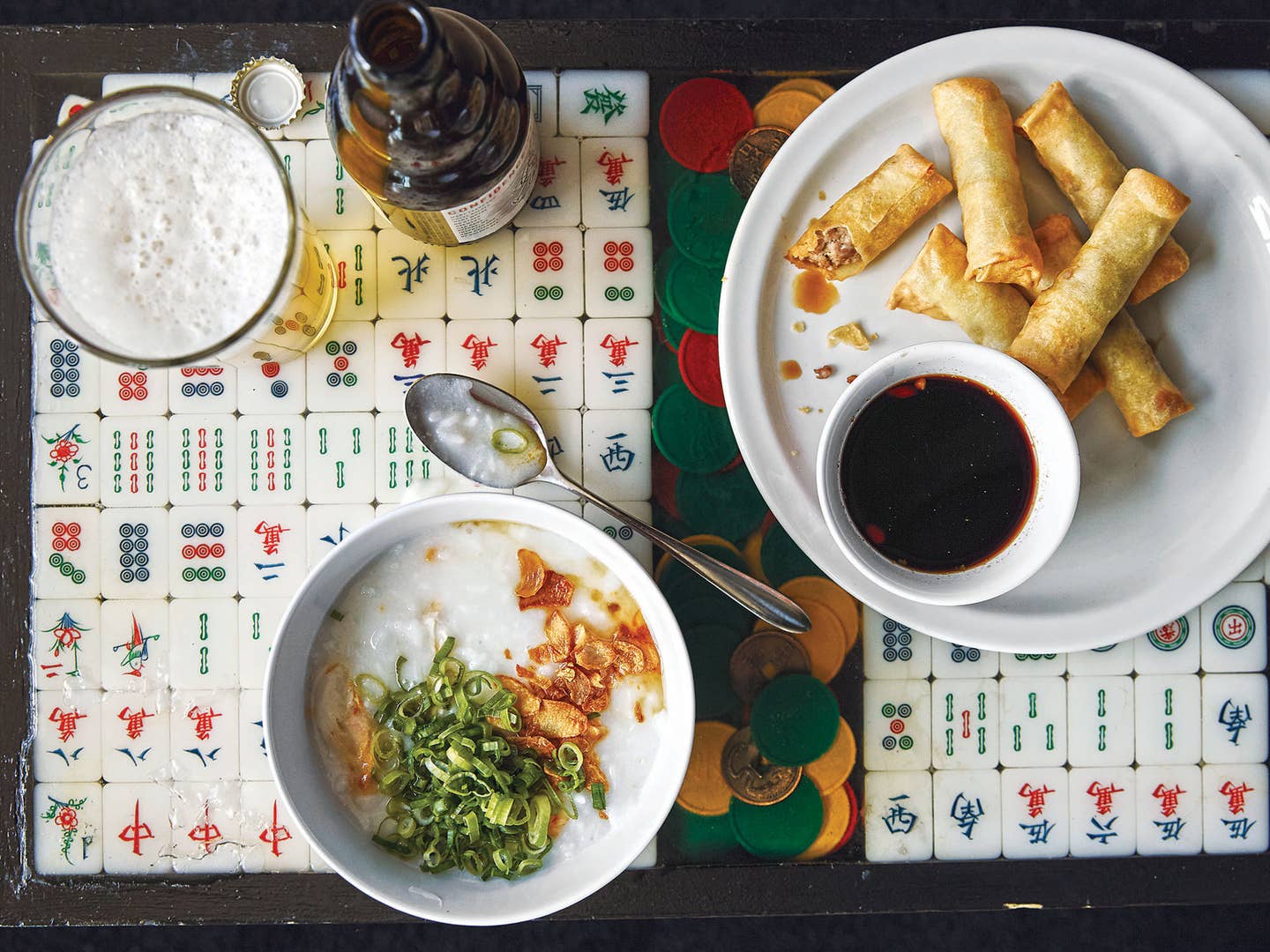 Travel
Dale Talde's Essential Filipino Restaurants in Chicago
The chef's favorite spots for superlative fried snacks, rice soup, and cheese ice cream
Chef Dale Talde grew into his love of Filipino food, thanks to his mother Eva's persistence in putting traditional Filipino dishes on the table, but in the northern suburbs of Chicago, a growing Filipino community means a surplus of markets and restaurants to get your fix, just in case your mom's not cooking that night. Here are six of Talde's essential places to put on your radar.
From the outside, this strip-mall restaurant in Lincoln Square is unassuming. But inside a young crowd gathers over faithful renditions of Filipino classics: deep-fried milkfish, spaghetti slicked with sweet tomato sauce and topped with hot dogs and parmesan, and sisig, a sort of pig-part hash topped with an egg.
2501 West Lawrence Avenue, Unit D, Chicago, IL
(773) 271-2988
This breakfast joint is run by an Eastern-European Chicago native whose menu emulates his Filipino mother- in-law's cooking. His customers, who often include Talde's parents, typically skip the omelets and patty melts in favor of eggs with garlicky fried rice and longanisa (slightly sweet sausage) or Spam.
1700 West Grand Avenue, Chicago, IL
(312) 226-5318
Sariling atin means "for us." And it's true that mainly Filipino families gather at this no-frills turo-turo, or "point-point," which is how grilled and fried meats and stews, like deep-brown dinuguan colored blackish with cooked blood, are ordered from a steam table.
8702 West Golf Road, Niles, IL
(847) 768-1271
Crowds swarm this buffet, which is served out of a Jeepney replica, the flamboyantly decorated trucks-cum-buses common in the Philippines. The regular menu is comprehensive and includes crispy pata (sticky deep fried pig knuckle), kare kare (oxtail stewed with peanut and shrimp paste), and balut (the surprisingly delicious boiled unfertilized duck egg).
6259 McCormick Boulevard, Chicago, IL
(773) 279-8861
Its generic name belies a selection of ice cream flavors geared to the local Filipino community, like sweet young coconut, tangy jackfruit, and buttery avocado. For the truly brave, there's queso flavor—vanilla flecked with frozen Kraft cheese.
8000 Waukegan Road, Niles, IL
(847) 965-9805
West Oakton Street, Skokie, IL
(847) 982-1720
At this tidy grocery store, you can rent Pinoy rom-coms, exchange Philippine pesos for dollars, and stock up on a vast array of condiments—like coconut vinegar and ginisang bagoong (a spicy seasoning made with fermented shrimp)—rarely seen at most Asian grocers. You can also leave with tasty pancit (stir-fried noodles), deep-fried pork, and lumpia (spring rolls).