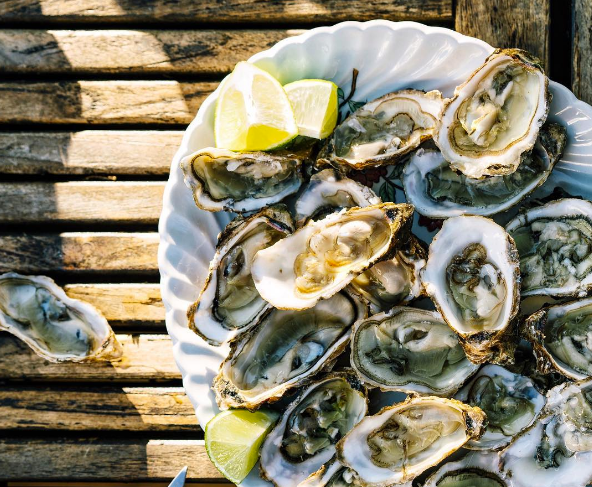 Culture
10 Global Food Photos We Loved in July
From South Korea to Canada, our readers showed how they #eattheworld
The SAVEUR motto is #eattheworld for a reason: we firmly believe the best way to experience the world is food-first, and that food's an essential part of culture to embrace at all times. Each month, we showcase of our favorite photos that our readers have been sharing on Instagram. We hope they inspire you (and your appetites for travel) as much as they have inspired ours.
Here are 10 standout snapshots you took this month that we can't get enough of—follow us @saveurmag and tag your photos #eattheworld to be featured.
These rice noodles in Sichuan broth with steamed halibut enclosed in red pepper look mesmerizing. We're sure those stunning #views from Hutong made it that much better.
We're swooning over SAVEUR contributor Craig Cavallo's rooftop mezcal action.
Shucking your way down the coast of France sounds like a vacation to us.
This photo has us planning out our ultimate charcuterie board. There's nothing quite like the rich, salty magic of prosciutto and lardo, right @caseyfeehan?
There best way to immerse yourself in a culture is to eat like the locals. In Seoul, that means stopping by the famed Noryangjin market, where you can point at fresh seafood and have it prepared, on the spot, at one of the little restaurants in the back of the market.
This comforting Chinese dish gets a summer makeover at Too Hot Hotpot in Markham, Ontario. Wishing we could serve this at our next BBQ party.
We wish every morning looked like this beautiful spread of rye bread, apples, avocado and eggs.
The best way to cool down in summer (or winter)? Ice cream!
The Miami heat doesn't stop @ericsaltz from enjoying this traditional matzo ball soup from Josh's Deli. It wouldn't stop us either.
Japanese breakfasts are a patchwork of bowls, vegetables, colors, and everything in between. Now that's a meal worth waking up to.