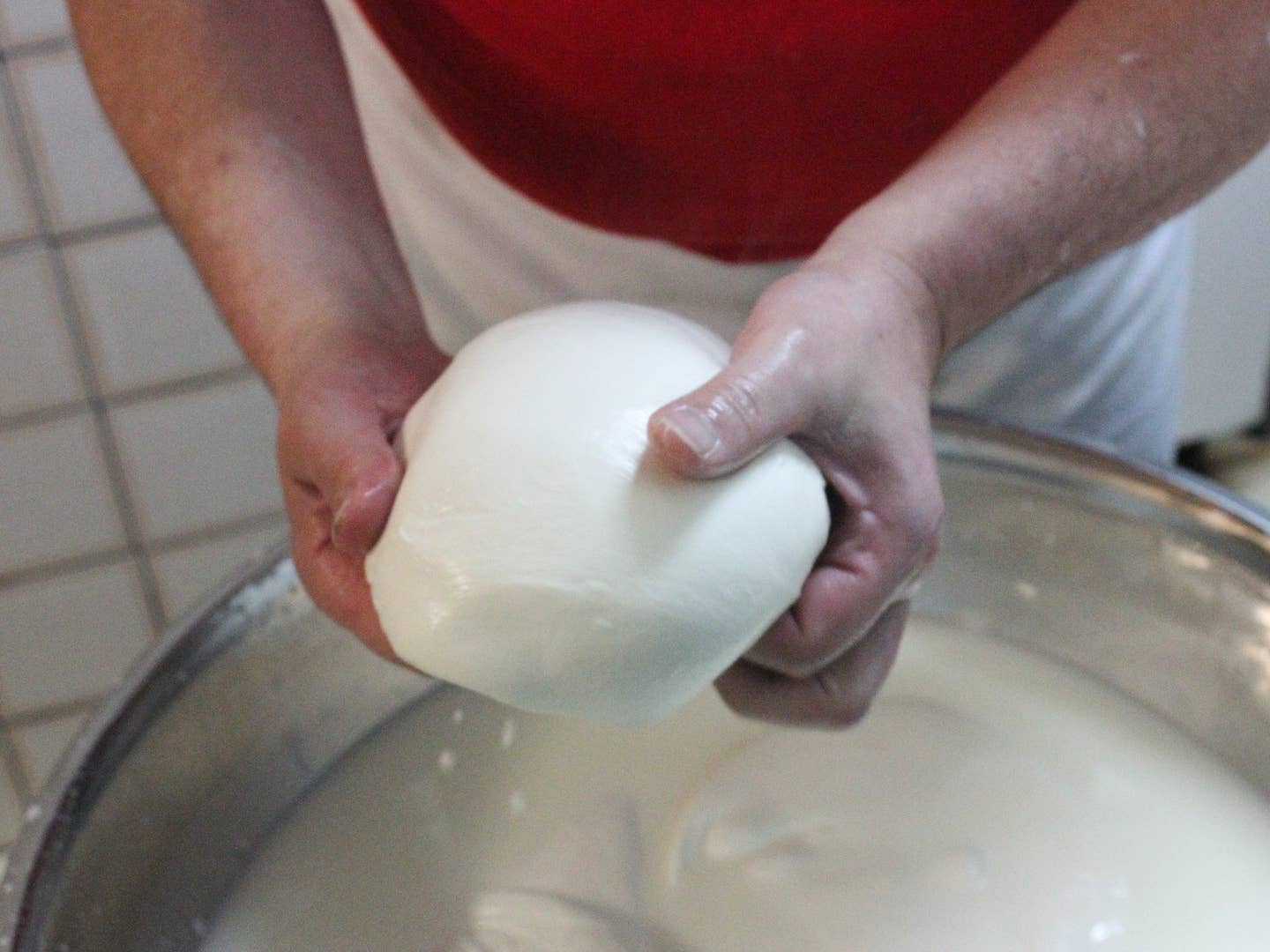 Culture
The Mozzarella Master of Hoboken
Peter Biancamano makes what may be New Jersey's freshest, tastiest mozzarella—and he's been at it for 30 years
It's 7 in the morning in Hoboken, New Jersey, the sun has just lifted past the Manhattan skyline across the Hudson River, and in the back kitchen of his Washington Street deli, Peter Biancamano, 57, is making some of the best mozzarella on the planet. He leans over a wide steel bowl filled with curd. "Curd is the dough of mozzarella," he proclaims. He runs a hand over the cream-white block. "Here we go." He pours boiling water into the steel bowl. "Batch number two!"
Batch number one is finito. A dozen colossal white slabs are chilling in tins of cold saltwater, resting, cooling, and forming up. Each submerged slab is three or four pounds. Each batch of mozzarella weighs in at 25 to 30 pounds. Peter makes five or six batches a weekday for some 150 total pounds. He makes 200 pounds on Fridays and Saturdays. On Christmas, his busiest day of the year, Peter makes 650 pounds, a feat requiring him to pour, stir, knead, stretch, and shape curd all day. Peter has been churning out mozzarella daily since he learned how to from his dad in 1986.
It takes a moment to realize why Peter's mutz (Jersey slang for the cheese; see also: mozzarell') is so good. It doesn't rock you with explosive flavor or ethereal softness. When you bite into a firm slice, you taste a simple expression of pure cream. It's fresh milk, but in cheese form, all restraint and understatement, more Hemingway than Nabokov—so naked you can practically see the cows in the grass, and so nicely aligned with the simple ways of Italian cuisine.
Today, his mozzarella is arguably the best in New Jersey, which says a lot. The Garden State has some stellar mutz. Over the years, more than one million Italian immigrants have settled in New Jersey. Two of the results of this mass migration are a culture of top-notch Italian American delis—like Peter's 36-year-old staple, M&P Biancamano—and some unexpectedly impressive mozzarella-making skills.
Jersey mutz reaches its apex in Hoboken. The mile-square town is filled with delis where, every morning, as Hobokenites walk their dogs and head across the river to work in New York City, masters craft mutz from scratch.
Hoboken's mozzarella culture came to a boiling point in 2013, when the town held its first "Mutzfest" pitting these masters against one another. The event was packed wall-to-wall with more than 500 people. Peter took first prize. He won the people's choice award again in 2014 and 2015. In 2012, when the editors of New Jersey Monthly combed the state for its tastiest mutz, they found it in Peter's kitchen.
Peter presses down the curd with his bare hands. Steam rises; the steel bowl holding the curd is swimming with hot water, and the curds are molten. "Nobody wants to burn their hands," he says of the curd, which he buys, rather than makes, because he can't get the fresh buffalo milk he'd ideally want to make curd from. "You've got to burn your hands." Part of Peter's magic comes from working the curd by hand.
"Gloves are no good," he lilts, sculpting the melted white curd on the end of his paddle and bursting an air bubble. "You've got to feel the curd. The curd changes, and you've got to go with the change. The more you make it, the more you feel. It's very, very important to feel the mozzarella. With gloves, you can't."
Mozzarella begins with fresh milk. The cheesemaker uses rennet or an acid to coagulate the milk, forming curd (solid) and whey (liquid). The curd is cut, then heated. At last, the mutz maker works the hot curd, breaks off pieces and molds them into cheese, and leaves those pieces submerged to firm and form. Freshness is huge given how few ingredients we're working with, and given Peter's restrained style. Right now, Peter is working the curd.
Peter isn't grimacing, or reacting to the furious heat of the curd in any way. Moving one scorched hand to the handle of a small pot and keeping the other on the curd, he smiles, and his warm, dark eyes are glowing, his pouchy cheeks are raised high, and his white hair shines in the kitchen's fluorescent light. Peter tilts the pot's rim below the waterline and skims some off in batches.
He pours in fresh boiling water for more heat. We wait. "The hot water melts it down and cooks the curd," he explains. Some ten minutes later, after feeling the pasty curd, Peter shrugs, smiles again, and wheels the bowl and its stand to the tins of cool saltwater.
Peter works the curd with a four-foot steel paddle, dragging it through the still-melting white mass, pulling up from under it, and swinging the paddle back around to draw through the curd again. This aerobic display of mutz tempering goes on for a little before its rhythm changes.
He dips his left hand in the cool saltwater. When he now pulls the paddle through the gluey mass of curd, lifting part of it out of the scalding water, he uses his (cool) left hand to massage the dripping curd on his paddle. And then he plunges the curd back into the burning liquid, dips his hand to cool again, and repeats.
As I watch, I hear the cheese slopping around in the tin. I listen to the radio and Peter's 83-year-old mother, Giovanna, softly pounding breaded cutlets in the corner for the day's Chicken Parm. She says something to Peter in a raspy dialect of Italian that I can't even reduce to individual syllables. Peter, bending to lever his paddle against the bowl's rim, quickly responds. Mom nods and punishes a cutlet. Peter is still tempering the curd, which now looks like a gigantic melted marshmallow. As he goes, its texture gets smoother. A decorative cross hangs behind him. The vibe reminds me so lucidly of Italian kitchens that I can taste the apricots, espresso, and cigarette smoke.
Peter was born in Campania. So, too, was mozzarella. In this storied region of Naples and pizza and the Caprese salad, masters have been crafting mozzarella for centuries. Peter recalls a street in Salerno where the shops are filled with mozzarella makers who ship their cheese all over the world.
His family farm was (and is) in a small town called Monte San Giacomo. The farm lay in a valley in the rural Italian south, down by the border of Campania and Basilicata. "We didn't come from the city," Peter says. "We came from a farm. We did things at home." That included mozzarella, made from the milk of cows and goats that his family raised.
Peter's dad learned from his grandfather. When Peter and his dad opened M&P Biancamano on Washington Street in 1981, a decade after leaving Campania and settling in Hoboken, his dad was responsible for making the daily mozzarella. In time, Peter's dad passed the method on. Peter has been the family mutz maker since 1986.
"Over the years," he tells me back in the kitchen, still working the molten white cheese in the steel bowl, "you learn to feel the mozzarella. Sometimes the curd is softer, sometimes harder. You adjust. You get better with practice. You learn."
After 15 minutes of tempering, Peter feels, knows, and says that the mozzarella is almost ready. Time for the ultimate step.
When he lifts his paddle now, he cinches off from the white mass a three- or four-pound piece. He rapidly massages the piece into a fat oval. At last, Peter places the mutz to shape in the cool saltwater. He repeats until the great white glob is history and only newborn mutz remains. The saline baptism lasts 90 minutes.
Peter wipes his hands, exits the kitchen, and takes a seat in the morning sun slanting through his deli's front window. The nice family vibe of the kitchen spills out into Peter's deli, both now and later in the day when the deli will open. You won't find anyone but Peter and his wife behind the counter. That, the vibe, and the mutz make the place what it is. A circus of pictures and imported Italian food products surround the handful of wooden tables where Peter is sitting: pasta, polenta, olives, tuna, tomatoes, sodas, crackers, cakes.
He and his wife do a variety of sandwiches using typical Italian-American deli meats: prosciutto, mortadella, ham, capicola, soppressata, and so on. They have hard rolls or soft rolls. You can add roasted peppers, broccoli rabe, oil, vinegar, and all of the good stuff you want, and they take special requests.
Usually, I just walk in and make up a sandwich without looking at the menu. They have hot dishes, like chicken Milanese, chicken Parm, shrimp Parm (Fridays), and meat lasagna (Thursdays). When Peter doesn't sell out of his mozzarella, he'll turn leftovers into baked ziti. M&P Biancamano almost never serves baked ziti. Just before your sandwich is ready, Peter turns knife-in-hand to his silver mutz platter. He lops off colossal lobes and covers your sandwich with half-inch rounds from the morning's masterpiece.
"I haven't changed anything in 36 years," he says at his table in the sun. "I dedicate everything to people who come in here. People want that. Hoboken was great when I started, and Hoboken is still great now."
Peter talks about how the neighborhood has evolved. Uptown used to have a Maxwell Coffee factory, a Lipton tea factory, and an active shipyard. Workers would line up for a sandwich topped with Peter's mozzarella during lunch breaks. Today, all of those properties have been converted into upscale apartments. Lines aren't as long because everyone works across the river in New York City.
He reflects on time's changes. He perks up, flashes his signature smile. "I'm 57," he says, nodding at the brassy trophy from his latest Mutzfest victory. "I'm a young pup still. I've still got the cup, and I can still do plenty more mozzarell'."
He rises and goes to start batch number three.
Chris Malloy is a writer, photographer, and law student from the Philadelphia area. He has a Master's in Food Studies and has lived in Italy for two summers, one working on farms and vineyards. Chris blogs with his wife at Made in Rome.