Eat Your Way Through Japan With Ice Cream
Across the country, roadside stalls, breweries, and small shops serve an unexpected and regionally diverse delicacy: soft serve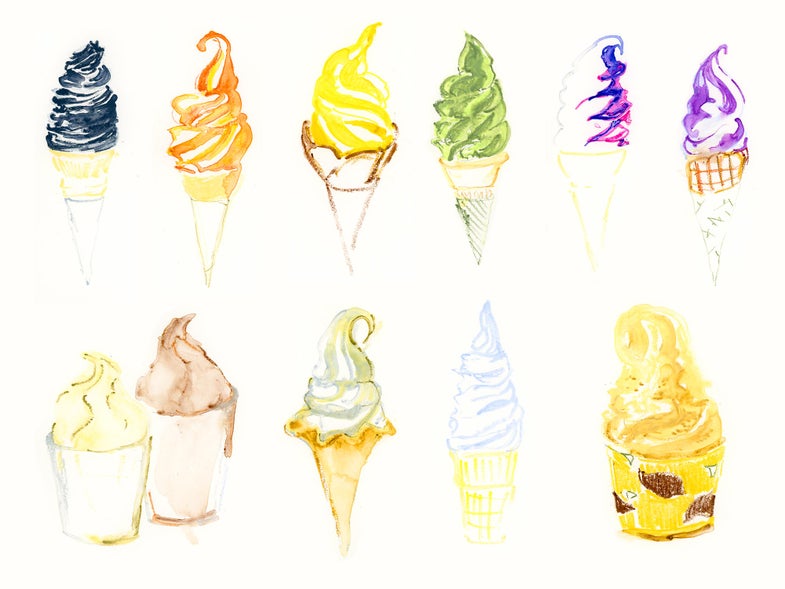 In a country with some 300 regionally and seasonally specific varieties of Kit-Kit bar and different specialty snacks at every train station, Japan has no shortage of ways to collect limited edition foods. One of the less appreciated genres—and my personal favorite—is soft serve ice cream.
Soft cream, as it's called in Japan, is a souvenir you can't take home with you, but that's part of the pleasure: you can only taste it right there in that moment. If you live in Japan, etiquette requires that when you take a business trip you bring back a treat from that city for your coworkers and family—such as chick-shaped manju sweets from Tokyo or roasted twig tea from Kaga. But the soft cream is just for you.
According to the Japanese Soft Cream Commission, soft cream was introduced by American occupying forces on their (American) Independence Day celebration in 1951, and later that year department stores all over the country started serving it. Like so many inventions that Japan has adopted from other cultures and made all their own (and, arguably, way better), Japan's soft cream has its own delightful range of flavors, many particular to certain cities, towns, or single shops. Matcha, kuro-goma (black sesame), and kinako (nutty toasted soybean flour) are as ubiquitous in Japan as chocolate and vanilla in the U.S., and almost every town has its own special flavor.
Japan's "road stations" (great places to eat, unlike most American rest stops) often feature soft cream flavored with the area's famous crops, from potato to peach. Factories and farms offer visitors soft cream in keeping with their product, whether miso, melon, or rose petals. There are novelty cones like udon (with noodles wrapped around the ice cream) in Kagawa and and fried oyster in Okayama that are mostly for shock value—but most of the flavors, even if they sound unusual, taste fantastic.
Here are 10 to look for in Japan, organized roughly from the south of the country to the north.
Purple Sweet Potato (Beni-Imo) at Onno Confectionary Palace, Okinawa
These nutrient dense purple sweet potatoes are part of a traditional Okinawan diet that's linked to longevity. Though the tubers are served in savory dishes such as tempura, at Onno Confectionary Palace you'll find all kinds of beni-imo sweets:tarts, candy, and of course a delightfully earthy, purple-hued soft cream.
Onno Confectionary Palace
Yubinbango 904-0404
Okinawa Prefecture
Kunigami-gun Onna Serakaki 100
Mikan (Mandarin orange) Soft Cream at Yoshiumi Road Station in Ehime
The best mikan—those sweet-as-candy easy-to-peel seedless mandarins—come from Ehime, and the juicy, tangy little seedless oranges are a treat themselves (they sell for anywhere from a dollar a pound to eight dollars for one fruit). This pit stop on the Shimanami Kaido, a road that you can travel by bicycle or car over seven bridges between islands populated with citrus groves, offers seafood barbecue, and of course creamy pale orange mikan soft cream.
Yoshiumi Road Station
Yubinbango794-2114
Imabari, Ehime Prefecture
Yoshiumi name 4520-2
Sake Kasu Soft Cream at Shishi no Sato in Yamanaka Onsen
There's nothing like a cold dessert after a long soak in an onsen (a hot-spring-fed spa). This local sake brewery's shop, a block from Yamanaka Onsens's public bath, is a popular stop for locals and tourists alike: they offer sake kasu soft cream, sweetly aromatic and vaguely boozy with the smooth rice sediment from sake-making. It has the gentle flavor of sweet nigori sake.
Shishi no Sato
Kaga, Ishikawa Prefecture
Yamanaka Onsen Honcho 2-chome
The isolated Noto Peninsula grows blueberries that get made into jam, sweet wine (that tastes like jam), and of course soft cream. This service area boasts a sky deck with a spectacular view over the mountains to the coast, a well-stocked gift shop, and a good cafe. The soft cream is intensely fruity with real berries blended into the base. Swirled with vanilla, the striking purple ice cream is as beautiful as it is delicious.
Beshodake Sky Deck
Ishikawa Prefecture
Nakajimamachi Bessyo, Noto Highway Bessyodake Service Area, Nanao 929-2202
Peanut Soft Cream at Kimura Peanuts in Chiba
In this suburb of Tokyo known for growing the finest peanuts, you can stop by shops dedicated entirely to them—roasted, flavored, and made into myriad snack foods. The volcanic soil here is ideal for growing them, and the peanuts you buy in Chiba are fresher and more flavorful than what you'll find almost anywhere else. The venerable Kimura Peanut plant is a good place to load up on peanutty souvenirs—and enjoy a rich peanut soft cream.
Kimura
236-3 Shimosanagura Tateyama Chiba
Volcanic Ash Vanilla Soft Cream at Owaku-dani in Kanagawa
This volcanic valley of Mt. Hakone has a reputation for black boiled eggs, cooked and colored by the sulphurous natural hot springs. If that's not your cup of tea, try a soft cream blackened with volcanic ash. The ash doesn't add much flavor—the ice cream tastes like vanilla—but the color is dramatically black, with a slightly powdery texture.
Owaku-dani
Kanagawa Prefecture
1251 Sengokuhara, Ashigarashimo-gun, Hakone-machi 250-0631
Satsuma-Imo (Yam) Soft Cream at Imokin Mandago in Asakusa
When you visit Sensoji temple in Asakusa, it's hard to miss the satsumai-imo (sweet yam)snacks this Tokyo neighborhood is known for. The purple-skinned, yellow-fleshed yams are made into imo-yokan (firm sweet potato jelly candy), and daigaku imo (fried and syrup coated chunks of yam dotted with sesame seeds). Naturally, there's satsuma-imo soft cream too, and it truly tastes like sweet potato. You'll find many soft cream vendors around Sensoji, but this satsuma-imo sweets shop makes a particularly good one.
Imokin Mandago
Yubinbango111-0032
Taito-ku, Tokyo Asakusa 1-21-5
Soy Sauce and Miso, at Yamaki Jozo in Saitama
At this organic brewery, where cookbook author Nancy Singleton Hachisu likes to take visitors, the soy sauce is eye-openingly complex and the ponzu is good enough to drink. Another highlight is the salty-sweet miso and soy sauce flavors of soft cream, which are reminiscent of a gently salted caramel, not harsh at all, with a hint of umami backing the velvety cool sweetness of the ice cream.
Yamaki Jozo
Yubinbango367-0311
Saitama Prefecture
Kodama-gun Kamikawa-cho Oaza Shimoaguhara 955
Akita prefecture's hardy Hinaidori chickens—ornate brown feathered hens and multi-colored roosters—are considered a national treasure. Pull off the highway in Akita to get skewers of hinadori yakitori—and golden-hued egg flavored ice cream. The color is so dramatic I'm not convinced it's entirely derived from eggs, but the extra-custardy richness sets it apart. Once in a while you'll find an apologetic sign when they can't source enough hinadori eggs to make the soft cream.
Michi no Eki Hinai Tottokan
Akita Prefecture
Odate Hinai Senda Catedral Nueva Tsutsumishita 93-11
Hokkaido Milk on Soft Cream Street in Hokodate
Hokodate city may be the ultimate destination for soft cream lovers: there's an entire street flanked by soft cream vendors offering everything from pure milk flavor to local melon, seaweed, scallop, and squid ink. Because it's the only part of Japan geographically suited to large-scale dairy farming, Hokkaido produces ice cream with reputation for exceptionally high quality, so take a stroll down the street and sample as much ice cream as you can.